Businesses primarily concerned with the financial and physical benefits of solar can opt to build an on-site solar generation asset at their facility with an external solar provider. With this approach, a solar provider like Constellation handles all costs and tasks associated with building, owning, operating and maintaining the solar arrays.
At Constellation, we provide customers with a Power Purchase Agreement (PPA) or Solar Services Agreement that features the known price/kWh for power (e.g., standard electricity) over the term of the contract, typically 20 years.
Business customers avoid a large capital expense and receive budget certainty with a proven cost-management strategy. Plus, Constellation secures rebates for customers from state agencies and utilities as well as federal and state tax incentives if available.
Our customers also benefit from industry-certified measurement and reporting systems that provide documentation of cost savings and solar energy production.
Want to see how a solar installation can help your business or institution? Contact our solar experts at 1-877-427-2005.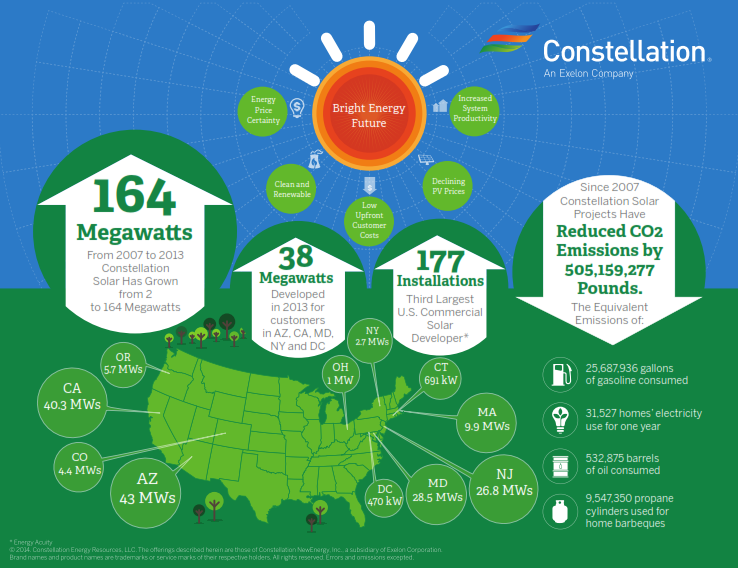 Solar Explained
Solar photovoltaic power is generated by transforming sunlight that hits solar panels into electricity as direct current (DC). An inverter turns that DC into alternating current (AC).
Businesses use the generated power and push back to the grid any excess supply.
For every MWh produced, the system generates an environmental attribute which may have separate value depending on the market (sometimes called a Solar Renewable Energy Certificate or SREC).