Constellation is the Preferred Energy Choice of United Center, the Chicago Blackhawks and the Chicago Bulls.

Go Green Games
Constellation has been the official energy provider of the United Center, home to the Blackhawks and Bulls, since 2011. Each season we host Go Green Games with both teams to promote sustainability and help home-team fans incorporate energy efficient practices into their daily routines. In addition, we donate Green-e® Energy Certified Renewable Energy Certificates (RECs) to match the electricity used on each game day. These RECs certify that 100 percent of the energy used during Go Green Games will be matched with wind generation to reduce carbon emissions. Constellation is proud to power the United Center and the Bulls and Blackhawks practice facilities.
Energy Saving Tips

During each Go Green Game at the United Center, we share energy efficiency tips with fans such as:
It takes more energy to cool an empty refrigerator than a full one. If you have emptied your refrigerator or freezer, consider turning up the temperature or defrosting or unplugging it.
Unplug your household electronics before you leave for a trip. Even when your devices are off, digital displays and other features still use energy.
Avoid icing – Work with the sun to maximize heat by keeping curtains open during the day to allow the sun's light to naturally warm your home. As the sun begins to set, close them to keep warmth in and cold drafts out.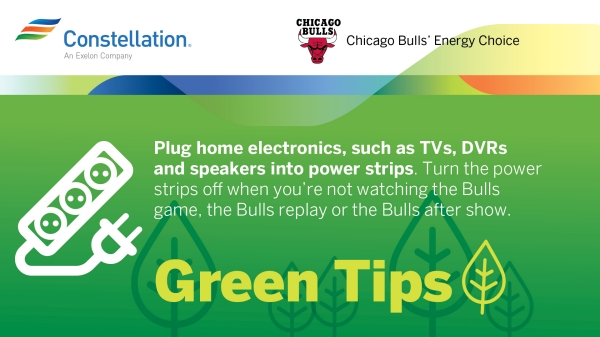 Learn how to save money and reduce your environmental impact with more energy saving tips.