How to Prepare for and Prevent Home Floods
Floods and flash floods are a reality in all 50 states. In a country with weather patterns as complex as the United States, even low-risk areas can be susceptible to floods. According to the Federal Emergency Management Agency, 25 percent of all claims for flood damage are filed in low-risk areas. For this reason, flood preparedness is crucial for any home or residence where it rains.
Read on to learn more about the most common types of home floods, how to prevent flood damage and even how to repair flood damage without breaking the bank.
 
Basement Flooding
If your basement always seems damp or your basement floods when it rains (or your main floor, if you don't have a basement), it is likely due to one of three main problems: leaky plumbing, leaky windows or a poorly insulated foundation.
Problem 1: Poorly Insulated Foundation
Why does poor insulation cause basement flooding?
Excessive rain, poor yard drainage or sewer backups can contribute to floods if your foundation isn't insulated enough. This is definitely the most common cause of basement flooding.


How can poor insulation be fixed?
In order to repair flood damage and prevent it from happening again, you'll need to pinpoint the source of the leaks, fix any cracks yourself (or call in a professional) and then install waterproofing foundation insulation to avoid future damage.
Pro tip: If you want more information on basement insulation, check out our blog post on insulating your basement.
Problem 2: Leaky Basement Windows
Why do leaky basement windows cause basement flooding?
If you have a flooded yard or clogged gutters, water can pool in windows and leak into the basement through and around your windows.


How can leaky basement windows be fixed?
To help prevent your basement from flooding when it rains, you can caulk your basement window, install window wells (preferably with covers), adjust your window grade, check your gutter spouts or install new windows.
Problem 3: Leaky Plumbing
What are common sources of leaky plumbing?
You probably have a burst or leaking pipe (keep reading to find out why pipes burst), a leaking waste line, a broken washing machine supply hose or a leaking water tank or water heater.


How can leaky plumbing be fixed?
There are many ways you can prevent flood damage from leaky pipes. You can try setting back your spigot valves; repairing the water heater lining, either on your own or with the help of a pro; replacing washers and O-rings; replacing dripping shower spouts; and replacing mechanical faucets when they get old and corroded.
Problem 4: Burst Pipes
Why do pipes burst?
A burst pipe can result in home flooding and extensive damage. The major causes of burst pipes are frozen pipes, water pressure issues and corrosion.
Frozen Pipes
How does the cold cause a pipe to burst?
When water freezes inside a pipe, it expands, increasing the pressure inside. The pressure eventually escapes by bursting out of the pipe and flooding your basement.


How do you prevent a frozen pipe from bursting?
If you are experiencing prolonged freezing temperatures, try leaving a faucet or two dripping. If the water keeps moving, even a little bit, it's less likely to freeze in the pipes. 
Pro tip: To conserve water, keep a bucket underneath the dripping faucet, and use it to water your plants!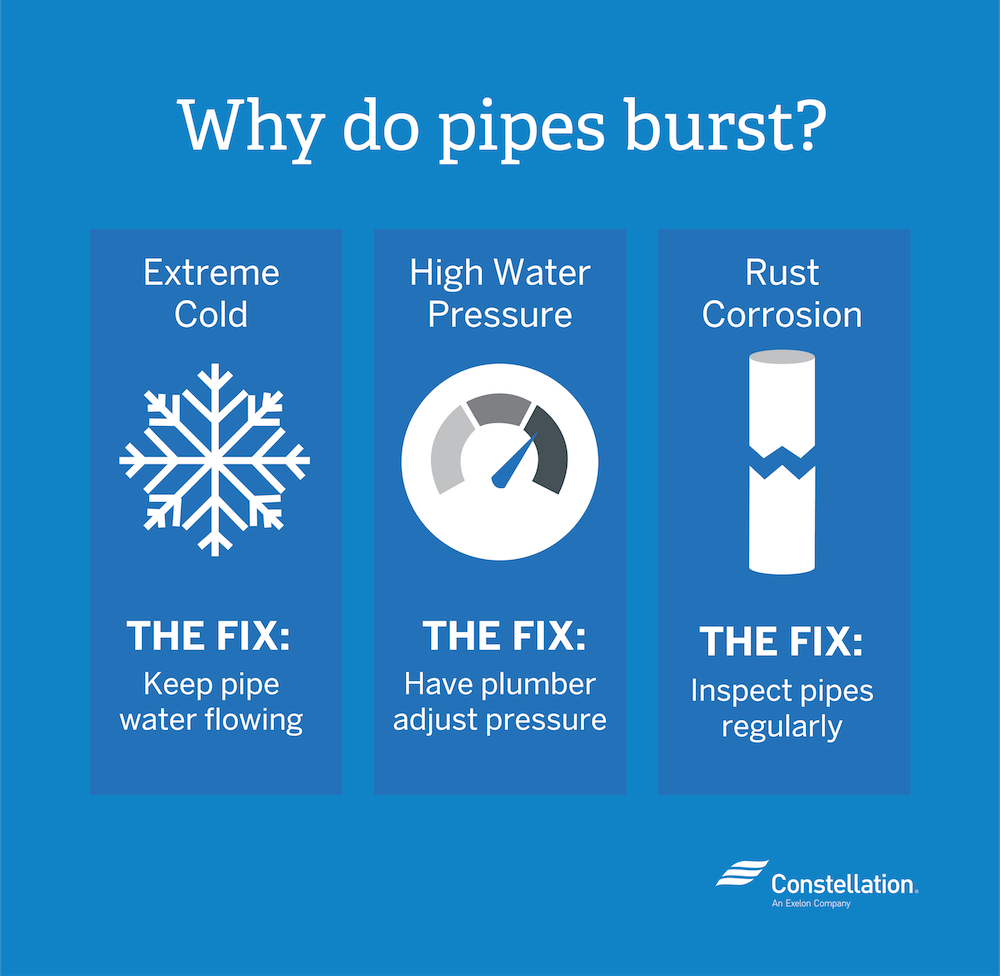 Water Pressure
How does high water pressure make pipes burst? It's not just about whether you get a good, strong shower. Your pipes require the proper water pressure to function correctly. If the water pressure increases too quickly or significantly, the pipe might not be able to contain it, causing a rupture and subsequent flooding.


How do I prevent my pipes bursting from water pressure? If your water pressure is too high, call a plumber. A certified plumber can help you adjust your water pressure to a safer level, and help reinforce any pipes that need it.
Pipe Corrosion
How does corrosion cause a pipe to fail? After many years, slowly building corrosion in your pipes — often caused by a pH imbalance in your water — can become a problem. If you have both hard water and galvanized-iron water-supply pipes, rust can build up over time, either stopping water flow completely or causing a pipe to burst.


How do I prevent rust corrosion in my pipes? Inspect the water pipes in your home for damage or recent repairs that can affect water pressure. If you find a damaged pipe, you can patch it for a quick fix but should cut and replace it as soon as possible to prevent the pipe from bursting. To avoid future damage to your pipes, you can get your water tested by certified professionals to figure out if it meets regulations. Government agencies like the EPA can analyze your drinking water, helping you to find the right water treatment for your home.
Now you know why your basement floods when it rains and how best to identify the problem, the cause and the fix!

Natural Disaster Flooding
Hurricanes, mudslides and excessive rain are the natural disasters behind the majority of home flooding and flash floods. Although we generally consider natural disaster flooding to be something that happens to other people, many of us in the United States live in a floodplain or an area next to a body of water. Your local government should be able to provide you with a flood zone map, or you can look up your location here. If you live in a flood zone, it could affect your insurance options and rates as well as your property value.
Flood safety during natural disaster flooding
As tempting as it is to take a shortcut through water, keep away from floodwaters and remember floodsafety.com's campaign slogan "Turn Around Don't Drown®." If you come upon a flowing stream of water, turn around and get away. Even a few inches of water can sweep you off your feet or pull away a car.
Pro tip: If you live in a flood zone prone to major storms, you can create a hurricane preparedness checklist, find hurricane safety tips and more from our seasonal preparedness guides.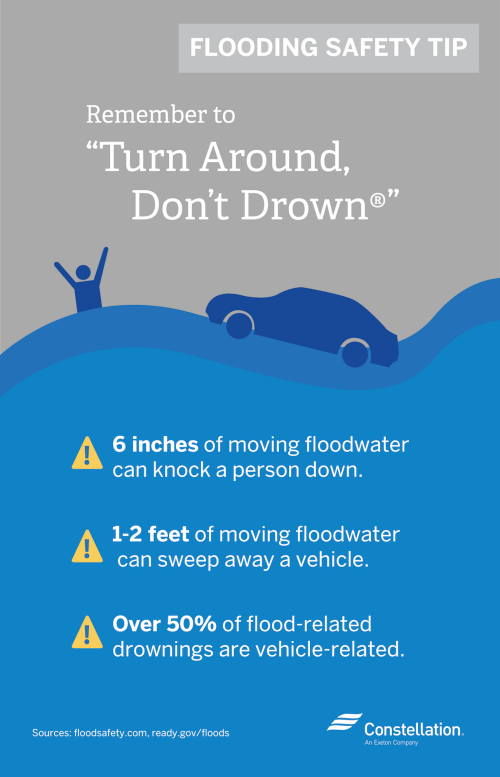 Water Main Flooding
In many neighborhoods, a municipality provides the water supply system. A break to a water main, or the main line in a water supply system, is usually not preventable for the homeowner. It is most likely to happen when both air and water temperatures drop below freezing, causing the ground above a pipe to freeze, which increases stress on the pipe and can lead to a break. Because the damage can be extensive, the local or city government, the police department, and other disaster-relief organizations often work together on cleanup and repair of the break to prevent further home flooding.
Even if you don't live in a flood zone, you still might need flood insurance. Check with your homeowners/renters insurance policy or with your insurance agent to see if home floods caused by water main breaks are covered.
Being aware of your flood-zone risk should be your very first line of defense. Knowing if you're at high-risk can help you know how to prevent flood damage in your area. Even if you live in a low-risk area, it is important to know what to do in case of a flood.


Make a flood emergency plan, and maintain an emergency flood kit. Making plans for evacuation and shelter based upon your risks for floods could save your life in an emergency. Keep your emergency flood kit stocked with non-perishable foods, first aid supplies, flashlights and blankets to keep warm (depending upon the season).


Check your insurance. Not all home floods are covered by insurance, so be sure to check with your home insurance agency to see if you're covered.


Inspect your home for cracks in your basement walls or foundation, and seal them. For extra protection, FEMA recommends sealing your basement walls or foundation with waterproofing compounds to prevent home flooding.
Have a professional elevate your electrical panel and equipment in your home, especially in high-risk areas. In addition, choosing a furnace or boiler that can be elevated or selecting a water heater to account for expected flood levels can save your home from further damage. According to Ready.gov, you may even need to have your gas or electricity turned off to prevent fires and potential gas explosions.


Install reflux valves, or one-way valves, in the pipes that lead to your sinks or tubs. These special valves can prevent flood damage by ensuring that water only flows one direction, and not back up through your drains.


Install a sump pump, if you don't already have one, and schedule annual check-ups to keep it operating efficiently. Sump pumps draw stormwater and groundwater away from your home and prevent flood damage to the lower levels of your home.


Be prepared to evacuate at a moment's notice. If a flood or flash flood warning is issued, head for higher ground — and stay there until authorities tell you it is safe to return.
A final note on how to prevent flood damage: While winter storm preparedness is important for such a harsh season that is prone to cold temperatures and freezing, a spring thaw can herald more than just the return of your colorful perennial blooms. A thaw can result in a sudden release of water and cause significant flood damage to your home.
Important Safety Tips During Flood Recovery
By creating and following a short checklist, you can keep you and your family safe in the event of a home flood.
Avoid the serious dangers of electrocution. Don't step into a flooded basement or other room if water could come into contact with electrical outlets, appliances or cords. Don't try to turn the power off in your breaker box, especially if you must stand in water to do so. Always call a professional before attempting to turn off your power. If an electrical appliance has been in contact with water, have a professional check it out before you use it again.


Act fast in the event of a septic spill. Sewage spills create a hazardous environment for you and your family as sewage can quickly spread disease and infection. Evacuate young children, the elderly or anyone with a weakened immune system or breathing problems first. Some spills have DIY cleanup options, but always contact a professional before attempting cleanup.
Remember too that even if your home isn't affected by floodwaters, you may lose power due to a storm. If you need help with what to do when the power goes out, check out our post about blackout power outage tips.
How to Repair Flood Damage
It can be difficult to know what to do when you're in the middle of a home flood situation. Keep these flood damage repair tips in mind, and always call a professional if you need further help. 
Find a safe environment. The safety of you and your family is your top priority. Don't risk injury or illness by staying in an unsafe environment. Find a safe place to stay first, then contact your insurance provider for the next steps.


Call a flood damage repair company for help. Contact a 24-hour repair company immediately for an assessment of the flood damage and to help with cleanup. Check with affected friends and neighbors as well; your community might want to help too.


Get your possessions to higher ground. If you can't move your furniture and belongings, or it's unsafe to do so, hire a company to relocate them for you until you've extracted all the water and your home is dry. If the furniture is already wet, make sure it's dry before storage to avoid mildew and mold.


Drain and remove floodwater. Have professionals stop more water from entering your home if possible, and have the water and humidity professionally extracted from carpets, furniture, drywall and other flooded areas.


Document everything. Take photos and make notes to assist in submitting a claim to your insurance provider and to smooth the way for repair and restoration. If you cannot safely access areas to take photos, wait for your insurance company to come and take photographs themselves. 


Reduce the risk of mold. You'll need to get rid of water-soaked materials like drywall or insulation completely — they can't be reused once they're wet. For things like wooden or other structural elements, the goal is to dry them out within 24 hours to prevent black mold, so act quickly or immediately call professionals to help.
 
Replace drywall affected by water damage. After the area is safe to access, fixing water damage can seem like a big task, but DIY water damage removal is possible. Find a step-by-step guide to fixing water damage here.
Flooding Resources
If worst comes to worst and disaster strikes, you're not alone. Whether you need immediate assistance or simply want to learn more about how to prevent flood damage, check out these resources for more flood preparedness tips and assistance.
FEMA Disaster Assistance Program. If you need immediate assistance from a major disaster, click here to apply now or to get more information on the support and resources FEMA offers.


File a flood claim. The goal of the National Flood Insurance Program is to reduce the socioeconomic impact of flooding on private and public structures by helping people find affordable flood insurance and by educating communities on floodplain management regulations. Visit Floodsmart.gov for more information about the National Flood Insurance Program.


Pitch in to help those affected by home flooding. When home floods strike, every little bit counts. You can help repair flood damage by partnering with the Red Cross to provide shelter, food and relief to families. Whether you want to donate, give blood or even train to become a Red Cross volunteer, this page will get you started.
Even if you don't live in a designated flood zone, home floods are still possible, and can be unpredictable and destructive. Whether your basement floods when it rains or you live in a region that sees very little precipitation, it doesn't hurt to educate yourself on the causes of home flooding and what you can do to prevent flood damage. With a little short-term planning, you can save yourself a lot of long-term financial heartache!