Carbon-Free Electricity Supply Helps Meet Sustainability Goals
The transition to clean electricity supply is here, and customers are looking for options decarbonize to meet sustainability goals. Customers can make a cost-effective investment to support the production of electric power from generation sources that do not directly emit greenhouse gases (GHG) by purchasing carbon-free electricity. 
Emission-Free Energy Certificates (EFECs) represent the emission-free attributes of generating sources that do not emit greenhouse gases, such as solar, wind, nuclear and hydropower1. 
When you buy carbon-free electricity from Constellation, your electricity usage is matched with EFECs from those energy sources, resulting in carbon-free electricity. Your purchase –
May assist your company in meeting goals for lowering emissions associated with its annual electricity consumption2, 3
Demonstrates support for emission-free generation sources.
Provides an option for meeting carbon-free goals when land or capital to deploy onsite options are unavailable.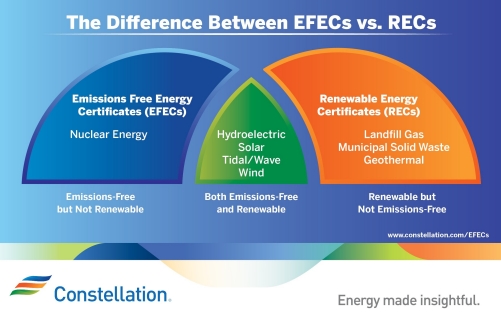 Achieve Your Sustainability Targets
With our broad array of innovative clean energy solutions, Constellation can help you achieve your carbon reduction goals at each step of your journey. Work with our energy professionals to develop the right solutions for your business. Put your strategy into action.
1 This product is primarily source from nuclear facilities located within the PJM service territory, although Constellation reserves the right to supply EFECs from any generating facility that does not directly emit greenhouse gases, including hydropower, solar, or wind.
2 Check your GHG reporting protocols to confirm.
3 Based on current World Resources Institute (WRI) guidance. Scope 2 reporting claims of this product may be affected by future changes.