Answers to Your Home Energy FAQs
Click below to find the answers to your questions based on topic:
Questions Related to Signing Up For Service
Q: How do I switch or choose a new energy supplier?
A: The process for switching energy suppliers is easy:
Have a recent copy of your utility bill.
Review our pricing plans.
Carefully read the service terms and conditions for your energy plan.
Choose the plan that best fits your needs and fill out the simple online form.
Q: Is my personal information safe with Constellation?
A: Yes, we are required by law to keep your information confidential.
Q: If I choose Constellation as my energy provider, will it impact my participation in state assistance programs that help me with my energy bill?
A: If you currently participate in state assistance programs that help you with your energy bill, please check with your current program to see about eligibility for choice.
Q: If I select a contract, is there a fee for cancellation?
A: An early termination fee may apply, depending on which type of plan you choose. For instance, if you opt for a month-to-month electricity plan, then no fee applies. But, if you select a fixed-term contract and cancel your agreement before your contract period ends, then a fee may apply. Be sure to read the contract documents that apply to the plan you're considering, and ask our friendly Customer Care Team any questions you may have prior to signing up.
Learn more about the charges and fees on your electricity or natural gas bills.
Q: Will you check my credit?
A: Yes, as a part of the enrollment process we do check your energy risk score. Although this check is done through a national credit agency, it is a "soft inquiry" that will be referenced on your report and is not revealed to creditors or lenders; consequently, it will not negatively impact your credit score.
Business customers: We perform a credit analysis, once you complete a credit application.
Q: Why does my gas company need my Social Security Number (SSN)?
A: Residential Customers: As your gas company, we use your social security number as a unique reference to identify you during energy risk score analysis. Once you provide your social security number on our secure website or to a Customer Care Team member, we will only store the last 4 digits in your account information. This information is maintained for future identification purposes.
Q: Help! I have always paid my bills on time, but your website says I need a deposit!
A: It is possible that some of the information provided during enrollment was typed incorrectly. First, try clicking the back button on your browser to check the details, especially your birthdate, social security number, and spelling of your full name. If everything is correct and our web site continues to ask you for a deposit, contact your previous retail electric provider and request a letter of credit. They should send you a letter by U.S. Mail that will show your payment history. You can also ask them to fax the letter of credit to us at 866-477-8576 to help expedite the process. We would be happy to accept this letter in place of a deposit.
Q: I am moving into my new home in less than 3 business days, why can't I get power sooner?
A: When you request a new move in, we typically process that order and send it out for completion the same day (possibly the following business morning if your order was submitted late in the afternoon or after hours). However, in order to physically come out and read/connect your meter, we have to make an appointment with your local metering company (your TDU) and they require at least 3 business days' notice to perform this task. Since the TDU that services you is decided by where in Texas your meter is located, this timeline does not shorten regardless of which provider you choose (some other providers add their processing time to this 3 day window so they may quote a longer turn-around time).
Q: I am moving and Constellation is not available at my new address. What are my options?
A: Please contact our Customer Care Team as soon as possible, and they will assist you.
    Georgia:
    Texas:
    Customers outside of Georgia and Texas:
Q: How do I cancel my service with Constellation and switch to another provider?
A: Please contact our Customer Care Team, and they will assist you.
    Georgia:
    Texas:
    Customers outside of Georgia and Texas:
Q: Where can I get a copy of my contract's terms and conditions?
A: Residential customers: Your welcome materials or home renewal details included your Terms of Service, and if you received these items via email, there are convenient links to reach your official plan documents. If you're having trouble locating these, please contact our Customer Care Team to request an additional copy.
    Georgia:
    Texas:
    Customers outside of Georgia and Texas:
Business customers: Please contact your Business Development Manager or our Customer Care Team and request an additional copy.
Q: How can I get my customer number after I've enrolled?
A: You will receive a welcome email once your service starts that includes your customer number. If you are a Constellation customer in Texas and would like to receive your customer number prior to your service starting, simply fill out this form to find your customer number.
Common Questions Related to Customer Care and Billing
Q: How do I contact Constellation's customer service to discuss enrollment, billing or other non-utility issues?
A: All of our contact information can be found on our contact us page.
Q: I made the switch to Constellation. How long does it take to see the changes reflected on my bill?
A: When you switch energy companies, it will usually take 1-2 billing cycles to see changes reflected. You should then see Constellation listed in the supply portion of your utility bill.
Q: I pay my utility bill online. Can I continue to do that if I choose Constellation as my supplier/provider?
A: If you have signed up for online billing with your utility, then you should be able to continue to pay your utility bill online.​
Q: How can I pay my bill?
A: You can make a one-time payment or set up Auto Pay through My Constellation. You can also make one-time payments each month by phone using your debit or credit card, or pay by check. 
Q: Can I pay my bill online without having a My Constellation account?
A: You do not need to log into your My Constellation account to make a payment. You can make a one-time payment as a guest here. You'll simply need your customer number and an email address to make a payment. You can find your customer number on your Constellation invoice.
Please note, if you have been disconnected or your disconnection notice is at or past your due date, please contact us before making an online payment.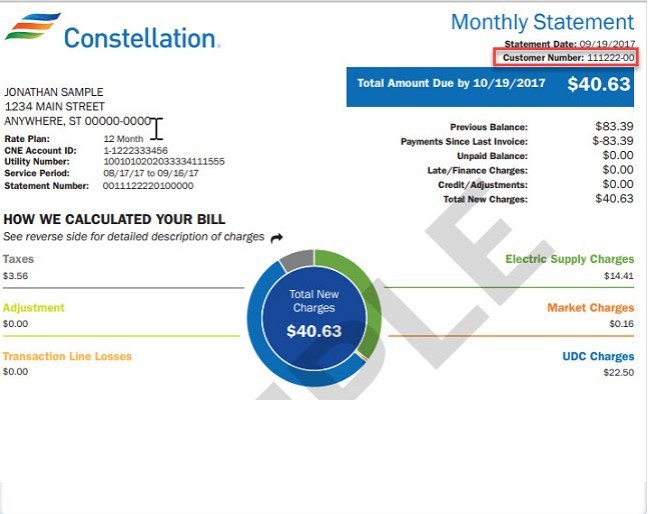 Q: Can I set up Automatic Payments?
A: Yes, you may set up Auto Payments to be drafted automatically each month. This secure, easy and convenient way to pay your bill is drafted from your account on time, every month so you don't have to worry about misplacing your bill or forgetting your due date.
Auto Pay can easily be set up through My Constellation:
Select the payment method you'd like us to charge your automatic payments to each month.
Agree to terms and click the "Enroll" button below to submit your selection.
Each month Constellation will pay your full bill amount on your due date.
Q: What if my Automatic Payment is declined?
A: If your payment is declined or returned for any reason, you are required to make other payment arrangements and may be subject to late fees, interest charges and/or disconnection if payment is not made. You can make a one-time payment through My Constellation, or pay by phone:
Q: Will I be notified if my credit card attached to Auto Pay has expired before my payment is due?
A: We will send an email notification to you 60 and 90 days prior to your credit card. Please ensure the email address associated with your account is active and up to date in order to receive these notifications.
Q: How do I update my credit card for Auto Pay?
A: To update your credit card associated with Auto Pay, simply:
Log into your account
From your Dashboard, scroll down to the "My Quicklinks" section and click "Manage My Wallet"
Select the credit card you would like to edit or add a new payment method
Q: Can I cancel Auto Pay?
A: Yes, you can cancel your automatic payments; however, to avoid payment of your current month's bill, Auto Pay must be canceled before 9 pm EST the day before your scheduled payment date as seen in My Constellation. Simply click the "Cancel Auto Pay" button to unenroll.
If you cancel your Auto Pay after 9 pm EST the day before your payment is scheduled or on the day of your scheduled payment, your payment will be drafted from your account.
Q: Can a customer care agent help set up Auto Pay for me?
A: Your account's security is of utmost importance to us, so at this time a customer care representative is unable to set up Auto Pay for you.
Q: What am I agreeing to when I enroll in Auto Pay?
A: By enrolling in our Auto Pay program, you are authorizing automatic payment from your designated bank or credit card account to Constellation. An automatic payment for the full amount of your energy bill will be drafted on your due date, or the first business day following your due date, every month while you are enrolled in the program.
Q: What if I don't want to set up Auto Pay?
A: You may also make one-time payments each month online or by phone with a debit or credit card, or pay by check.  
If paying by check, please mail it to:
              Georgia customers:
                     Constellation NewEnergy – Gas Division, LLC
                     PO Box 5472
                     Carol Stream, IL 60197-5472
              Texas customers:
                     Constellation Texas
                     PO Box 5471
                     Carol Stream, IL  60197-5471
Q: What happens at the end of my contract term?
A: Before your contract expires Constellation will mail you a renewal notice outlining your renewal options.
Learn more about renewing your residential energy plan.
Q: How do I change or renew my contract?
A: To renew your contract or view current products, please click here. You may submit a request to renew your contract no sooner than 30 days prior to your existing contract expiration date. Your current contract information can be found on the front of your invoice, if you are a Georgia or Texas customer.
For your protection, we are not able to accept account modifications by email. Please call our Customer Care Team for assistance.
    Georgia:
    Texas:
    Customers outside of Georgia and Texas:
Common Questions About Billing Questions for Texas Customers
Q: What are the TDU charges on my bill?
A: TDU charges are those charges associated with the delivery of electricity to a customer over poles and wires from your Transmission and Distribution Utility (TDU). The TDU charges are outside of the control of Constellation, are approved by the PUCT, and are passed through directly to you without additional markup. TDU charges are assessed by each respective TDU to all customers in their service territory, regardless of who their retail electric provider is. Constellation, as the billing agent for the TDU, collects these charges from customers on behalf of the TDU and remits them back to the TDU. Such charges are clearly labeled as a separate line item on your bill so that you can clearly distinguish which charges are Constellation's and which are the TDU's.
Q: How is the due date of my bill determined?
A: Your utility company reads the meter at your address each month and sends a report to us with your usage. We then generate a bill immediately after receiving your usage report from your utility. Your due date is two weeks after your bill is issued.
Keep in mind your due date may vary slightly from month to month. For example, if your bill was due on the 15th last month, your bill may be due on a different day the next month.
Q: Can I change the due date of my bill?
A: Unfortunately you can't. Your bill due date is determined by the date your utility company reads your meter. We do not control when that happens.
Q: What is the energy charge?
A: Your energy charge is the amount that Constellation collects from you for electricity supplied and used. It is what you agreed to pay at a cost per kilowatt when you signed your contract. It is also the component of your electricity bill that Constellation controls.
Q: Where do I find my average price per kWh?
A: Your average price per kWh can be found on your electricity facts label (EFL) or on your invoice labeled "The average price you paid for electric service this month" under the Current Charges Detail section. The average price is where you can see the overall cost of your electricity consumption and what you can use to compare your rate to any other rate in the market.
Learn more about how to understand your energy bill.
Q: Does the average kWh price include my local utility's charges for delivery?
A: Yes. Our average price is an estimated all-in price based on 2,000 kWh of energy usage per month, and includes:
Your energy charge
Estimated TDU charges
All other recurring charges (e.g. bill credits or minimum usage fees, depending on your plan type)
Learn more about how electricity bills are calculated.
Q: What is an unbundled rate plan?
A: An unbundled rate plan means our energy charges are billed separately from your Transmission and Distribution Utility (TDU) charges.
Other Frequently Asked Questions
Q: What is the difference between my local utility company and Constellation?
A: Constellation is a supplier of electricity and natural gas. Your local utility company will be responsible for the delivery of electricity or natural gas to your home and will maintain all poles and wires.
Learn more about energy choice and the differences between utility companies and energy suppliers.
Q: How do I report a power outage?
A: To report a power outage, you must contact your utility company. The utility company is responsible for maintaining the power lines, poles, and meters, as well as restoring power when there is an outage in your area. Find your utility company's contact details to report an outage here.
If you are a customer in Texas or Georgia and believe your power or natural gas has been turned off due to non-payment, please contact us.
Q: How will the relationship with my current utility change if I buy power from an alternate energy provider?
A: Your relationship with your utility will remain the same. The utility company is bound by law to provide equal service to all of its customers regardless of your provider of electricity or natural gas supply.
Q: Will my utility company need to be notified of the change to Constellation?
A: When you make the switch to Constellation, we will take care of contacting your current utility.  You will receive a notice from your utility confirming your selection of Constellation as your electricity or natural gas supplier.
Q: What do I do if my power goes out?
A: Contact your local utility and report the outage. Your local utility, or distribution company, is still responsible for maintaining the reliability of the transmission and distribution system, including the poles, wires and pipelines that deliver your electricity and natural gas supply to your facility.
Q: Whom should I contact if I have a question regarding the status of energy competition or licensed retail energy providers (REPs) in my market?
A: You should contact your local Public Utility Commission or Public Service Commission.
Common Questions Related to Energy Choice and Retail Competition Facts
Q: Where can I learn more about energy and energy-related topics?
A: Visit our Energy 101 section where you can get an overview about energy, how it's produced, what determines electricity pricing, and some of the terms commonly used.
You can also visit the U.S. Energy Information Administration's page, Energy Explained, a web site that provides even greater detail about the many forms of energy available, energy generation, how the markets operate, how much renewable energy the United States uses, and hundreds of other energy topics.
Q: There are so many acronyms and terms! What do they mean?
A: The electricity industry is full of abbreviations that describe terms that are often unfamiliar to the everyday person. To help, we have prepared a glossary of terms to provide a quick walk-through of the definitions.
Q: How does switching electricity plans or providers affect my electricity delivery service?
It should not be affected. Your service should be constant while you switch. Your local utility will still be responsible for delivering your power and responding to any service calls or emergencies. They take care of the poles and wires. Switching to Constellation is a choice, and you are not required to switch in order to continue receiving power.
Q: Should I choose a move-in or a switch?
A: If you are just moving into a new property and the power is due to be newly in your name at this address, you should select Move-In. If the power is currently in your name at this address, with another provider, your options are Self-Selected Switch or Standard Switch.
Should I choose a standard switch or a self-selected switch? Select "Standard Switch" if you are not on a contract or if your current contract is about to expire in the next 10 days. This type of switch will typically take 3 to 7 business days.
Select "Self-Selected Switch" if you are in a contract with your current provider and would like to schedule a specific business day after its expiration for your switch. Please note that a Self-Selected Switch date may not be scheduled for more than 30 calendar days in advance from the date of enrollment request.
Renewable Energy
Q: What is Renewable Energy?
A: Renewable Energy, also known as green power, is energy generated by the sun, wind, earth, and water. These resources replenish themselves naturally. Renewable energy fuels include solar, landfill biomass, wind and geothermal.​
Q: Do you have green or renewable energy plans?
A: We offer a renewable national wind and/or solar product available for customers in states where we offer competitive electricity.