Severe Winter Weather Preparedness Guide
Severe winter weather can bring sleet, below freezing temperatures, or a snowy blizzard, ranging from inconvenient conditions to disastrous effects. Familiarizing yourself with winter storm preparedness tips is always a smart decision! At Constellation, we want to make it easier for you to stay safe and warm, save on energy costs, and prepare your home, small business, or car for winter storms and emergencies.
Select the Winter Emergency Preparedness Guide You Need
Click through to each of our winter storm emergency preparedness guides below to find tips to get you through all winter situations:
How Do You Prepare for a Winter Storm or Severe Winter Weather?
First, know if you're at risk to encounter winter storms. Most residents in Upstate New York who have experienced severe winter weather and snowstorms, welcome snow like an old friend coming to visit. Compared to residents in Atlanta, Georgia, where it only snows less than 2 inches total in a year, winter storm preparedness might not be something they regularly consider. Constellation services 17 states and Washington, DC, so each region's winter weather differs greatly. Check out this example map about the estimated winter conditions for 2018 across the country.


In order to stay safe from snowstorms and severe winter weather, it is always best to err on the side of caution. Never assume you're safe from winter storms even if you live in a more southern area. Preparing for a winter storm starts with understanding how to read a weather forecast and familiarizing yourself with common winter weather terms. Take precaution with our winter weather tips.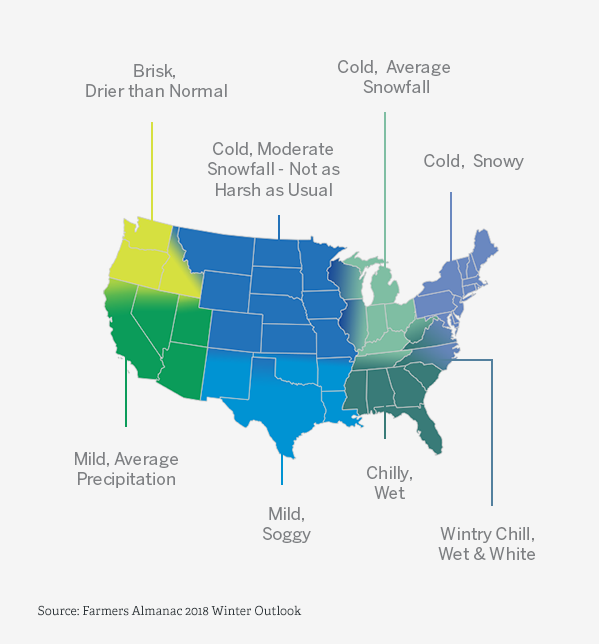 How to Read a Winter Weather Forecast
Not sure what your severe winter weather forecast means? Find common weather terms and definitions below!
Basic Forecast Terms
These winter weather forecast terms are based off of the National Weather Service.
Winter Weather Advisory
Weather advisories are issued when inclement weather is forecasted, and might cause inconvenient or potentially harmful cold and wet weather.
Winter Storm Watch
A severe weather watch is issued when life-threatening weather and snow storm effects are forecasted within the next 24-72 hours.
Severe Weather Warning
Severe weather warnings are calls to action for residents to protect themselves from current severe weather conditions that are, or will be happening in the next 12-36 hours.
Blizzards are life-threatening snow storms with heavy snowfall and high winds of above 35 mph, often happening simultaneously.
Freezing rain is when large drops of rainfall freeze on the earth's surface.
Hail is the precipitation of ice balls, at least 5 millimeters in diameter, caused by relayering of precipitation around the hail center.
An ice storm is a winter storm known for its excessive freezing rain.
The lake effect occurs when a winter storm moves over a large lake with warmer water, causing the water to evaporate, rise into the storm, and strengthen the storm.
Mixed precipitation, also known as a "icy mix" or "winter mix", is the mix of two or more winter precipitation types falling together.
Sleet is when frozen raindrops, made by melting snowfall in the atmosphere refreezing before touching the earth.
Snow drifts are the result of high winds that blow falling snow to create deceptively large snow banks.
Wind chill is the occurrence of strong winds that make it feel like the temperature is much less than it is. These low wind chills can drop to under -15°F.
Emergency Winter Storm Safety Tips
Once you've checked the forecast and know that you'll be getting a harsh blizzard or ice storm, determine if you have the capability to stay. If it's an emergency situation, follow these winter weather safety tips.
Evacuate in the Event of a Emergency
Evacuating is great preventative action to harsh weather, especially hurricanes, but snowstorms are mostly dealt with by staying inside and waiting out the storm. However, you'll need to be prepared to do so, since severe winter weather and  snow storm effects can cause below freezing temperatures, electricity outages, and bring enough snowfall to block you from leaving your home.
Ensure You Have Proper Equipment to Stay at Home
Do you have the means to keep your home warm in the case of a major blackout: fluffy blankets, portable heaters, or a generator? If you don't have the necessary equipment to withstand a few days in your home without electricity, consider staying at a loved one's house for the time being, or a local shelter.
Seek Safety in a Shelter
If you're in need of shelter during severe winter storms or freezing temperatures, here is a list of resources to find warm shelter in the storm:
Preparing for Winter Storms at Home
If you've decided to wait out the blizzard in your home, consider some of these winter storm preparedness safety tips:
Take Care of Your Pets Be sure to bring your dogs, cats, or any other pets inside for the duration of the severe winter weather. Pro tip: if you have a pet that is used to being outside and might be uncomfortable indoors, try moving in their house/hut to have a familiar sleeping structure to stay in. 
Check In on the Elderly or Disabled Those with oxygen tanks or technological medical needs are dependent on electricity. If you know anyone who has special health needs, be sure to check in on them and ensure that they have what they need in case their electric goes out. 
Look Out for Winter-Related Injuries and Illnesses Don't let winter-related illnesses go unnoticed, and learn how to spot hypothermia, frostbite, and other weather injuries by checking out the Center for Disease Control's information on cold-related illnesses. 
For more winter safety tips for your home, check out our guide to preparing your home for winter.
Interested in knowing more winter storm preparedness tips? Find more information in our other winter weather guides:
Learn More About the States We Service
Interested in finding an energy plan that fits your budget? Explore electricity and natural gas plans
in your area:
Connecticut, Delaware, Georgia, Illinois, Indiana, Kentucky, Massachusetts, Maryland, Michigan, Nebraska, New Jersey, New York, Ohio, Pennsylvania, Virginia, Washington, D.C. and Wyoming