Find the Right Rooftop Solar Provider for Your Home
Millions of people do their part each day to take care of the Earth — from recycling and composting to using LED light bulbs and biking to work. At Constellation, we're committed to offering you more clean and affordable energy choices for a brighter, more sustainable future. We want to help you reduce your carbon footprint.
Working with Constellation for your solar needs means you've got the backing of a national energy company that offers energy solutions across America. Constellation's family of retail businesses serves approximately 2.2 million residential, public sector and business customers, including more than two-thirds of the Fortune 100. In other words, joining Constellation means you've got the stability of a large energy family behind you.
Need a little more information before you make the switch to renewable solar power? Here are some additional details to help you decide.
Constellation is working with Sunrun, a solar energy company, that designs, installs, finances, insures, monitors, and maintains residential solar systems. Sunrun installation teams have been installing high-quality solar for 20+ years - and their work shows it. And thanks to Sunrun, going solar is simple. You say "yes", and their team of solar experts takes care of the rest. 
How Renewable Solar Power Works
The mechanics of solar power are fairly straightforward. Here's how renewable solar power works:

Solar panels convert sunlight to direct current (DC) electricity.
An inverter converts DC into alternating (AC) electricity.
Your solar meter will measure how much energy your panels are producing so you can be sure the panels are generating the energy you paid for.​
The utility meter measures how much energy you use and the amount you send back to the grid so that you receive credit against your use at other times (i.e. at night or on cloudy days).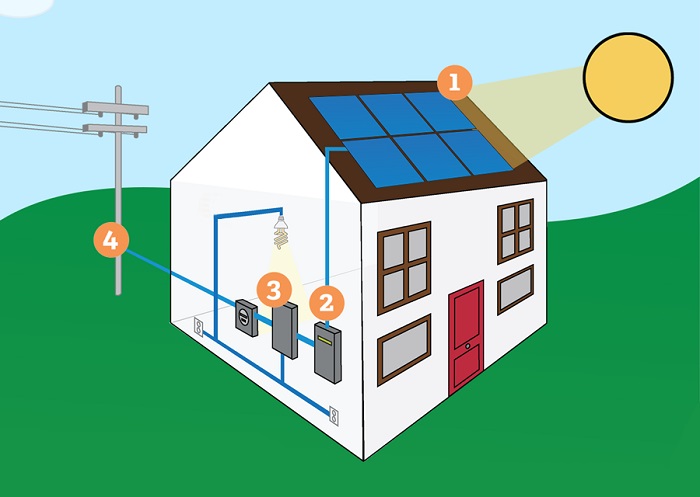 Currently, Constellation, by working with Sunrun, offers solar energy services in five states: Connecticut, Maryland, Massachusetts, New Jersey and Pennsylvania, as well as Washington, D.C.*
Three Reasons to Get a Quote for Solar Service Today
1. You can lock in your rate. Electricity rates fluctuate regularly over time. Changing to renewable solar supply effectively locks in today's solar electricity price for a number of years with Sunrun as your solar energy service provider.
2. You can choose flexible payment plans. Everyone's financial situation is different, so Sunrun gives you a choice of payment options - all of which help you go solar more easily.
BrightSave Monthly: Don't worry about a big upfront payment with Sunrun's BrightSave Monthly plan. For as little as $0 down, you can go solar.​
BrightSave Prepaid: Purchase 20 years of power upfront at the best price Sunrun offers​
3. You can have more time for you. Making the sun your energy source and knowing exactly how much you'll pay (or not pay) for your electricity usage each month means you can better manage the rest of your household budget and free up some time and money for the things that matter. Why not take time to get your moment in the sun?
Adding Renewable Solar Energy to Your Home is as Simple as Answering Four Questions:
Getting started is as easy as answering these four questions:
Do you own your home?
Does your home get plenty of sunshine?
Does your roof have a long life span ahead of it and in pretty good shape?
Do you spend an average of $100 a month on your electric bill?
If the answer to these four questions is yes, renewable solar power could be the right energy choice for your household. It's better if your home isn't overly shaded by tall trees or buildings. Unlike clouds, shade from solid structures prevents rays from reaching your roof.
Ready to learn more about how Constellation and Sunrun can help you harness the sun's energy for your home? Get started today.​

*Offer only available in select areas of Connecticut, Maryland, Massachusetts, Pennsylvania, Washington D.C., and the PSEG utility territory in New Jersey. Restrictions apply. Residential solar system provided by Sunrun, Inc. CSLB number 969975. Sunrun standard customer eligibility requirements apply.