Fixed Electricity Rates Offer Small Businesses Peace of Mind
As a leading provider of electricity among Fortune 100 companies, Constellation is well-positioned to provide electricity for small businesses across the United States.
Our fixed price electricity solution helps small businesses manage their energy costs. With a fixed price plan, you can lock-in price certainty for the selected term. This allows you to budget your operational expenses with greater confidence.
Choosing Constellation for Your Small Business Electricity Needs
With energy deregulation for small businesses, customers in markets across the country are able to secure competitive pricing for their electricity. When choosing an electricity plan for your small business, it's important to evaluate your business's energy consumption patterns and determine what type of plan will best meet your needs. 
By signing up with Constellation, you can gain greater price protection and stability in your electricity expenses, while still receiving service from your local utility.
How Does Signing Up with Constellation Work?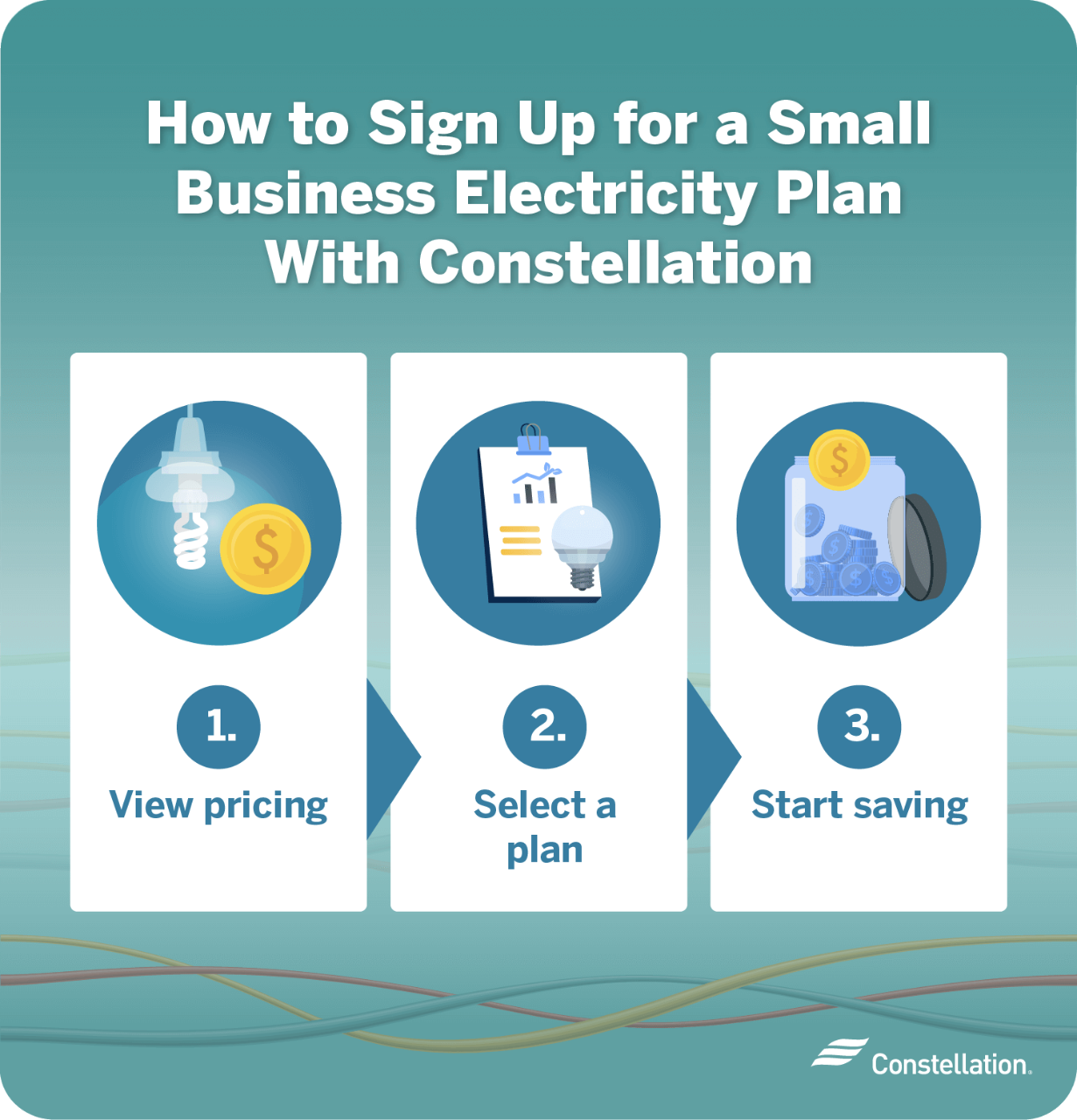 The process for choosing Constellation as your small business electricity provider is simple:
View pricing. You can view pricing online or call us at 855-585-3935 to learn how Constellation can help your small business.

Select a plan. Choose the electricity plan and term length that best fits your small business's needs.

Start saving. Better manage your business's energy expenses with fixed electricity rates that don't fluctuate with market conditions.
Your local utility will still service your lines, check your meter and respond to emergencies. The only difference is that you will receive greater price protection thanks to the wholesale buying power of a large national company like Constellation.
The benefits of switching to Constellation
Thanks to the competitive marketplace, customers across the nation have the opportunity to "shop around" for their electricity, ensuring they get the best price while continuing to rely on their local utilities for service.
By switching your small business electricity provider to Constellation, you will enjoy:
No transfer fees from Constellation.
No installation of extra equipment is needed for most customers.
A seamless transition - We will coordinate the switch with your local utility.
Small Business Electricity Resources