Support Your Environmental Goals with Renewable Energy Certificates (RECs) 
Customers are looking for the opportunity to show their customers, vendors, and shareholders that it has started the process toward achieving sustainable practices. 
RECs can be purchased as a block, or as a percentage, of your electricity supply and help to offset Scope 2 emissions.1 Constellation's NewMix® RECs are sourced from renewable generating facilities located within the continental United States. 
Customers that want to promote their environmental commitment retire RECs to show the commitment and can match any percentage of annual electricity supply at each facility with RECs for the length of your contract. 
RECs can be purchased as a block or a percentage of your electricity supply to match a percentage of your annual energy use 
Claim a reduction in "Scope 2" greenhouse gas (GHG) emissions from electricity use2
Purchasing RECs helps to support facilities that generate clean, renewable energy.
NewMix® RECs purchased are sourced from wind and/or solar energy facilities in the lower 48 states.
Each REC represents the environmental benefits of one megawatt-hour (MWh) of electricity generated by a renewable power plant and is retired on behalf of your environmental commitment.

NewMix® is Green-e® Energy certified and meets the environmental and consumer-protection standards set forth by the non-profit Center for Resource Solutions. Learn more at www.green-e.org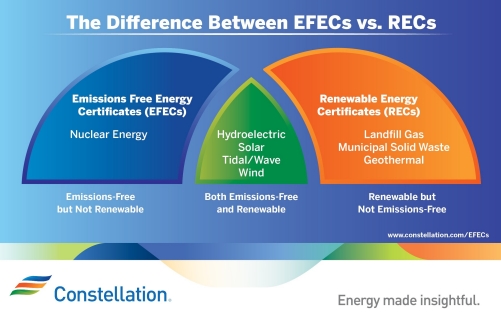 1 Based on current World Resources Institute (WRI) guidance. Scope 2 reporting claims of this product may be affected by future changes.
2 Your agreement will outline specific designated percentages of annual electricity usage matched with RECs.