Reducing Your Carbon Footprint Along Your Sustainability Journey
Businesses are looking for ways to reduce their carbon footprint with clean energy solutions that show their commitment to a cleaner future. Constellation broad offerings of clean energy solutions can help you achieve your carbon reduction goals at each step of your journey. Work with our energy professionals to develop the right solutions for your business and put your strategy into action.
Using your sustainability goals and energy strategy, design a plan that reduces your carbon footprint – 
Understanding the benefits and challenges is vital to get the most out of your vehicles. Many factors play a role in whether electrification is right for your fleet including facility locations, typical driving distance and start-and-go frequency.
Types of Emissions 
To start the process, it's important to get acquainted with the various sources of emissions associated with businesses. Greenhouse gas emissions are classified as either Scope 1, 2 or 3 emissions based on their source.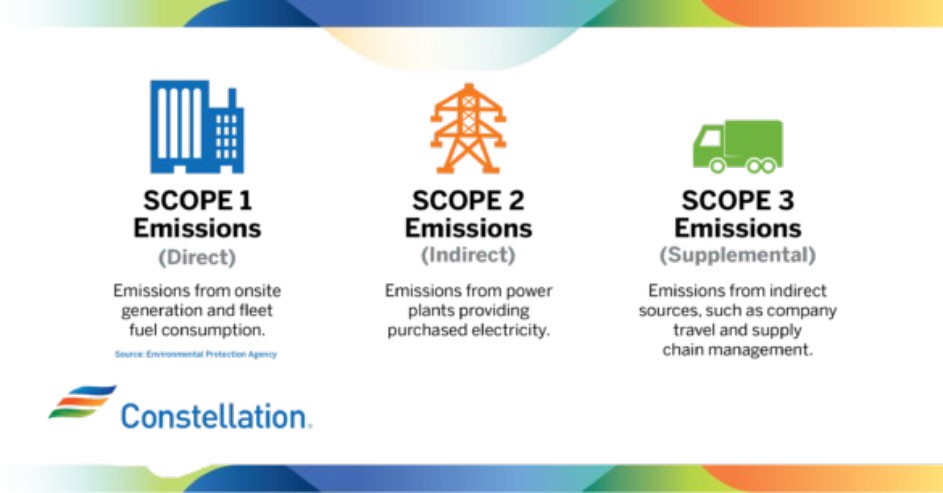 Scope 1 emissions are one area that businesses tend to focus on as they comprise of sources from a business' owned or controlled assets, and upgrades to these areas are typically easiest to manage with energy efficiency projects such as switching over to electric vehicles or utilizing renewable natural gas.


Scope 2 emissions represent indirect emissions from energy purchased from power plants that would power a business' own facilities and equipment. To reduce Scope 2 emissions, voluntarily matching electricity supply requirements with a carbon-free power generation source supports the use of emission-free fuels and demonstrates a commitment to the environment.


Scope 3 emissions are often complex and require mindful and strategic action. They involve choosing more sustainable vendors (or encouraging existing ones to engage in more sustainable acts) who assist with the following:

Purchased goods and services
Business travel
Employee commuting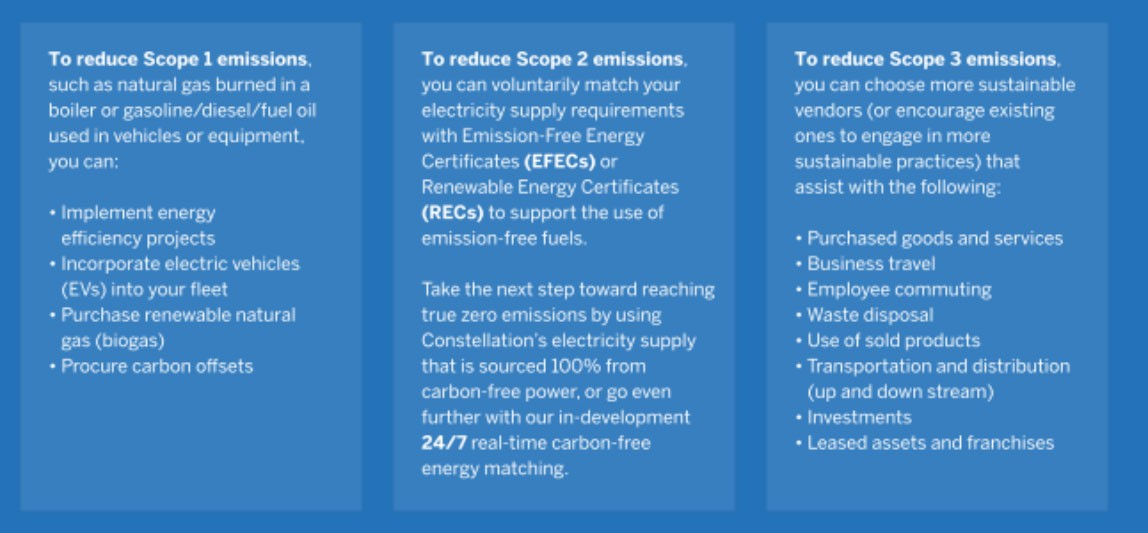 Explore Resources for Your Sustainability Strategy
Videos
Blogs