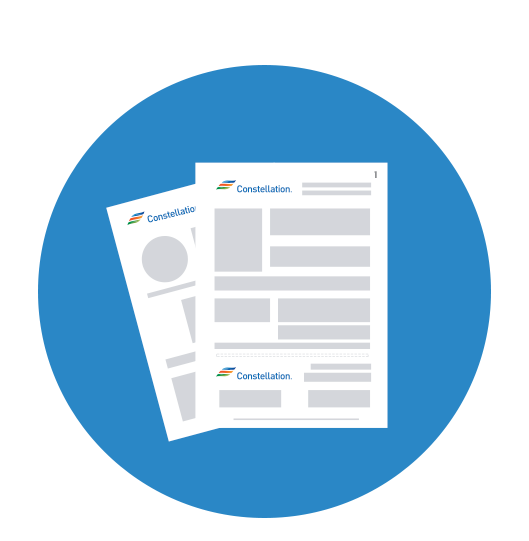 Understanding Your Electricity Bill and
Natural Gas Bill
Fully understanding your home energy charges each month is an important part of keeping your energy budget under control. When looking at your electricity bill or natural gas bill, you might wonder what the electricity or natural gas supply charges are about, what a kWh is, or you might be having other problems understanding your energy bills. Constellation wants to help you manage your energy expenses by teaching you about energy costs and how power usage might affect your overall monthly bill.
Your Electricity Bill Explained
The key to understanding your electric bill is understanding your energy costs and the line items that are shown on your bill. Grab a copy of your electricity bill, or find a sample electric bill from the supplier you will be using (your bill may come from your utility). Each bill is typically broken down into several home energy charges, which might vary slightly from your supplier or utility.
What are the Charges on My Electricity Bill?
Electricity cost: On your bill (or this sample electric bill), you will see a listing of the amount of electricity your home used for the month, listed in kilowatt-hours, or kWh. You have control over this portion of your bill in two ways. First, you can work to cut home energy charges by reducing your usage. Second, you can gain more control by selecting a supplier that offers a fixed-rate plan to avoid fluctuations in rates that happen due to the change of seasons, energy supply changes, or other outside factors.


Capacity cost: Another important factor in understanding your energy costs is understanding capacity cost. This fee, usually incurred by commercial customers, ensures that the electric utility has enough capacity available to cover the total power use demand of their customers.

While you don't get much input on how this rate is assessed, you can do your part to help lower these costs for all users by using major appliances and machinery during off-peak times and reducing your energy consumption during peak hours. Peak hours vary by location and season, so contact your electricity provider for information about how to avoid peak usage times in your area.


Utility Delivery Charge: Another common question about electricity billing concerns the electricity delivery charge. This charge is your portion of line maintenance and upkeep, which helps to ensure that consistent power is delivered to your home or small business. Your bill (like this sample electric bill) might show a different term such as "transmission fee" or something similar, but the impact on your electricity bill remains the same.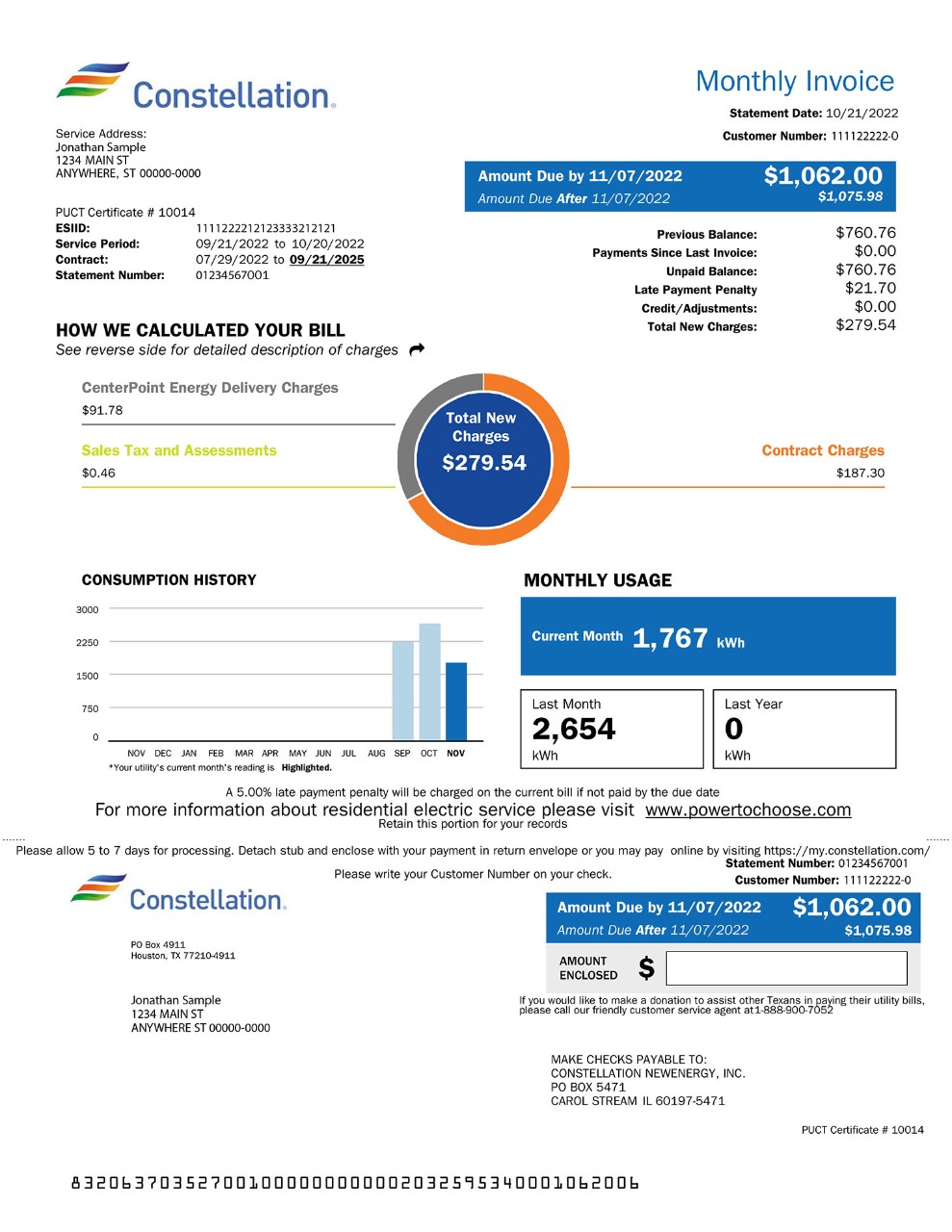 Constellation's electricity bills are designed to give our Texas customers all the important billing information needed, in an easy-to-read format.

In all other states served by Constellation, customers will receive a natural electricity bills from their utility.
Paying too much for your electricity & natural gas?
What Is the Difference between kW vs. kWh?   
It's easy to use the terms kW and kWh interchangeably, but they are two separate units of measure. A kW simply means a kilowatt — a unit of measure for electricity that equals 1,000 watts. A kWh (kilowatt-hour) is a unit of measure calculated to determine how many kilowatts an electric device uses per hour.
To find out more about kW vs. kWh and the formula used for kWs to kWhs conversion, watch our video!
How Do I Calculate My kWh?
Understanding your electric bill is more than knowing the rates you pay — you also need to understand how much energy you are using, because that's what ultimately determines your home electric charges. When reading your electricity bill, you will see the total cost of energy usage that month. This is calculated by multiplying the rate you pay per kWh by how many kilowatt-hours your home has used during the month. Knowing this formula will give you a basic way of understanding your energy costs
When you look at your electricity bill, you will see the total number of kWhs you used in the month, but you can't tell how much electricity each appliance is using. To find the general number of kWhs you use per month for each appliance, you can use this method: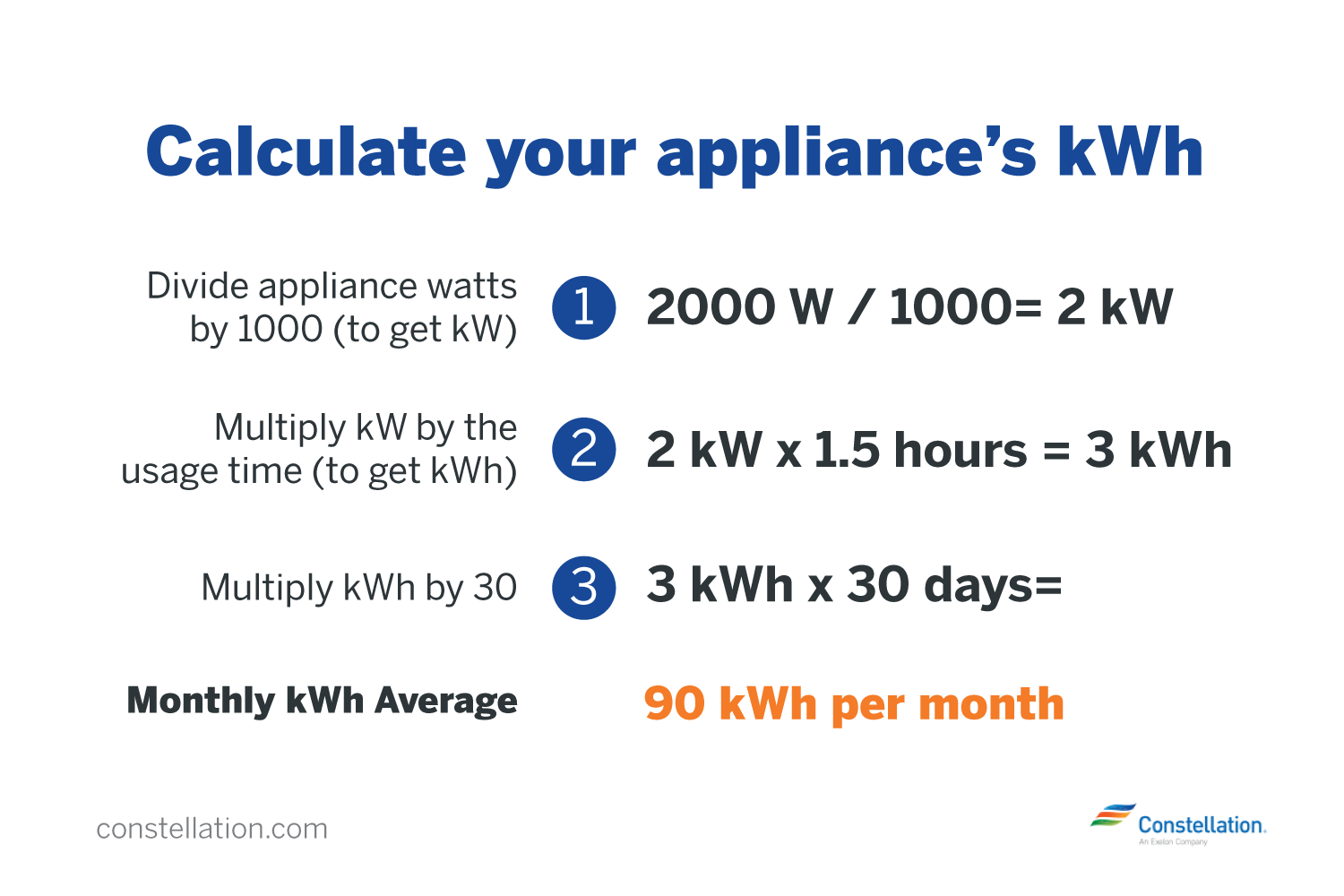 kWh Calculation Method  
Find the silver energy label on your appliance. The wattage should be on this silver label.
Divide that wattage by 1,000 to get your appliances energy use in kilowatts.
Multiply kilowatts by the average amount of hours the appliance is in use.
Multiply that number by 30 days to calculate the average kWh your appliance uses each month.
Your Natural Gas Bill Explained
Understanding your energy costs doesn't end with understanding your electricity bill. Your natural gas bill can be a big part of your home energy charges,and depending on where you live and your supplier, there might be several terms you need to become familiar with to understand your natural gas bill.
Fixed rates and variable rates are different billing plans, and will affect your natural gas bill. Understanding your natural gas bill becomes a little more complex when you are billed a variable rate that may change monthly. Fixed-rate billing is less complex than variable rates, and keeps the rate you pay for gas the same each month -- the only thing that varies is your usage.
A Few of the Most Common Natural Gas Bill Terms:
What is a CCF? CCF is the reading of the amount of natural gas you have used within the month, measured by hundreds of cubic feet.


What is a BTU? A British thermal unit, or BTU, is a measurement of energy that is used to calculate the amount of energy needed to raise the temperature of a pound of water 1 degree Fahrenheit.


What is a Therm? A therm is the equivalent of 100,000 BTUs. Typically this is the unit used to calculate the amount of energy used when determining your monthly charge for natural gas.


What is a price per therm? This is the rate you pay per therm, per your contract. This rate might vary due to time of year, supply and other cost factors if you are on a variable rate plan.


You might also have customer service charges, transmission fees, capacity fees and other similar charges based on the requirements of your state or utility.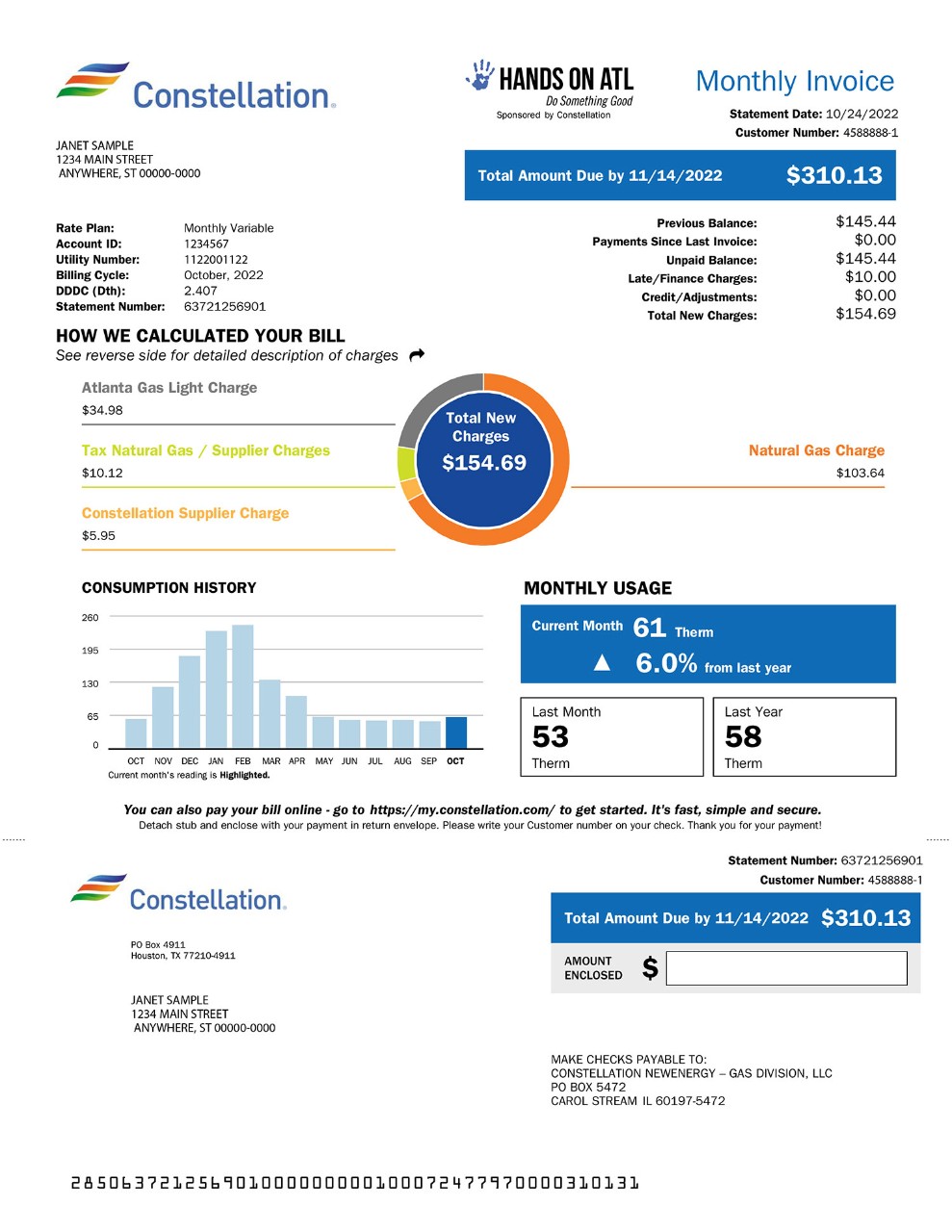 Constellation's natural gas bills are designed to give our Georgia customers all the important billing information needed, in an easy-to-read format.
In all other states served by Constellation, customers will receive a natural natural gas bills from their utility.
How to Lower Your Electricity and Natural Gas Bill
Join the Constellation Family!
Ready to switch your energy supplier? Compare rate plans in your area today. Sign-up fast & easy!
Renew your Constellation Energy plan!
Looking to renew your energy plan with Constellation? Find available plans for your account and renew today!