Average Utility Costs for an American Household
Average Utility Costs for an American Household
Utilities are essential to your comfort and are a significant part of most budgets. Knowing the average utility cost for a house will help you manage your budget and track how much you may be able to save.
The average utilities cost per month is driven by several factors, some of which you can control. Here are details that will help you better understand these costs.
What are the Different Types of Home Utilities?
Utilities are services that you pay for delivered to your door, by pipes, cables, via radio waves or by truck. Not every home will have the same ones. Average utility costs vary widely. The most common ones include:
Electricity
Natural gas
Home fuel
Water and sewer
Internet, phone, and television
Garbage & recycling collection
What is the Average Monthly Utility Cost in the U.S.?
The average cost of utilities for a house depends on the type of utilities you use. These are the most common types:
Electricity
Most people consider electric power to be the most indispensable utility, but it can also be one of the more expensive. The U.S. Energy Information Administration keeps up-to-date electricity cost statistics. Hawaii is most expensive with an average cost per kilowatt hour of 33.49 cents. Idaho is cheapest at 10.16 cents per kilowatt hour. You can expect to pay between $91.96 to $156.21 per month, on average, for electricity.
Natural Gas
Natural gas prices vary depending on the distance to manufacturing and storage facilities, transmission capacity, government regulations and consumer demand. Hawaiians pay the most, according to the U.S. Energy Information Administration, at $46.99 per thousand cubic feet and Idahoans the least at $7. The national average is $12.18. Expect to pay about $60 a month.
Home Fuel
Some homes use heating oil or propane for heating and some other appliances. These fuels are typically delivered by truck. The average monthly home heating oil bill is $154.92. Your average monthly propane bill will run about $134.86, again, with considerable variation by location, provider and the heating efficiency of your home.
Water and Sewer
The average American uses  If you are on a municipal water system, you must pay for water. In most cases, your bill also covers the sewer infrastructure in your town or city.
If you live in a 4-person household where each individual uses 100 gallons of water per day, you can expect to spend about $73 on your water bill each month.
Internet, phone, and television
Most people buy these once-separate utilities from one provider. Cable or satellite provider costs depend on the speed of your connection, what you include in your bundle, along with discounts and promotions. Some locations will even bundle in your wireless phone service. To give you an idea of what you'll spend in this area, the average internet bill in the U.S. is approximately $36 per month.
Trash and recycling
Most people must add the cost of picking up their trash and recycling to the average cost of utilities for a house. The area in which you live, the frequency of pick up, and the size of your trash containers will affect the rate you pay. For example, the monthly cost for a 64-gallon trash bin in Austin, Texas, is $29.70, while the cost for a 96-gallon bin is $50.15 per month.
What Impacts the Cost of Utilities?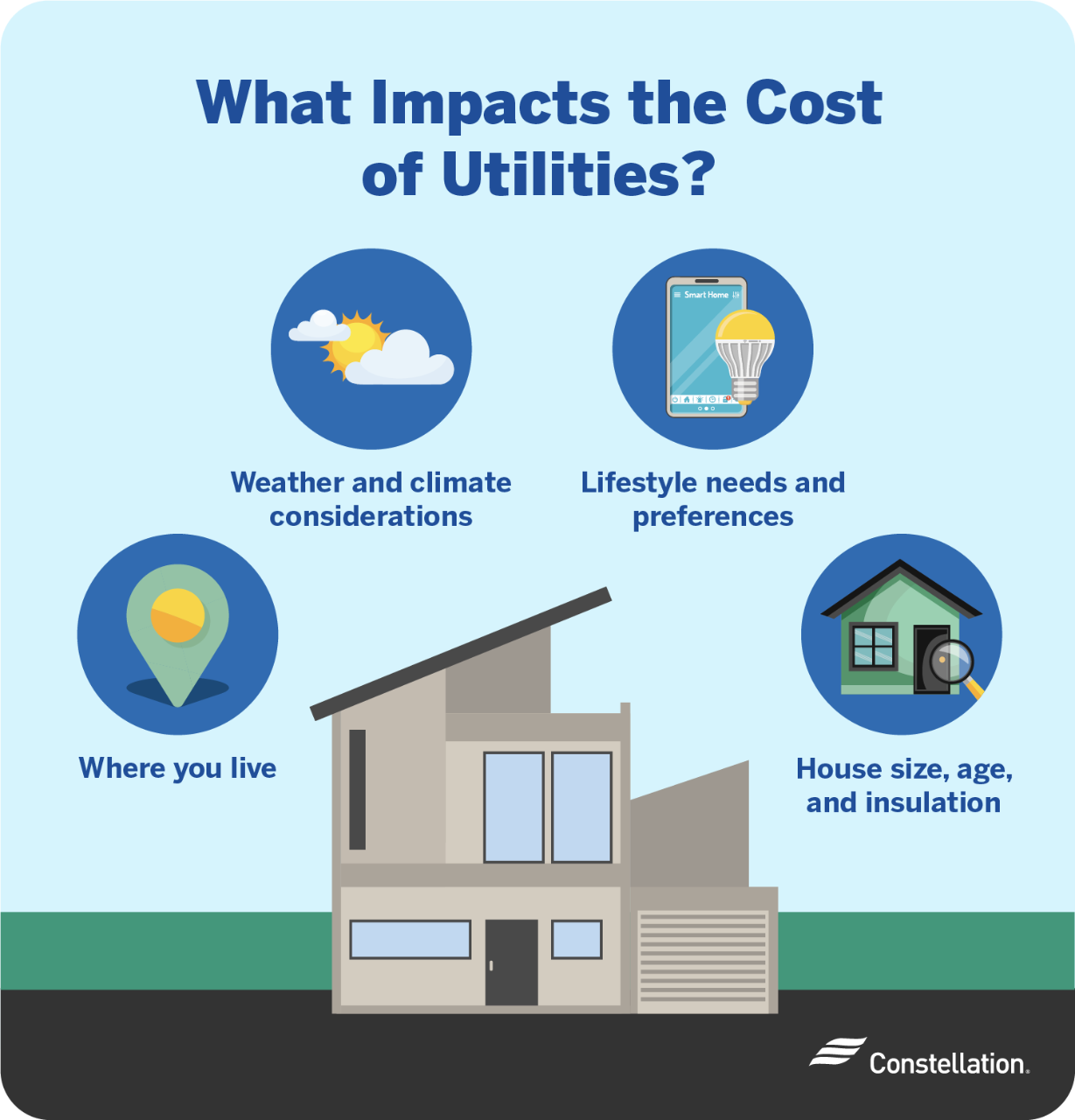 Estimating the average utility bill for the services you need is an important step in budgeting. How much you will pay for utilities in your area depends on a variety of factors, some of which you can control with a few small changes in habits and some planning.
Where you live
Location matters quite a bit. States have different utility providers and market systems, a variety of regulations and taxes, along with dissimilar cost structures. Even within a state, what you will pay can also vary based on if you are in a city or live in the countryside.
Weather and climate considerations
Your environment can also affect utilities, particularly when it comes to the energy you use to heat and cool your home. Homes in hot climates use more energy in cooling, though you can control this to some degree with summer home energy saving tips. Homes in the north need more energy for heat. The availability of water can vary, affecting costs–you'll pay more for water in the desert.
Lifestyle needs and preferences
If you set your thermostat temperature at frigid in a hot climate, you will have higher energy bills than a neighbor who might not mind higher temperatures and uses an energy efficient evaporative cooler. How many appliances you use and whether or not you worked at lowering your electricity bill will affect your costs. If you have a pool and thirsty plants in your garden, you will use more water. If you compost and take your own cans and bottles to a recycling center, you can cut down on your trash bill.
House size, age, and insulation
New houses built to the latest green standards are more energy efficient than older ones. The size of your house and how well it is insulated will affect the size of your power bill. Closing off unused rooms and adding insulation could possibly  reduce your costs quite a bit.
How to Estimate your Utility Costs
Estimate your utility costs by looking through past bills. You can average your costs for the entire year or consider seasonal variations and budget by quarter. If you are moving to a new home, particularly one in a new area, ask the seller for a year or six months of utility bills. Alternatively, your real estate agent can help you gather the information you need for your budget.
For most utilities, you can find ways to trim costs. You can switch your trash hauling schedule to every other week. You can bundle your communications and take advantage of sales. Conserve water around your home. Typically, the biggest cost when it comes to utilities is for energy. Constellation's blog has a wealth of information, you can try our energy-saving calculators, and put year round energy-saving tips into action.
Learn More about Energy Solutions from Constellation
Saving money on your power bill is a high-impact way to cut your overall utility budget. If you are in a market served by Constellation, you have a choice of home energy plans that can lower your electricity bill.