What is clean energy? Typically, the term "clean" or "carbon-free" energy is used to refer to the electricity that is generated by facilities that do not directly emit greenhouse gases such as carbon dioxide during the generating process. Though there is some overlap between the categories, clean energy is different from "green" energy and "renewable" energy.
Green energy refers to energy resources that provide the greatest environmental benefit. Most green energy sources, such as wind and solar, are also renewable resources, meaning they'll naturally replenish over time. Most renewable resources are also clean, but there are some instances where that isn't the case.
Why is Clean Energy Important?
Our world runs on the energy we produce. Clean energy production allows us to generate the energy we need without the greenhouse gas emissions and negative environmental effects that come with fossil fuels, in turn helping to reduce climate change.
What are greenhouse gases? Put simply, they're gases that trap heat in the Earth's atmosphere. The greenhouse gases that get released during fossil fuel combustion are one of the largest contributors to increasing CO2 levels. For example, coal was used to create about 10 percent of the energy consumed in America in 2020. That same year, coal was responsible for about 19 percent of total annual CO2 emissions.
The more we're able to reduce our carbon footprint and rely on clean and renewable sources of energy, the better chance we'll have of mitigating the effects of climate change and preserving our planet for future generations.
Examples of Clean Energy
When discussing clean energy, the conversation isn't limited to wind power vs. solar energy. There are other types of clean energy beyond just wind turbines and solar panels. Clean energy can be sourced through nuclear resources, wind, the power of the sun and even water. The following are examples of clean energy.
Nuclear energy
Nuclear energy is generated through a process called nuclear fission. First, atoms are split apart to form smaller atoms, creating heat in the process. The heat that's created is then used to boil water into steam, which powers an electricity-creating turbine. It's one of the most efficient and reliable sources of carbon-free energy available in our country.
Hydroelectric energy
Hydroelectric energy, or hydropower, is created using the force of running water. As the water moves, it spins in the blades in a turbine, which then powers the generator that produces energy. Hydropower also offers benefits beyond electricity generation, such as flood control and support for irrigation.
Solar energy
Solar energy works by using solar panels to absorb and trap sunlight. An inverter then converts the sunlight into AC electricity, which can be used to power your household appliances.
Wind energy
Wind is another energy source that is both abundant and easy to access. To create wind energy, air blows across the blades of large turbines, causing them to rotate. The energy created by the rotating blades is then harnessed and converted into the electricity we use in our homes.
Geothermal energy
Geothermal energy is produced using heat from within the Earth's core. The process begins by drilling holes into the ground, which enables steam and water to rise to the surface. Once it reaches the surface, the water is then used to power the turbines that generate electricity.
Benefits of Clean Energy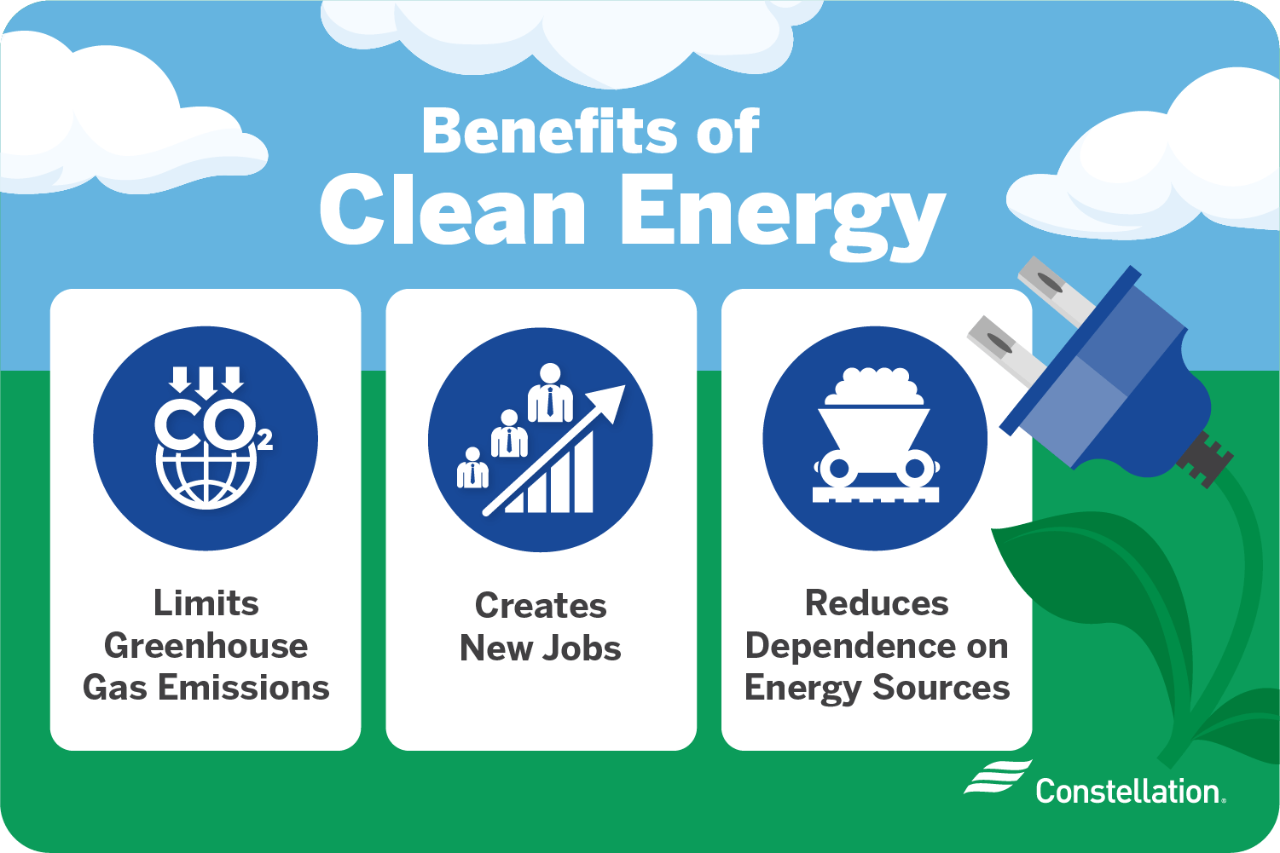 There are many benefits of clean energy, but the top two are environmental and financial. From an environmental standpoint, the process for producing clean energy emits fewer pollutants than the process for generating fossil fuel-based energy. Reducing these harmful emissions is a vital step in combating climate change. From a financial perspective, as the clean energy industry continues to grow, it can help create new job opportunities and stimulate the economy.
Limits greenhouse gas emissions. This improves air quality and reduces environmental harm.
Creates new jobs. As production plants are built, it could bring an increase in jobs and benefit the economy.
Reduces dependence on other types of energy sources. There is an abundance of clean energy resources such as wind and solar. Utilizing these may help reduce reliance on other types of fuel sources, such as coal.
How Can Clean Energy Be Used?
Clean energy has several uses which vary based on the source of the energy. For example, solar energy, wind energy, and hydroelectric energy are all types of clean energy, but each is used in slightly different ways.
Solar energy is versatile and can be used to heat water and buildings, power appliances, and provide light to homes. Solar energy is also used to create electricity. In 2021, 2.8 percent of the electricity generated in the U.S. was done using solar energy.
Wind power has long been used to perform strenuous mechanical tasks, such as grinding grain and pumping water. It's also commonly used to produce electricity, accounting for 9.2 percent of the electricity generated in the U.S. in 2021.
Hydropower has had several uses throughout history. In its earliest forms, hydropower was used to automate manual tasks like irrigating crops and grinding wheat into flour. Now it's also used to produce electricity, with 6.3 percent of all U.S. electricity generation coming from hydropower in 2021.
Nuclear energy was first used to create electricity in 1951, making it a fairly new technology. However, it's becoming an increasingly common choice for generating the electricity that's used in businesses and homes. In 2021, 18.9 percent of all the electricity generated in the U.S. was made using nuclear energy.
How is Clean Energy Related to Climate Change?
To understand how clean energy is related to climate change, it's important to first understand what climate change is. Climate change refers to the long-term shifts that occur in Earth's temperatures and weather patterns. These shifts have become more dramatic due to human activity and will continue to lead to droughts, severe fires, and other natural disasters if not properly addressed.
Knowing what climate change is is one thing, but it's another to understand what's driving it. There are a number of different factors causing climate change, with one of the largest contributors being greenhouse gas emissions. When fossil fuels such as coal and oil are burned to generate electricity, they release carbon dioxide, a harmful greenhouse gas. In 2020, electricity production accounted for 25 percent of all greenhouse gas emissions in the U.S., making it the second largest source of greenhouse gas emissions in the country.
The use of clean energy sources, such as water, wind, sunlight and nuclear, to generate electricity helps to reduce greenhouse gas emissions and mitigate climate change. This is because clean energy sources don't emit any greenhouse gases, such as carbon dioxide, during the electricity generating process. As energy technologies continue to develop and expand, the possibilities of creating new carbon-free electricity sources expand as well.
How Can We Get Clean Energy?
Clean energy can be obtained using any of the following sources:
Is Clean Energy Really Clean?
An energy source is only considered clean if no, or very little, pollutants are emitted during the energy generation and storage processes. Most clean energy sources are also renewable, but that doesn't have to be the case. For example, nuclear energy is a zero-emission clean energy source that won't naturally replenish over time.
There are still environmental considerations to consider with clean energy sources, such as land use impacts and impacts to soil and water. However, clean energy emits fewer carbon emissions than fossil fuels and the greenhouse gases they produce.
Constellation & Clean Energy
With the various clean energy options now available, determining what's best for your needs can be overwhelming. Constellation has renewable energy solutions available to businesses and homeowners in most states, and clean energy options available to many businesses, bringing renewable and clean energy resources to both homeowners and business owners alike. Compare energy solutions for your home and renewable energy plans.