Welcome, Wyoming!
Sign up for a natural gas plan from Wyoming Community Gas
What is Choice Gas in Wyoming?
Wyoming residents in the Black Hills service territory have the freedom to choose their own natural gas supplier. The program, called Choice Gas, opens up the Wyoming natural gas marketplace once a year — three weeks each April. If you're already a Wyoming Community Gas customer, thank you for continuing to support your community! If not, you can switch your current Wyoming natural gas supplier over to Wyoming Community Gas during the selection period.
Wyoming Community Gas in the Community
Every year, we give thousands of dollars back to the Wyoming communities we serve. Through our Wyoming Community Grant Program, we've helped community projects that have improved Wyoming neighborhoods, renovated community buildings, beautified city parks, and more.  
Natural Gas Rates in Your Area
If your utility is Black Hills Energy, and you live in one of the communities listed below, you have the ability to choose Wyoming Community Gas as your natural gas supplier! In Wyoming, Choice Gas is offered to several communities, which are organized in three divisions: Casper, Gillette and Torrington. 
Casper Division
Arapahoe
Bairoil
Bar Nunn
Casper
Edgerton
Ethete
Evansville
Ft. Washakie
Hanna
Jeffrey City
Lander
Laramie
Medicine Bow
Midwest
Mills
Rawlins
Riverton
Saratoga
Shoshoni
Sinclair
Town of Casper
Torrington Division
Douglas
Ft. Laramie
Glendo
Glenrock
Guernsey
Hartville
Lingle
Lusk
Torrington
Wheatland
Gillette Division
Gillette
Moorcroft
Newcastle
Upton
Wright
How to Sign Up for Wyoming Natural Gas Plans
Picking the best natural gas supplier in Wyoming that fits your budget and needs is simple! Wyoming Community Gas makes the process quick and easy, and can help you get signed up with Wyoming Community Gas as your new natural gas supplier in Wyoming in a matter of minutes. 
1. Receive your Choice Gas ballot
If your utility is Black Hills Energy, and you are eligible to make a Choice Gas selection this year, you will receive a ballot in the mail at the beginning of April that allows you to choose a new Wyoming natural gas supplier.
2. Pick Wyoming Community Gas
After looking at your list of options for a natural gas supplier in Wyoming, you can choose Wyoming Community Gas to best fit your energy needs.
3. Call Wyoming Community Gas
With your Choice Gas ballot in hand, call Wyoming Community Gas at 1-877-318-4051 to speak to a friendly representative who can talk you through the selection process. 
4. Select your natural gas supplier in Wyoming
Once you've decided on Wyoming Community Gas as your natural gas supplier in Wyoming, we can take care of your selection over the phone, with no need to mail in your ballot. 

Wyoming Natural Gas Pricing Options
Fixed Rate per Therm pricing is a 12 or 24-month plan with a locked-in fixed supply rate per therm. Your rate will stay the same, with the only variant being the amount of gas you use. This fixed-rate natural gas plan protects you from market fluctuations. 
Market Index Rate Pricing
Market Index Rate pricing is a gas plan in which your price per therm fluctuates month to month, depending on if the Wyoming gas market increases or decreases. Your adder (the price of delivery and other elements) will stay the same throughout your term. 
FMB Pricing (Budget Assist)
FMB (Budget Assist) pricing includes all charges from the utility and supplier rolled into one price. This amount includes all supplier cost and utility costs and taxes. This natural gas plan is best for Wyoming residents who want to budget for the entire year. 
Individual Commercial Pricing
For information on Individual Commercial pricing, 
contact Natalie Flood at:
Natalie.Flood@constellation.com
or by phone at 1-888-527-0003

Switching Wyoming Energy Suppliers
In Wyoming, utility companies used to be the only option for energy users — the utility controlled delivery, pricing and maintenance. Today, you can choose Wyoming Community Gas as the best Wyoming energy supplier for you through the Choice Gas program, meaning it's easy to find great natural gas plans in Wyoming.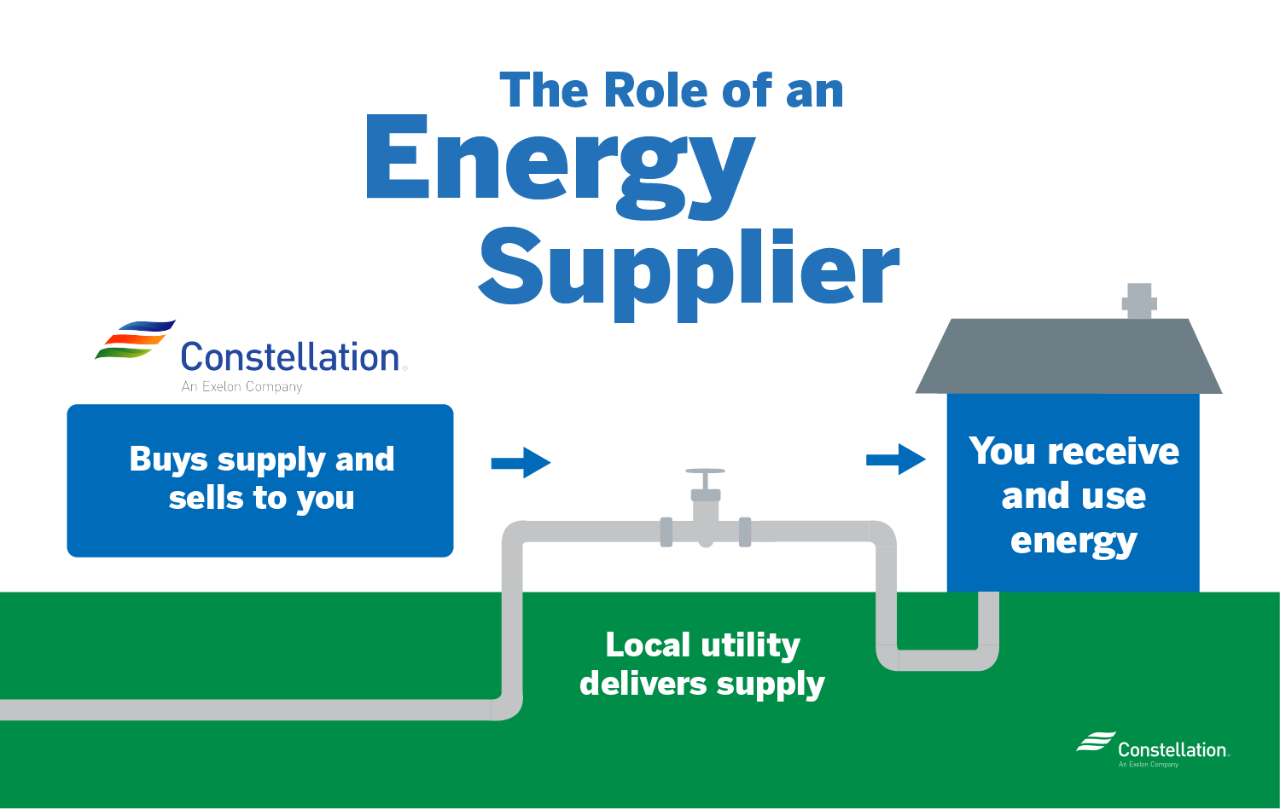 What does energy choice mean? 
Retail natural gas companies in Wyoming compete for your business, which can result in reduced energy costs, better customer service, more innovative energy solutions, and energy plans that fit your budget. For example, Wyoming Community Gas offers natural gas plans to residents with:
exceptional customer service 
a variety of natural gas plans
a strong community presence
Understanding Energy Suppliers in Wyoming vs. Utility Companies
Utility companies deliver natural gas to your home. In Wyoming, this means your utility — which many customers refer to as their gas company — owns the gas pipelines that deliver energy to you to serve your home.
What is an energy supplier?
Energy suppliers let you pick a plan and rate. In April of each year, the right to choose among Wyoming energy suppliers gives you more control over your budget by providing you with more home energy options. Wyoming energy suppliers offer fixed-rate plans, so you know what energy rate you'll pay each month.
Wyoming Community Gas is a natural gas supplier in Wyoming, which means that we aren't the utility company that delivers natural gas to your home, but the one who sets your supply rate and contract term when you pick us as your choice in April. As your Wyoming natural gas supplier, we provide you with customized energy plans, competitive Wyoming natural gas rates, and exceptional customer service!
Your Wyoming Natural Gas Utility
Natural gas emergencies require quick action to protect all involved. Here is who to call in case of a natural gas emergency:
Black Hills Energy: 888-890-5554
Before you dig: 811
How to Pay Your Bill Online
In Wyoming, gas supplier customers pay their energy bill directly through their utility company. To pay your energy bill online, select your local Wyoming gas company below:
Black Hills Energy: Pay your bill
Contact Our Member Communities
To learn more about the Choice Gas program in your division, you can contact the local city or town hall in your utility area. 
Ready to switch natural gas suppliers in Wyoming?