How to Read an Electricity Facts Label (EFL)
How to Read an Electricity Facts Label (EFL)
You may have received an Electricity Facts Label (EFL) while shopping for retail electric providers (REPs) in Texas. Here are some tips on how to read an EFL and how it benefits you.
REPs in Texas offer a variety of contract terms and competitive prices. While some choices are clear, others offer terms and conditions that might be hard to understand and compare. That is where EFL electricity labels come in.
How to read Electricity Facts Label details and understanding Electricity Facts Label information helps you compare options to make the best choice for your home.
What is an Electricity Facts Label (EFL)?
The Public Utility Commission of Texas (PUCT) requires every retail electric provider to disclose price and plan details in a standard way, much like a nutrition label on packaged goods. The disclosure document is called an Electricity Facts Label (EFL). An EFL helps you compare competitive options.
Every Electricity Facts Label starts with the Retail Electric Provider's name, the plan type and date the contract will start. The next section details the plan pricing, followed by what is called a disclosure chart. The idea is to present the details in a way that is easy to understand and that makes comparing your options straightforward.
Why are Electricity Facts Labels (EFLs) unique to Texas?
Texas was a pioneer in deregulating power, becoming the second state in history to offer consumers choices in the mid-1990s. To make a deregulated market work for consumers, the Public Utility Commission of Texas (PUCT) mandated that every electricity contract come with an Electricity Facts Label (EFL) that summarized the key terms of any plan offered.
Why reading your EFL is important
Learning how to read an EFL is essential if you would like to benefit from the information that electricity providers must disclose. Before we go into the details of understanding Electricity Facts Label data, take a look at how you are using electricity in your home.
If you are away during the day, you might not need much power during that time. You can also use energy-saving tips year round combined with winter energy-saving tips for your home to lower your usage.
Study your past consumption patterns and what might work best for you to select the right Constellation home energy plan and avoid unpleasant surprises with your bill.
Electricity Facts Label Sample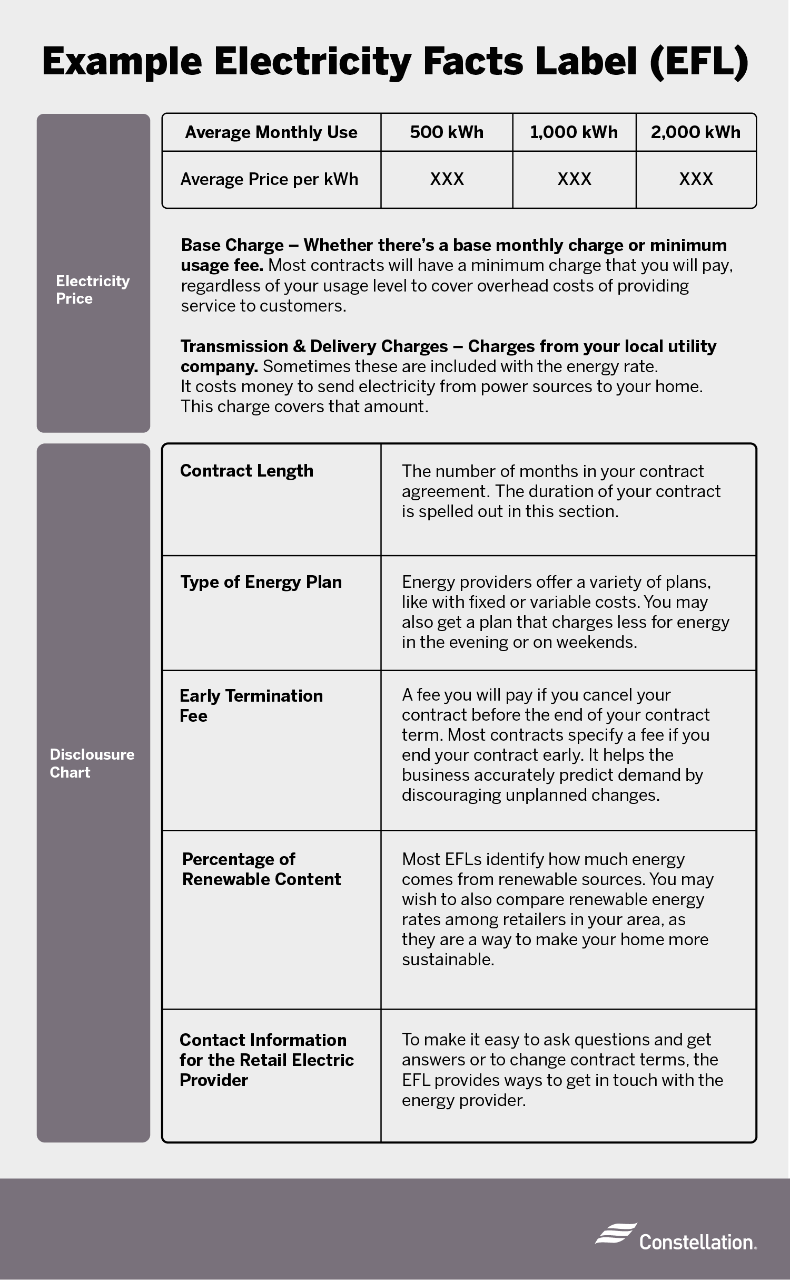 Here is a detailed walk-through of what you will see on an Electricity Facts Label.
9 items commonly listed in an EFL
Energy Rate – price per kWh for electricity
This is the price you will pay per kWh for the electricity you use.
Average Price per kWh – the average monthly price of kWh
You will get an average rate based on 500 kWh/month, 1000 kWh/month, and 2,000 kWh/month so you can get an idea of what you will pay per month based on your usage.
Base Charge – whether there's a base monthly charge or minimum usage fee.
Some plans may include a minimum charge you must pay, regardless of your usage level.
Transmission & Delivery Charges – charges from your local utility company. Sometimes these are included with the overall total energy rate.
It costs money to send electricity from power sources to your home. This charge covers that amount.
Contract Length – number of months in your contract agreement
The duration of your contract is spelled out in this section.
Type of Plan – fixed or variable
Energy providers offer a variety of plans, like fixed or variable.
Most contracts specify a fee you must pay if you cancel your service before the end of your contract term.
Percentage of Renewable Content
Consumers are increasingly interested in renewable energy. Most EFLs identify how much energy comes from renewable sources. You may wish to also compare renewable energy rates, as they are a way to make your home more sustainable.
Contact Information for the Retail Energy Provider
To make it easy to ask questions and get answers or to change contract terms, the EFL provides ways to get in touch with the energy provider.
How to Read an Electricity Facts Label (EFL)
How to read each of the Electricity Facts Label sections requires understanding the information they provide.
Electricity Price
The price you pay for power per kilowatt-hour (kWh) is presented in amounts that represent typical residential usage, at 500 kWh/month, 1000 kWh/month, and 2,000 kWh/month.
Rate Calculation
How your rate is calculated is also part of your EFL. Fees included in the calculation are the charge for energy, what your local utility charges for transmission and distribution, and any adjustments for promotions or other incentives. Your EFL will note any applicable monthly minimum base charge but will not include any applicable federal, state, and local taxes or fees.
Contract terms
Contract details like contract length, early termination fees, amount of security deposit, and if the electricity supply price is fixed or variable are included. EFLs indicate what percentage of the energy comes from renewable sources and compares it to the average generation mix in Texas. The EFL will typically reference other details contained in your Terms of Service Agreement.
Calculating Your Monthly Electric Bill
How much will your electricity bill be? Predict the amount you will pay using the information on the Electricity Facts Label.
Find the energy charge and the transmission and delivery charge per kWh and add them together. Then add the per month transmission and delivery charge and base charge and divide by your kWh usage. Add both numbers together to get an average price per kWh. If you are curious about what drives energy costs, you can learn more here.
Here is the formula:
Energy Charge + Per-kWh TDU Fee + [(Per-month TDU charge + Base Charge)/Usage]
Using real numbers, here is an example energy bill calculation.
Say your home uses 500 kWh.
Your EFL spells out an energy charge of 7 cents per kWh and a per kWh transmission and delivery charge of 4 cents per kWh
You also have a base charge of $5 per-month transmission and delivery base charge of $5.
Here is the calculation:
$0.07 + $0.04 + [($5+ $5)/500 kWh] = 13 cents per kWh
Learn more about how to read and calculate your energy costs, and explore answers to common questions for Texas customers here.
Frequently Asked Questions about Electricity Facts Labels
Why should you read an Electricity Facts Label?
Contracts, terms and prices can vary. The Electricity Facts Label makes it easy to understand each option and to make direct comparisons.
What is the difference between energy rate and average price?
The price per kWh is the rate you pay for energy, which varies based on usage levels. The average rate will give you an idea of what you will pay based on how much energy you use.
What is a TDU on an Electricity Facts Label?
TDU is short for the Transmission and Distribution Utility, covering the cost to deliver power to your house. Your local utility sets this price, which is the same for every Retail Electric Provider serving your area. It is expressed partly on per kWh use and partly as a fixed monthly amount.
Where do I find my EFL?
When you enroll with an electricity provider, you should automatically receive an EFL either by regular mail or email for that plan you selected. If you don't get one, be sure to ask.
Compare Energy Prices for Your Home with Constellation
Constellation offers various energy options, including contracts with fixed rates.