Why Is My Natural Gas Bill So High?
Why Is My Natural Gas Bill So High?
A natural gas bill increase is something many Americans face today. Getting control of a high natural gas bill is important to managing your budget. Getting answers to the question, why is my natural gas bill so high, is an important step in reining in what you have to spend on natural gas for your home. 
Main causes for high gas bills
There are many reasons why you may have a higher natural gas bill than normal. The natural gas market is complex and it subject to the effects of global trends and events. Here are the main reasons you may be seeing energy rates going up and that answers part of the question: Why does my natural gas bill keep increasing?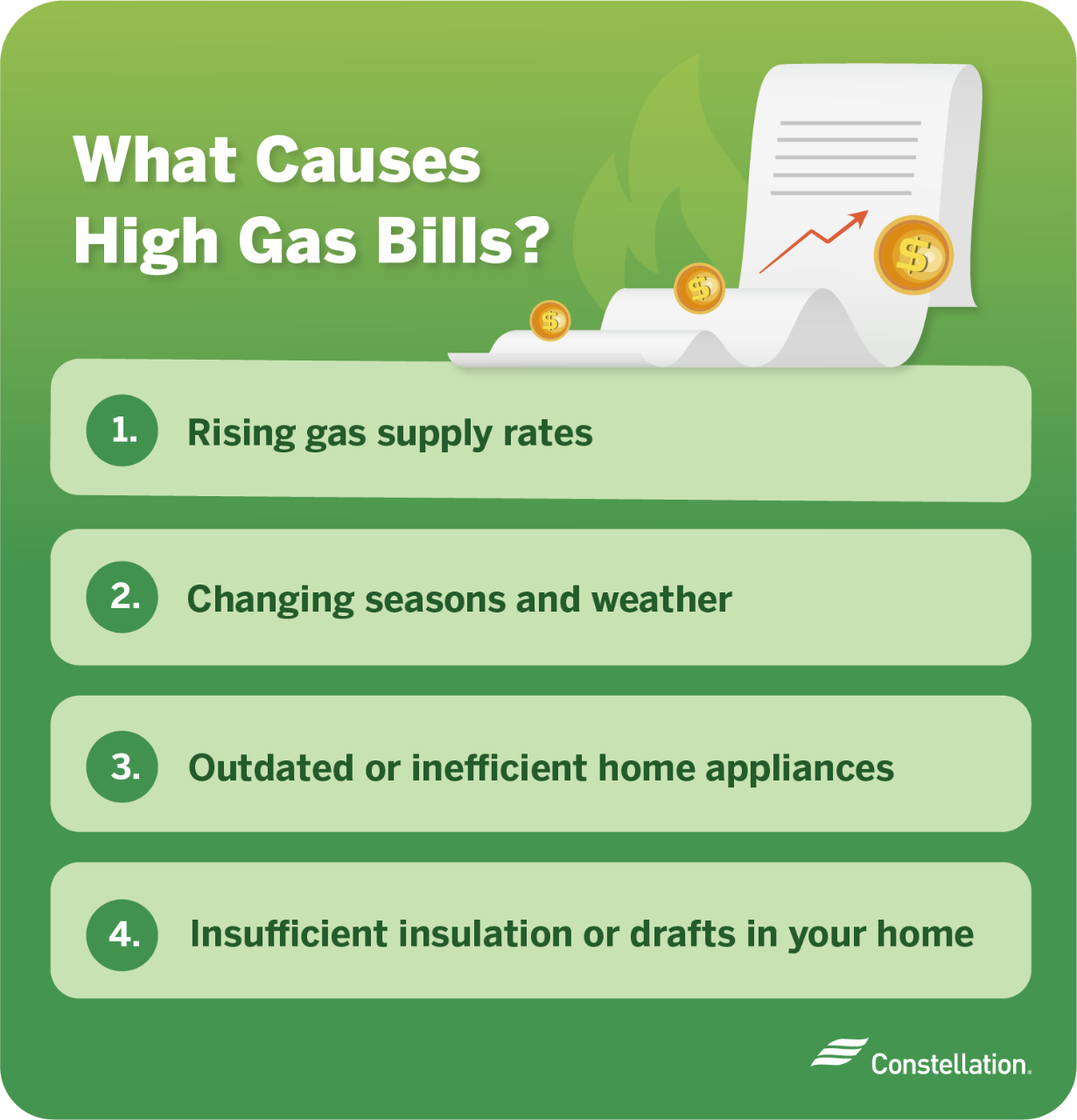 1. Rising gas supply rates
Commodity prices for natural gas are the biggest driver of why natural gas prices are going up. Lower production in the U.S., disruptions overseas, and the effects of weather events and natural disasters all combine to lower supply at a time when demand is gaining. These situations are largely beyond our control and are hard to predict. The price you pay will, however, depend on whether you're locked in at a fixed rate or on a  variable rate plan.
2. Changing seasons and weather
Weather events can lower supply, but seasonal temperatures can also increase demand. While you may use some natural gas all year round, cold weather can drive up usage. Many people have furnaces that run on natural gas. Demand for natural gas increases during colder months, as does the price. And that is just one example of what causes your natural gas bill to go up.
3. Outdated or inefficient home appliances
You can't do much about what is going on around the globe, and you can't alter the laws of supply and demand. While they are major factors in your natural gas bill increase, these situations are not the only factors. Things you control can also cause your natural gas bill to go up. The more natural gas you use, obviously, the higher your bill. Now is a good time to consider replacing outdated and inefficient home appliances that use too much natural gas. Consider a new hot water heater, clothes dryer, oven or furnace as ways to save energy in your home.
4. Insufficient insulation/drafty windows and doors
Of all natural gas-consuming appliances in your home, your furnace is likely the one that uses the most. That is why improving insulation is one of the most popular fall energy saving tips that may help lower your gas bill. Adding weather stripping around doors and windows, caulking gaps around the house, and beefing up insulation in the attic are ways you can decrease your use of gas for heat. You can do little about the cost of natural gas, but reducing usage is the best way to reduce your natural gas bill.
Why are natural gas prices increasing through 2023?
Natural gas prices are currently on the rise going into the winter. If you are asking why is my natural gas bill so high, you need look no further than current events like:
Weather conditions that are still affecting the markets and natural gas prices
The recent hurricane in the Gulf of Mexico that damaged some natural gas infrastructure
Economic growth since 2019, especially coming out of the pandemic, is increasing demand
Natural gas production limits and low reserves are making it hard to satisfy demand in the U.S.
Increasing global demand
Russia's war with Ukraine and the destruction of the Nord Stream pipeline has decreased supply in Europe
How to save money on your natural gas bill
These pressures are some of what causes natural gas prices to increase. That said, there are things you can do to make sure your high natural gas bill doesn't go higher. These tips will help if you are looking for ways to reduce your natural gas bill.
1. Shopping for a different energy supplier
If you live in an energy choice state, you can shop home energy options as a way to deal with a natural gas bill increase. Not only will the various energy suppliers offer you different prices, they will have a variety of contract types that might match your energy use needs and budget.
2. Switching from variable to fixed supply energy rates
When you have a contract with variable energy rates, your energy bill is at the mercy of changes in market energy prices. A fixed price contract gives your budget protection against swings in gas prices.
3. Upgrade home insulation
Upgrading insulation can reduce the amount of gas needed to keep your house warm on cold days. Well insulated attics, walls, ducts and windows trap heat inside your house so that your furnace doesn't have to run as long or as often. Make sure to choose the right type of insulation for each situation.
4. Seal drafts from doors and windows
Another way to fight a natural gas bill increase is to identify drafts and leaks that let in cold air around your house. Spaces around windows, doors, and where utilities enter your house are the first place to look. Caulk cracks and install the right types of weatherstripping to stop heat dissipation through the cold months. It is one of the least expensive and easiest ways to reduce a natural gas bill.
5. Upgrade to a smart thermostat
Your thermostat may help cut your natural gas usage. The type of thermostat in your home can make a big difference. A traditional thermostat gives you very little control over when your furnace works. Switching to a programmable model gives you more options, but you may find a smart thermostat to be more worth it. You will be able to turn down the heat when you are not at home or at night when you are asleep, turning your thermostat up only when you really need heat. A smart thermostat will track your routines and adjust your furnace automatically. You won't waste natural gas heating an empty house.
6. Fix gas leaks
A natural gas leak is more than wasteful, It can create a potentially dangerous situation. If the leak is inside your house, it is likely you will smell it. If the leak is on the outside, you will likely only notice it because of an unusual increase of natural gas usage and a higher-than-normal energy bill. Report a natural gas outage or leak right away and make sure your whole family knows about home natural gas safety tips.
7. Adjust habits at home
Some of the best ways to lower a high natural gas bill is to simply change your habits. You can trim natural gas usage with these tips.
Take advantage of natural light to bring the sun's warmth into rooms.
During colder months, wear extra layers of clothes and lower the temperature in the house.
Ensure the vents and radiators throughout your home are clear from obstructions to help airflow and make your furnace more efficient.
Shut doors to unused rooms and close the vents in those rooms so you don't heat empty rooms.
Compare natural gas prices for your home with Constellation
Constellation provides natural gas in many states in the U.S. You can contact us to explore the value of potentially switching to a fixed price rate natural gas plan. We are always innovating ways to help you take control of your natural gas bill and invite you to explore your options.