Benefits of Changing Your Air Filter
Benefits of Replacing Your Home Air Filter
The importance of changing the air filter in your home is easy to overlook. Hidden away in your HVAC system, it is out of sight and out of mind. Just a little attention when the seasons change, however, can affect your home and maybe even your bank account. That makes a strong case as to why you should change your air filter. Here are some of the benefits of replacing the air filter in your system, with some advice for how often you should change it.
Why should you change your air filter?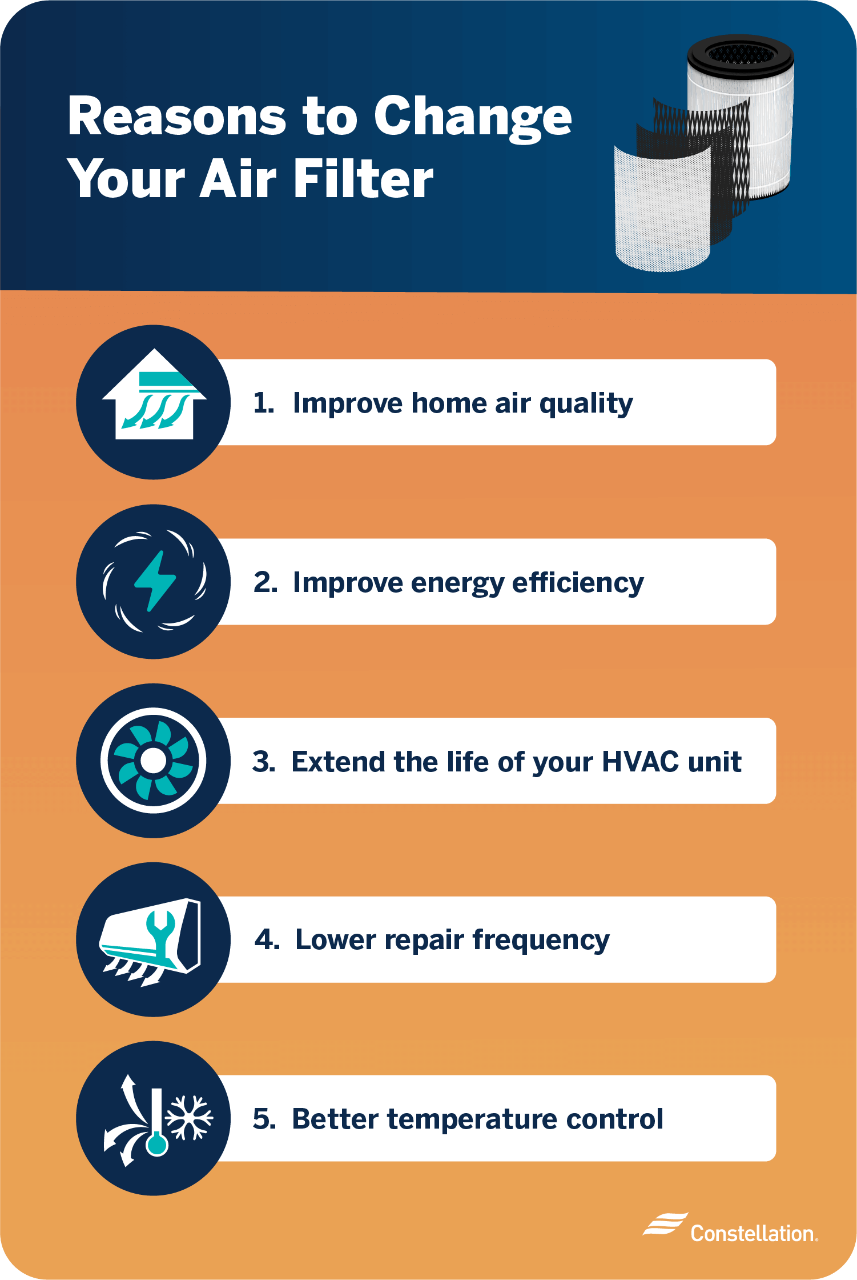 Basic maintenance of your HVAC system will provide ongoing benefits over the life of your system. Here are some of the best reasons why you should change your air filter on a regular basis. It is easy to do and is not costly.
1. Improve Home Air Quality
The primary function of the air filter is to ensure that the air that circulates through your HVAC system and home is clean. Constructed of woven fiberglass fibers, air filters trap unwanted elements that would otherwise float through the air. The filter pulls pollutants like dust, pollen, dirt, mold, animal fur, bacteria and more. Over time, germs and grime will clog the filter. If you change it often, you keep the air in your home cleaner and reduce the risk of health concerns for your family.
2. Improve Energy Efficiency
When your system tries to maintain a comfortable temperature in your home, despite having clogged or dirty air filters, it consumes more energy to push the required amount of air through the system. When your HVAC has to work harder, it reduces its efficiency and increases your energy costs.
3. Extend the Life of Your HVAC Unit
Another of the benefits of replacing your air filter often is that your system will last longer. Working harder to push air through a clogged filter is not only inefficient, it adds to the wear and tear on the system. A new, clean new air filter keeps your HVAC unit running smoother and running longer, extending its useful life.
4. Lower Repair Frequency
Preventing unnecessary damage is another reason why you should change your air filter often. Maintenance is typically always cheaper than fixing a broken system. And it always seems like your unit goes on the fritz during weather extremes when you need it the most. If you invest in an HVAC protection plan bundled with your electricity contract or as an add-on like Constellation Home offers in specific areas, you can keep your system in peak condition and may save money.
5. Better Temperature Control
Some people ask: Will changing the air filter help the A/C? When you change your air filter, you improve your home heating efficiency along with its ability to cool. When it comes to wondering, will changing the air filter make it cooler, yes. Your system will be better able to maintain an even and comfortable internal home temperature.
How often should I change my house air filter?
Next to knowing the importance of changing the air filter in your home, you should also know how often to change the air filter. The rule of thumb in average situations is to change it with the turn of the seasons, or approximately every four months. Other factors, however, can change this advice.
If you have a pet, you might want to change the filter more often. We advise a change every two months with a single dog or cat. You might want to up that to every 20 days if you have several animals.
If anyone in your family has allergies, a clean air filter is even more important. You will benefit by changing the filter at least monthly or even every 20 days in these circumstances.
For a vacation home or a structure with only one person and no pets, you might be able to change your air filter twice a year or even once a year. Check on your filter regularly, and if it is getting clogged quickly, increase the frequency of changing it.
Worried about your HVAC? Consider bundling an Air Conditioning and Heating Protection Plan with your Electricity
Higher energy bills make it worth your while to consider a new provider who can cut your costs. If you are considering Constellation as a provider, you could benefit from the cost savings if you bundle electricity with an HVAC protection plan in Texas. You could gain additional savings if you live in Maryland and Georgia by adding on a home services plan from Constellation. It is one of many innovative electricity plans for your home offered by Constellation.