6 Economical Ways to Heat a Pool and Cut Costs
6 Economical Ways to Heat a Pool
The most economical way to heat a pool really has two aspects. It depends partly on how you heat it and partly on how well you keep the water warm. No one wants to jump into a freezing cold pool. Most people find that water below 75° feels chilly. Experts recommend you keep it between 77 and 82 degrees.
Heating is expensive if you don't know the most economical way to heat an inground pool. That's why we are sharing these ideas for how to cheaply heat a pool, including the absolute cheapest way to heat a swimming pool.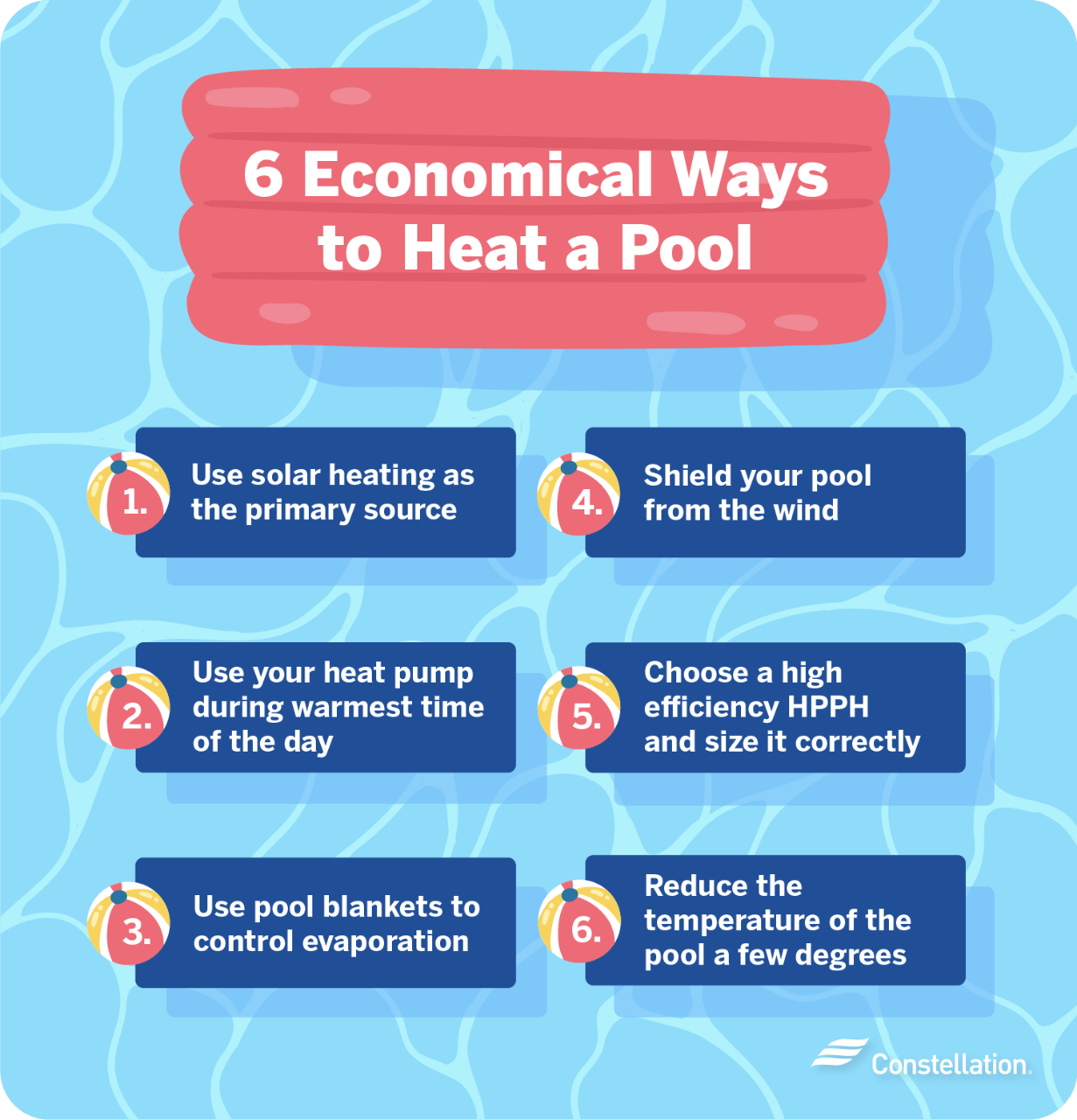 1. Use solar heating as the primary source
What is the cheapest way to heat an inground pool, or even an above ground one? That's easy. Do nothing and let the sun shine. On bright hot days, your pool will be warm in no time.
That's not what most people are thinking of when they think of solar heating. Instead, they are talking about a heating system that includes solar panels to power an electric pool heater and pump. While these systems have significant upfront costs, it is one of the most economical ways to heat a pool. A solar pool heating system may not be ideal if you live in a region or on property that does not get regular full sun. If you can't position the solar collectors in an ideal place, this is not a good option.
2. Use your heat pump during warmest time of the day
Heat pumps are an economical option. Choosing the right time of day to run the heat pump is how to cheaply heat a pool no matter where you live. Since heat pumps get their heat from the air, you will greatly increase its efficiency if you run it during the warmest part of the day. Cutting energy usage with careful timing could save you money.
3. Use pool blankets to control evaporation
It isn't enough to know the most economical way to heat a pool, you also need to prevent heat loss. Evaporation is a cooling process and is the main cause of heat loss in pool water. A pool blanket will greatly reduce evaporation.
Automatic deployment pool blankets take little effort to use. Push a button and a motor rolls it out along tracks on each side of your pool. A low tech and lower cost alternative is a bubble blanket or floating blanket that sits on top of the pool water surface. Both are among the best ways to save water during the summer.
4. Shield your pool from the wind
Wind creates ripples, which increase the surface area of your pool, speeding up evaporation and heat loss. Wind can carry away the small layer of warm moist air over your pool surface, causing further evaporation. If you can shield your pool from the wind, you can keep more heat in your pool water.
Fencing and vegetation make good windbreaks. In addition to being one of the more familiar summer energy-saving tips, protecting your pool and home from wind may save you money year round.
5. Choose a high efficiency HPPH and size it correctly
When considering the cheapest ways to heat an inground pool, many people choose a Heat Pump Pool Heater (HPPH). They are more efficient than traditional gas, propane or electric heaters. Efficiency is measured by the coefficient of performance (COP), which is calculated by comparing the amount of useful heat produced for each unit of energy used. The higher the COP, the more efficient the unit.
6. Reduce the temperature of the pool a few degrees
The warmer you keep your pool water, the more it costs to heat it. The US Department of Energy explains pool heating energy consumption, pointing out that each higher degree in temperature will cost you 10–30 percent more. That cost range is due to weather. It takes less energy to keep your pool warm in warmer areas, as you aren't fighting the ambient temperature. Pool temperature regulation is part of many automated pool and hot tub controls.
More ways to improve your pool's efficiency
Here are some additional swimming pool energy-saving tips and answers to the question of what is the cheapest way to heat an inground pool.
Limit water evaporation. Pool blankets and wind breaks will significantly reduce evaporation and resulting heat loss.
Install an energy-efficient pool pump. Pool heat pumps are your most energy efficient option, in most cases.
Use energy-efficient outdoor lighting. LED lights will burn less energy than traditional incandescent fixtures. Choosing solar lights will even further cut your energy consumption.
Heat the pool only when you plan to use it. Keep the pool water temperature in the low to mid 70s, then turn up the heat an hour or so before you plan to use the pool. Turn it back down and put the pool blanket in place to hold the temperature between swims.
Keep up on maintenance. When your pumps and filters are clean and running smoothly, you'll possibly save  money on energy usage and wear and tear.