Average HVAC System Lifespan and How to Extend It
Average HVAC Lifespan and How to Extend It
Investing in a new HVAC system is a major purchase for most homeowners. If your unit is getting on in age, you might wonder how long do HVAC systems last and when do you really need to replace them. While you can find general guidelines about how long a unit might last, lifespan depends on usage patterns and on how well it has been maintained.
Like so many things, the devil is in the details. Keep in mind that age is only one factor in the decision to replace your HVAC unit. Its repair costs and energy efficiency are among the other things to consider. Here is a more detailed look at the issue of how long HVAC units last, along with some tips to extend the useful life of your system.
How Long Do HVAC Systems Last on Average?
On average, HVAC systems last one or two decades. It is important to understand, however, that there really is no such thing as an average HVAC system.
The features and functions of different units vary tremendously. A system that only produces heat and doesn't include air conditioning will perform differently from a heat pump, for example, that does both.
Usage patterns will affect how long a system might last. Heavy use will increase wear and tear and decrease a unit's lifespan.
How well they are maintained can also make a difference that is measured in decades of more useful life. Be aware that some brands have a better performance record than others, so check on reviews. It is often worth paying more upfront for a higher quality unit.
Below are general HVAC lifespan ranges. Use them as a guide and inspect your unit regularly and consider getting a professional service plan to get the most from your system. Still, if yours is nearing the high end of the ranges below, it might be time to start thinking about a replacement:
Central air conditioning units:12 to 17 years
Heat pumps: 10 to 16 years
Furnaces and boilers: 15 to 20 years
Geothermal heat pumps: 25 to 30 years; ground loops will last upwards of 50 years
Solar: 25 to 30 years
Evaporative cooler: 5 to 15 years
6 Tips to Extend the Life of Your HVAC System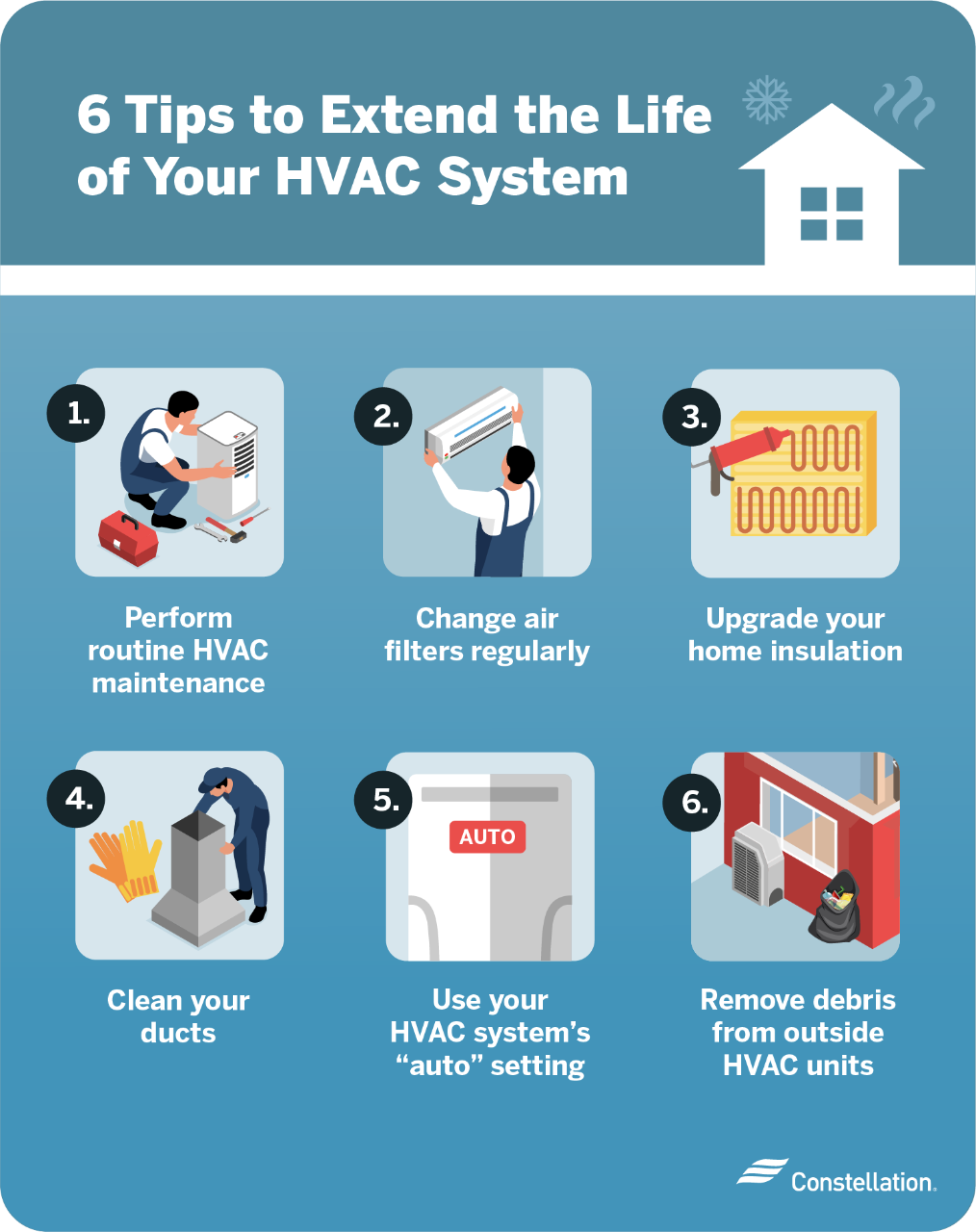 1. Regular HVAC System Maintenance
Of all the factors that could extend your HVAC's useful life, nothing is more important than maintenance. Some of the most important tasks that can extend your HVAC lifespan are easy, fast, and inexpensive. Doing these things will likely cut your energy usage and give you more years of trouble-free operation:
Change the filters regularly
Schedule an annual or several seasonal tune-ups
Regularly clean and remove debris from outside components
Inspect and replace the refrigerant as needed
2. Change Air Filters Regularly
Clean air filters are essential to having healthy air in your home. They can get clogged with pet hair, dirt and debris–not to mention germs–over time. Your HVAC system will have to work harder than normal to move air through your house if you don't have clean filters. They are generally not very expensive, are easy to find, and don't take a lot of skill to swap out. That makes them easy to replace often for healthy home air and a healthy HVAC.
3. Upgrade Your Home Insulation
The less your HVAC system runs, the longer it will last. One way to reduce run time and lengthen your HVAC lifespan is by improving your home insulation. Your home will hold in heat better during winter and keep more cool air inside during the summer with the right type of insulation. With an energy efficient home, your HVAC system works less and lasts longer. You'll save on monthly power bills and be able to delay the expense of replacing your system.
4. Clean Your Ducts
Since maintenance is so important to how long HVAC systems last, add duct cleaning to your list of regular tasks. Like changing the air filter frequently so that they are free of dirt, you should also ensure you have clean air ducts to move air more smoothly. When you clean air ducts frequently, your HVAC works less, lasts longer, and will improve the air quality in your home.
5. Use The "Auto" Setting To Give Your HVAC System a Rest
If you leave your HVAC system in the "on" state all the time, you are using much more energy and reducing your unit's lifespan. Most have an "auto" switch that allows the system to sense when it needs to turn on to maintain the temperature you have selected. A system that runs intermittently is much more efficient and may last many more years.
6. Clean and Remove Debris from Outside HVAC Units
Keeping your system in good repair, running smoothly, as well as clean and free of debris will maximize your HVAC lifespan. With regular HVAC maintenance, it will also run more efficiently, potentially saving you money year after year. At the same time, you will reduce the risk of an expensive breakdown when you most need it, either during a heat wave or a cold snap.
Worried about your HVAC? Consider bundling an Air Conditioning and Heating Protection Plan with Your Electricity
When you choose Constellation as your energy provider, you may lower your energy bills, along with other expenses, too. We offer a variety of electricity plans for your home. In Texas, you can bundle HVAC protection with your energy plan. In Maryland and Georgia, you can add on home service protection plans. When it comes to how long do HVAC systems last, you can maximize their lifespan and run them at peak efficiency to save money.