What Is a Carbon Footprint?

What Is a Carbon Footprint?
What you do every day affects the environment. To understand what a carbon footprint is, think of it as a way to measure your carbon emissions from your travel, power usage, what you eat, what you buy, and the garbage you produce.
What are carbon emissions? They are the greenhouse gasses such as carbon dioxide (CO2), methane (CH4) and nitrous oxide (N2O) that are generated by the energy you consume directly and indirectly–more on that below.
The bigger your carbon footprint, the more pressure you are putting on the environment. The average person globally has a carbon footprint of 4 tons a year. In the U.S., the average is 16 tons, one of the highest in the world,
How is a carbon footprint measured?
How to measure your carbon footprint varies depending on whether you measure one for an individual, a family or a company. You will want to include direct emissions that come from using power in ways that are directly under your control, such as driving your vehicle or running your lawn mower. Next, you'll calculate emissions from power purchased to heat and cool your home and power your lights and appliances. Last are all other sources, such as emissions associated with food production, things you buy and use, and travel on trains, buses, and airplanes.
Carbon footprint calculators
Trying to figure out how a carbon footprint is calculated can be a bit complicated. Thankfully you can use a simple tool that calculates your carbon footprint created by the United Nations.
You can also try the EPA version of a carbon footprint calculator. They ask for basic information about your household size, how you power your home and how much it costs, and then go through some of the details of your lifestyle, then give you an estimation of your carbon footprint.
Different forms of carbon footprints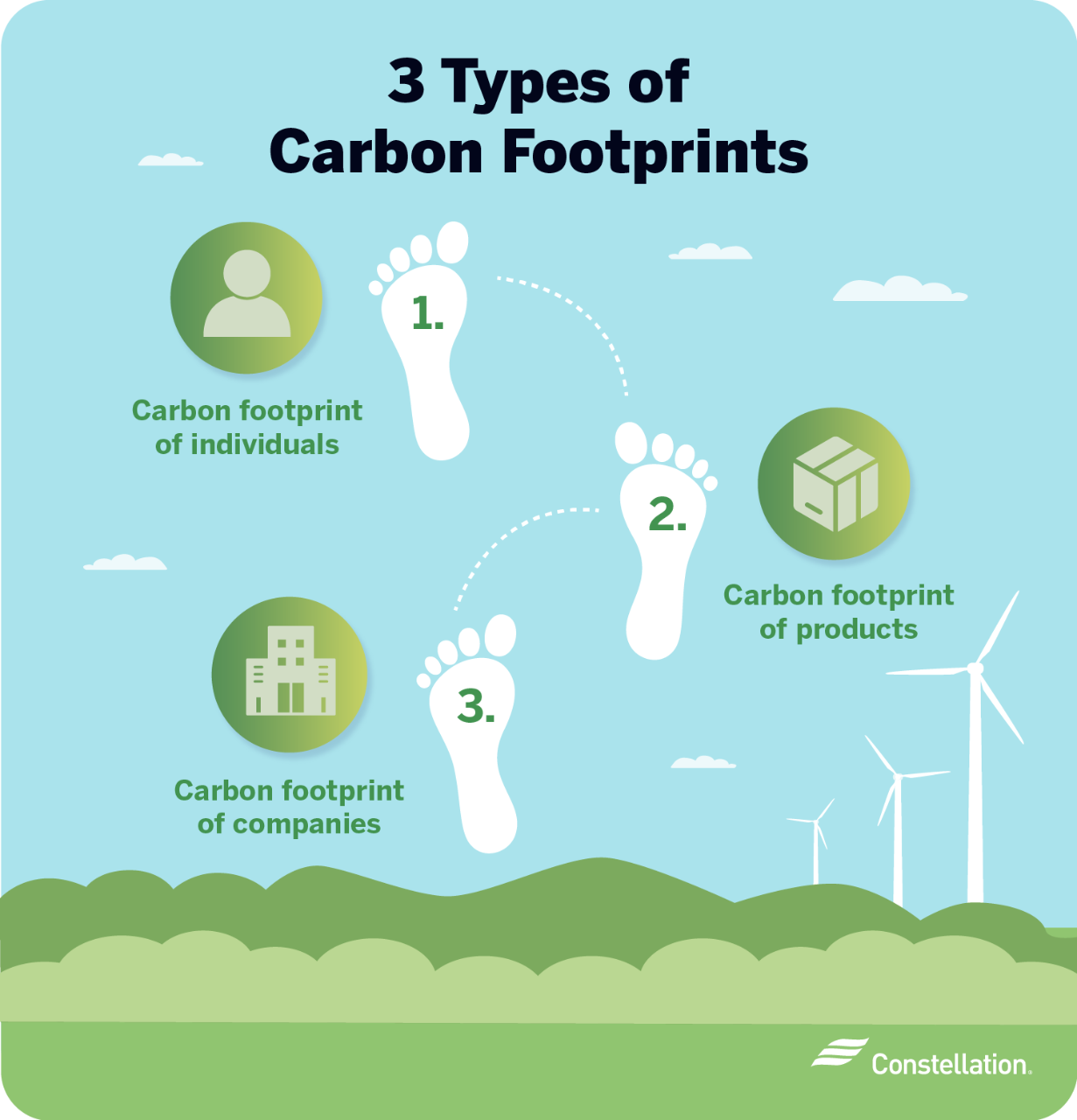 What is a carbon footprint? The question can be answered in several ways. People, products and companies all have carbon footprints.
Carbon footprint of individuals
You use energy when you drive, power and heat or cool your home, and in what you buy, use, and throw away. The average American creates a metric ton of emissions simply by driving a car. Add air travel and that number goes even higher. Buying imported food that is flown in from foreign countries increases your carbon footprint even more. You can reduce your carbon footprint in many ways that still allow you to have a high quality of life.
Carbon footprint of products
The inputs that go into manufacturing products have a carbon footprint. When you consume such products, it adds that carbon footprint to yours. Looking for products that use fewer resources in manufacturing and shipping can reduce it. For example, an apple grown locally will have a smaller carbon footprint than a banana grown and shipped from South America.
Carbon footprint of companies
A company's carbon footprint includes the carbon produced at each link in the supply chain and all the inputs to its products and services. Add in overhead carbon to heat, cool and power its facilities, paper and electronics used in its offices, and transportation costs of employees. Companies can reduce their carbon footprint by making their supply chain and energy inputs more efficient and by examining other expenses.
How to reduce your carbon footprint
An awareness of how your choices impact your carbon footprint can make a worthwhile contribution to a healthier planet. Here are several ways to reduce your carbon footprint by making small changes in your daily life.
1. Responsible product purchasing and consumption
Be aware of the carbon footprint of the products you purchase. Buy local when possible. Buy clothing from brands committed to sustainable practices. Buy appliances that are made by companies that are reducing emissions. When you start looking for sustainable, responsible products, you will be amazed at how many companies offer helpful options.
2. Using sustainable means of transportation
Taking public transportation to work, even one or two days a week, can dramatically trim your carbon footprint. Consider a bike or walk when feasible. Taking a train trip is less carbon intensive than flying. An electric vehicle can also be a viable low-carbon alternative.
3. Choosing renewable energy consumption
Switching to solar or wind for your home energy needs can play a part in reducing the production of greenhouse gasses. You don't have to install solar panels and windmills on your property. Your power company may offer a renewable energy option.
4. Enhancing energy efficiency at home
Heating and cooling your home and running lights, electronics and appliances are a significant part of your carbon footprint. If you heat your home more efficiently, you will shrink your carbon footprint. By looking for ways to save energy at home or possibly adopting energy-saving strategies for smart homes you can likely slash your energy usage.
5. Reducing waste
Reducing energy waste will trim your carbon footprint significantly. You can use energy efficiency tools for your home to help identify areas where you might be wasting energy. You can also learn about choices that promote environmental sustainability.
Carbon Footprint FAQs
What's the difference between carbon and ecological footprints?
Both ideas are concerned with caring for the environment. An ecological footprint measures the resources you consume compared to the resources needed to replace them. A carbon footprint focuses on greenhouse gasses related to burning fossil fuels.
Why is reducing carbon footprints important?
Reducing your carbon footprint is about reducing the greenhouse gasses that contribute to global warming and negatively impact the environment. If everyone does their part, the carbon reduction could be significant.
How can you reduce your carbon footprint when choosing foods and household products?
Choosing food that is locally produced with minimal inputs reduces the energy used to produce the nourishment you need to live. Choosing household products with fewer chemicals, that use recycled materials and that last longer will also lessen your impact.
Learn more energy tips from Constellation
Constellation makes it easier to help reduce your carbon footprint by giving you the option to purchase renewable or carbon-free products through Constellation's renewable energy plans for your home.