Agriculture, construction and transportation
Energy Efficiency in Agriculture, Construction and Transportation
Growing food, building structures or moving goods are all energy intensive industries. Energy makes up a significant part of operating costs for businesses in these areas. 
Agriculture energy efficiency is critical. Farmers need energy to power the machinery used to plant, cultivate, and harvest crops and to care for animals. 
The construction industry similarly uses considerable energy to operate heavy equipment used to prepare building sites, bring in materials, operate tools used in building, and to complete final landscaping.
Transportation represents 28% of all energy consumed in the U.S. in 2021 according to the U.S. Energy Information Administration. The cost of moving goods and people is embedded in everything we buy and in much of what we do.
Because these industries use so much energy, controlling these costs is essential to turning a profit.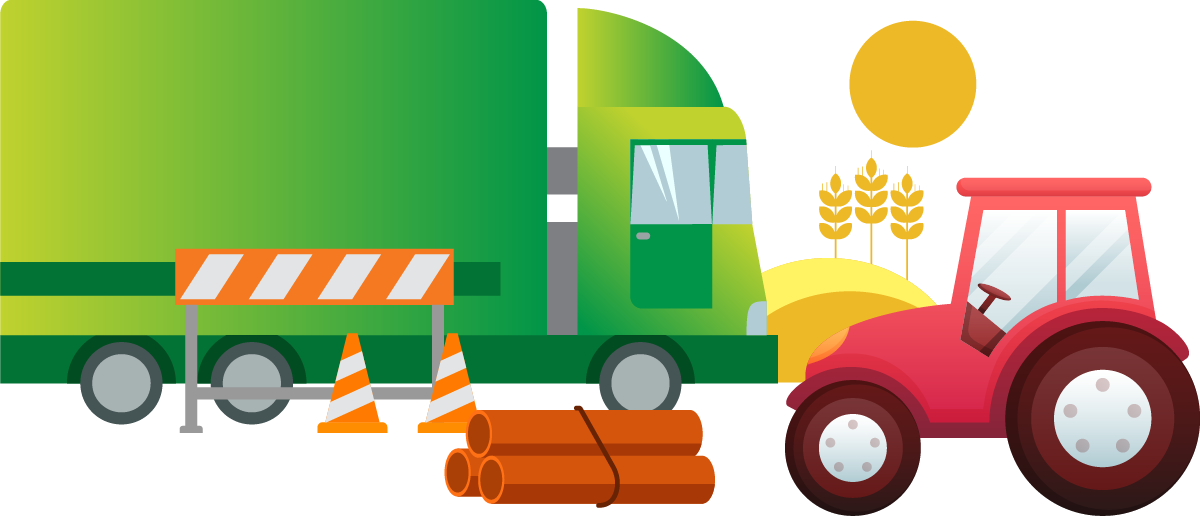 Average construction company energy consumption
Where your company is using the most energy will vary by the type of construction you undertake and where you are building. As you assess your own energy costs, consider the materials you use. Some will be more energy intensive than others. 
Transportation costs are the next category to evaluate, including the cost of removing demolition waste and the cost of bringing in construction materials and equipment. 
Next consider the energy needed to operate machinery. These costs could range from a heavy earth mover doing site preparation and digging a foundation to a compressor for nail guns you might use in building the framing.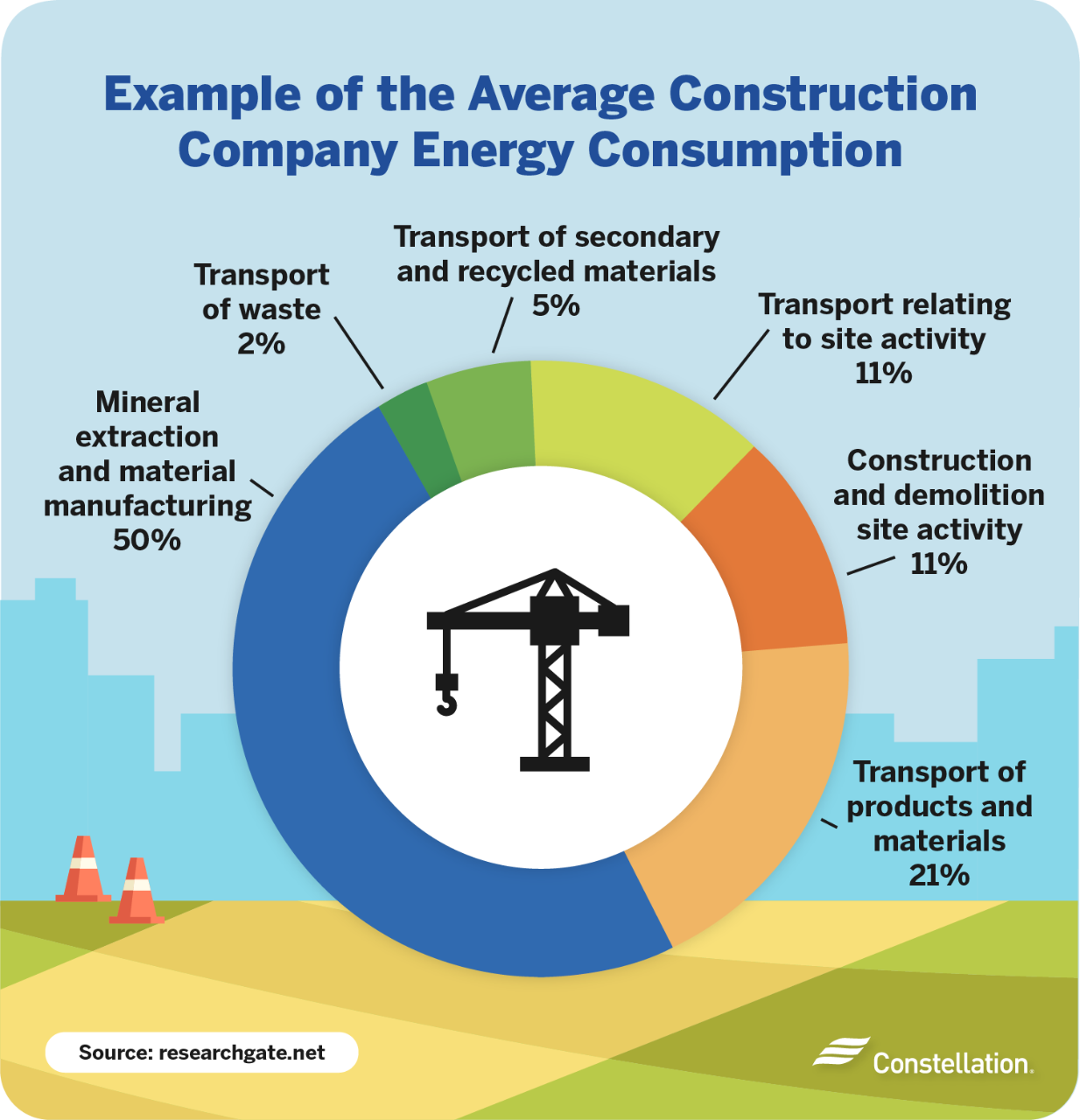 How to reduce your construction operating costs with energy efficiency
Here are ways you can adopt energy efficient construction practices in your company and for your projects:
Replace old equipment. More efficient tools and machinery can dramatically cut your energy use, while also speeding your processes and reducing down time.
Perform regular maintenance. Your existing equipment will operate more efficiently if you make sure it is all in peak operating condition.


Source materials locally. You can cut shipping costs and the carbon footprint of materials you use by sourcing them as close to the job site as possible.
Purchase fuel at a discount. You may find fleet fueling options or a source of wholesale fuels.
Plan ahead to be more efficient with equipment. If you can turn on your backhoe once and get two or three tasks done within a few hours, it is more efficient than turning it on and off several times during the day or having to haul it back to the job site several times during the build.
Energy Efficiency in the Transportation Industry
The transportation industry in the U.S. includes a diverse array of small businesses. It includes over 603 short line railroads operating some 47,500 route miles and handling 29% of freight by rail. Trucking includes everything from local deliveries to cross-country haulers. Shipping by water and air round out the industry. 
Most energy used by the transportation industry is in the form of fossil fuels. Electricity plays a minor role; mostly in passenger travel. For trucks, trains, buses and ships, gasoline, diesel, and fuel oil are common forms of energy. Jet fuel is used in airplanes and helicopters. Some vehicles are switching to compressed natural gas and biofuels. 
Because this industry has a particularly large carbon footprint, energy efficiency in transportation is all the more vital.
Estimating transportation industry operating costs
Next to equipment, maintenance and wages, energy costs are the biggest line item for most transportation companies. Shipping freight by air is 19 times less energy efficient by weight of load than by truck. Even so, trucking company energy expenditures averaged 12.3% of costs in 2021. Rail is more efficient, using 80% less energy per ton of freight than trucking.
Average energy consumption in the transportation industry
The amount of energy your transportation business consumes and the cost varies. The factors that matter are the weight and size of the load, distance traveled and speed. Your business and customers need to weigh the trade-offs of high speed and high costs against lower energy consumption, yet longer shipping times.
How to reduce transportation costs with energy efficiency
As one of the more energy intensive industries in the world, transportation companies can gain by improving energy efficiency in transportation:
Switching to cleaner fuel. It may make sense to explore biofuels, liquid natural gas and hydrogen.
Updating fleets. Cut down on fossil fuel use with more efficient vehicles.
Using efficient routing. Scheduling and routing shipments to minimize distance traveled and empty back-hauls ensures you get maximum value from each unit of energy.
Investing in maintenance. When you keep your rolling stock in top shape, you'll get better mileage.