Copiers, Printers, & Fax Machines

Small Business Energy Savings: Copiers, Office Printers and Fax Machines
As early as 2014, ENERGY STAR™ introduced guidelines to help individuals and small businesses make informed decisions for picking energy-efficient printers, copiers and fax machines. When considered alongside your business's unique needs, these guidelines can assist you in choosing the best office copiers, printers and fax machines to save costs and energy.
But with so many options available, how exactly do you pick the right energy-efficient printers and copiers for business use? Or the best fax machine for a small business? Let's tackle each of these separately.
How to Shop for Energy-Efficient Printers
All ENERGY STAR™-approved energy-efficient printers provide similar benefits to ensure that printer energy consumption is reduced. Here are some key features:
Quality settings: the ability to choose print quality in order to save costs when high-resolution printing is not needed.
Ink monitoring: the ability to monitor ink consumption and/or to replace one color at a time to avoid wasting ink.
Sleep mode: the ability to enter a reduced power state after a set period of inactivity.
Double-sided printing: the ability to automatically print on both sides of the page, cutting down on paper use.
Automatic shut-off: the ability to power down completely after a set period of inactivity. This option saves more energy than a sleep mode, but the printer will require more time to turn back on.
Connection: the ability to access the printer remotely and securely to allow use by multiple people.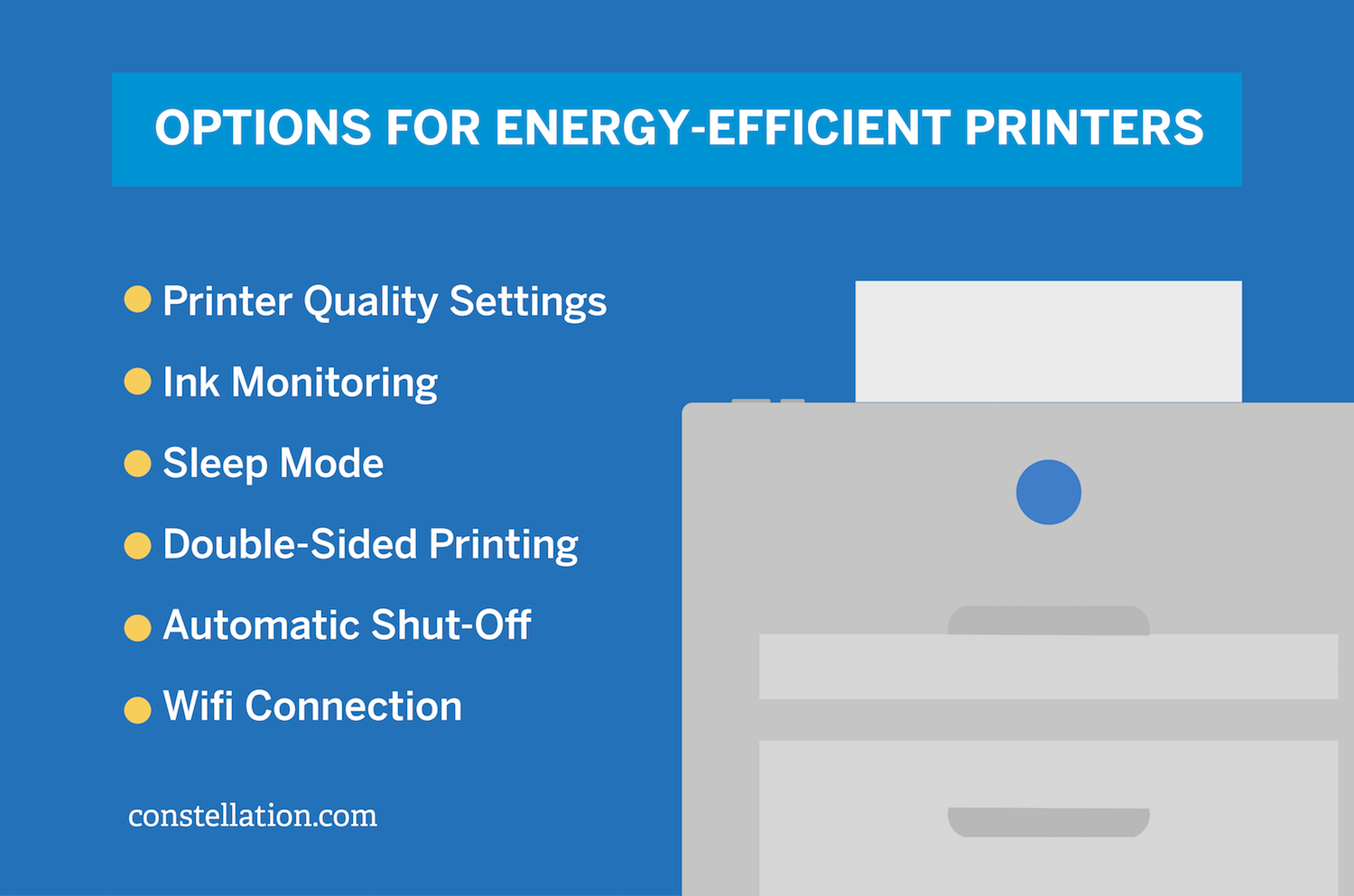 In addition, finding the printer that enables energy-efficient printing for your office specifically will depend largely on how you plan to use it. Black-and-white versus color copies, print volume and necessary printing speed all play a role in printer energy consumption. We'll offer highlights for the two most common kinds of printers—laser and inkjet—and what each is best for and also discuss the ever-growing world of 3D printing.
Pro Tip: Looking for other ways to be an environmentally friendly business? Check out our post on the benefits of being eco-friendly.
What Are Some Energy-Efficient Laser Printers for Businesses?
If you print in mostly black and white, value speedy printing (12 to 20 pages per minute) and don't often print on unusual-sized paper, a laser energy-saving printer may be the right choice for you. An energy-saving laser printer creates black-and-white documents that are sharp, and you can't beat the cost of toner. However, if you need to be able to print in color, print high-resolution images, or print on a variety of sizes of paper, a laser printer may not provide you energy-efficient printing.
What Are Some Energy-Efficient Inkjet Printer Options for Your Business?
If you print mostly photos, graphics and colored text—or a combination of these with black-and-white text—you may want to consider an inkjet printer. While it can be four to five times more expensive than a laser printer, it far surpasses a laser printer's ability to handle unique documents and over the long run is likely less expensive than outsourcing your color-printing needs.
How Much Energy Does a Printer Use?
According to Energy.gov, an average printer being used for one hour a day, 200 days a year, will use about 100 kWh of energy per year.

Energy-Efficient 3D Printer Options for Your Business
The conversation around 3D printers and 3D printer power consumption is constantly evolving, with people tackling such questions as "How much power does a 3D printer use?" and "Can 3D printers really be energy efficient?"
Answers to these questions are still being formulated and new processes and materials are being tested every day, so data for 3D printer power consumption will continually change. But with the possibility of using 98 percent of the raw materials in the finished product and saving time, energy and costs over traditional manufacturing processes, 3D printing is clearly here to stay.
3D printers come in all types, from build-your-own kits to industrial-size units. Any consideration for whether it will provide energy-efficient printing will need to account for energy use, depreciation value, material costs, repair costs and time spent printing.
How much power does a 3D printer use?
Although exact numbers for this will depend on the 3D printer, multiple data reports have calculated that desktop 3D printers use anywhere between 50W to 150W of electricity per 30 minutes. So when asking how much power a 3D printer uses, the answer is "not much." According to the Department of Energy, 3D printing reduces energy use for manufacturing by 50 percent.
Pro Tip: Now may be the time to upgrade other offices appliances and save even more energy. We discuss energy-efficient ice makers and coffee makers for businesses on our blog.
Other Types of Energy-Efficient Printers
Energy efficiency is not limited to single-purpose printers. If none of the above sounds just right for you, consider instead one of these options:
Large-format printer: a large-format printer prints items that are too large for standard inkjet and laser printers.


All-in-one printer: an all-in-one printer includes a fax machine and a copier, which can be ideal for businesses in tight quarters or who need the functionality of a fax machine or copier too rarely to make individual purchases cost effective.


Mini printer: these "printers of the future" employ a variety of printing techniques, from laser to thermal to inkjet, and are exceptionally portable. Their printing quality is constantly improving, though they tend to be more of an efficient and quick printer than an energy-saving printer.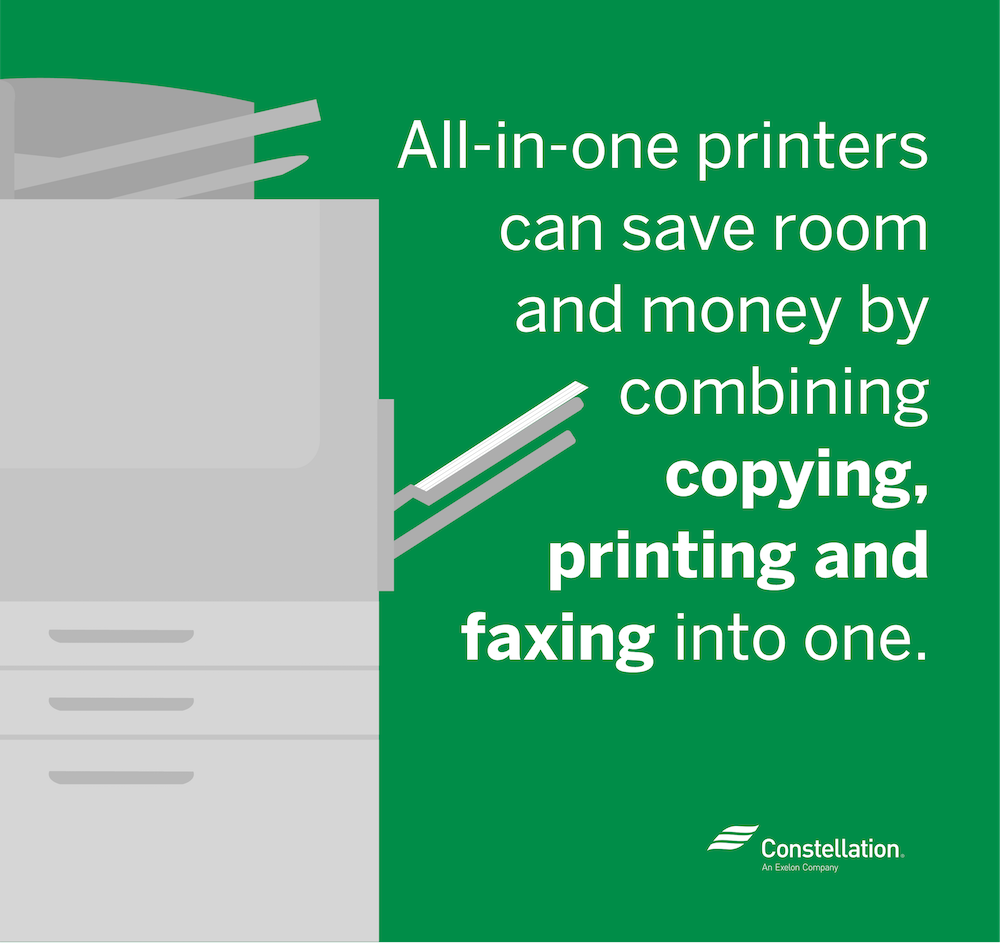 How to Shop for Energy-Efficient Copiers
While there are several all-in-one printers that offer printing, faxing and copying, the best office copiers are dedicated to copying, and the best printers do no more than print. If your business has the space and the bandwidth for a dedicated copier, here are a few factors to help you make a choice among the best office copiers.
Consider your copying needs.

When narrowing down the selection of energy-efficient copiers, think about what you really need. Do you anticipate making a large number of copies? Will you be making black-and-white copies, color copies or a combination of both? Is copying speed important?

Determine the quality of copies.

Commercial copiers are big, expensive pieces of equipment. Before making such an important investment, be sure to test energy-efficient copiers with a number of different documents (e.g., black-and-white text and full color). The best office copiers can handle anything you throw at them.

Look at special features.

Some copiers have special features that allow them to use a relatively low amount of energy. For example, energy-efficient copiers go to sleep or shut off after a period of inactivity, thus reducing total copier energy usage. Also, automatic duplexing can help reduce waste by automatically printing the copied information on both sides of a single sheet. Finally, you might reduce office frustration by choosing a copier with easy-to-use, intuitive interfaces and features.
How much energy does a copier use?
Copier energy usage varies widely depending on the type of copier. Energy-efficient copiers can be divided into two categories: regular and large capacity. Between these, you're best off choosing the model that satisfies your business's needs.
Regular office copiers:

Smaller copier energy usage will generally be less than that of their large-capacity counterparts. However, choosing a copier that is too small for your needs will result in premature wear and tear and the need to purchase a replacement unit sooner, which will end up negating any energy savings.




Large-capacity copiers: Purchasing a large-capacity copier may result in more energy usage, but it could be worth it if you have substantial copying needs or anticipate growth. However you go about purchasing a new copier, be sure to look for ENERGY STAR™ certification. Certified energy-efficient imaging equipment uses 30–75 percent less electricity than standard equipment.
Pro Tip: Energy efficiency can extend beyond the copier room. Check out this page to learn more about energy savings in the break room.
How to Shop for Energy-Efficient Fax Machines
Although the perception can sometimes be that faxing is a thing of the past, many individuals and businesses still fax regularly. In fact, the International Data Group reports that 82 percent of the businesses they surveyed saw fax use grow in 2017. It's a good idea to accommodate potential collaborators and clients by getting a fax machine for your business.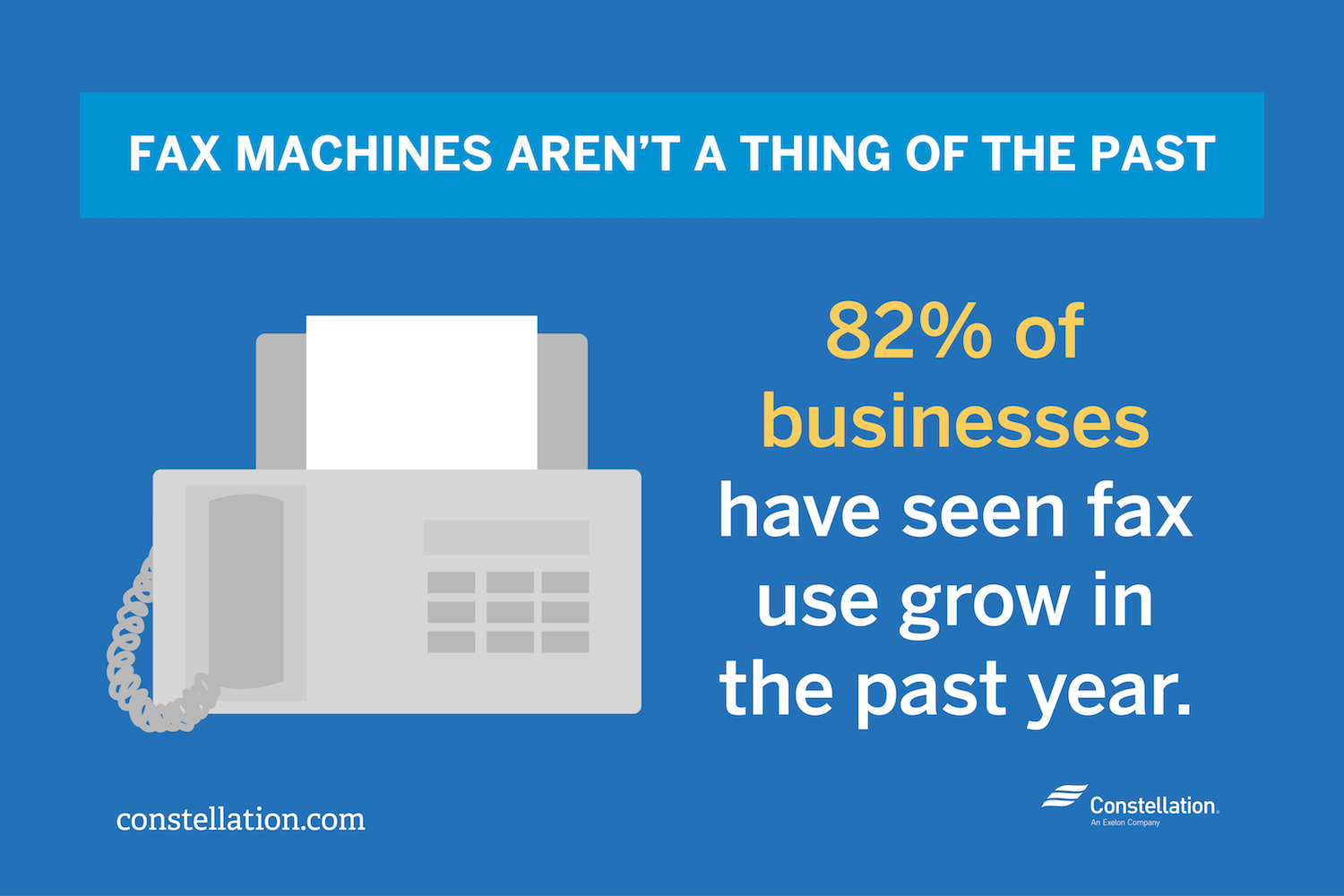 What is the best fax machine for a small business?
When choosing a fax machine, you'll want to consider how often you plan to send and receive faxes and whether good printing quality is important. Fax machines have the same printing mechanisms as some printers; keeping that in mind, you may consider an inkjet model for a small number of color faxes or a laser model for a large volume of text faxes.
Stand-alone fax machines: If faxing accounts for a significant portion of your business's communication or if saving energy through a standby or automatic shutoff feature is important to you, then a stand-alone model may be the right choice.
Combination models: Sometimes a printer or copier that also faxes may not provide the same quality as a stand-alone fax machine, but a combination appliance may be the best option if you don't have the space or budget for individual appliances.
Purchasing energy-efficient fax machines, printers and copiers for business use is a significant step toward ensuring sustainable workplace practices. And since eco-friendly practices are so important to modern businesses, some of the best equipment available also happens to be the most energy efficient. We hope this guide helps you find the right energy-saving equipment for your business. Happy printing, copying and faxing!