Understanding Carbon Credits vs. Carbon Offsets
Carbon Offsets vs. Carbon Credits
Understanding the differences between carbon credits vs. carbon offsets can help you make choices and changes that can help contribute to a healthier and more sustainable environment. Both options are ways to account for the carbon dioxide and other greenhouse gases that contribute to climate change. And both are useful tools in helping to reduce emissions.
Carbon Offsets and Carbon Credits Defined
A carbon offset is a way to quantify an action that removes greenhouse gases from the atmosphere. An example of a carbon offsetting action is the planting of trees. They absorb carbon dioxide and ozone, so planting them is a way to remove these gases from the air.
When fossil fuels are burned, carbon dioxide is sent into the atmosphere. You can offset those greenhouse gas emissions by planting as many trees as it takes to absorb what you produce. That isn't always practical, so a market has emerged whereby you can buy carbon offsets created by others.
A carbon credit is a tradable instrument that is either allocated directly to an emitting source or offered for sale at an auction. Credits represent the right to emit one ton of carbon dioxide. Companies purchasing or receiving these credits can resell them or submit them to a governing body in an amount equivalent to the quantity of their emissions over a given period. Working together by trading carbon credits, companies can reduce their carbon footprints.
While there is a difference between carbon credits and carbon offsetting, both have the same goal, which is to mitigate global warming by limiting the emission of greenhouse gases.
What's the Difference Between Carbon Credits and Carbon Offsetting?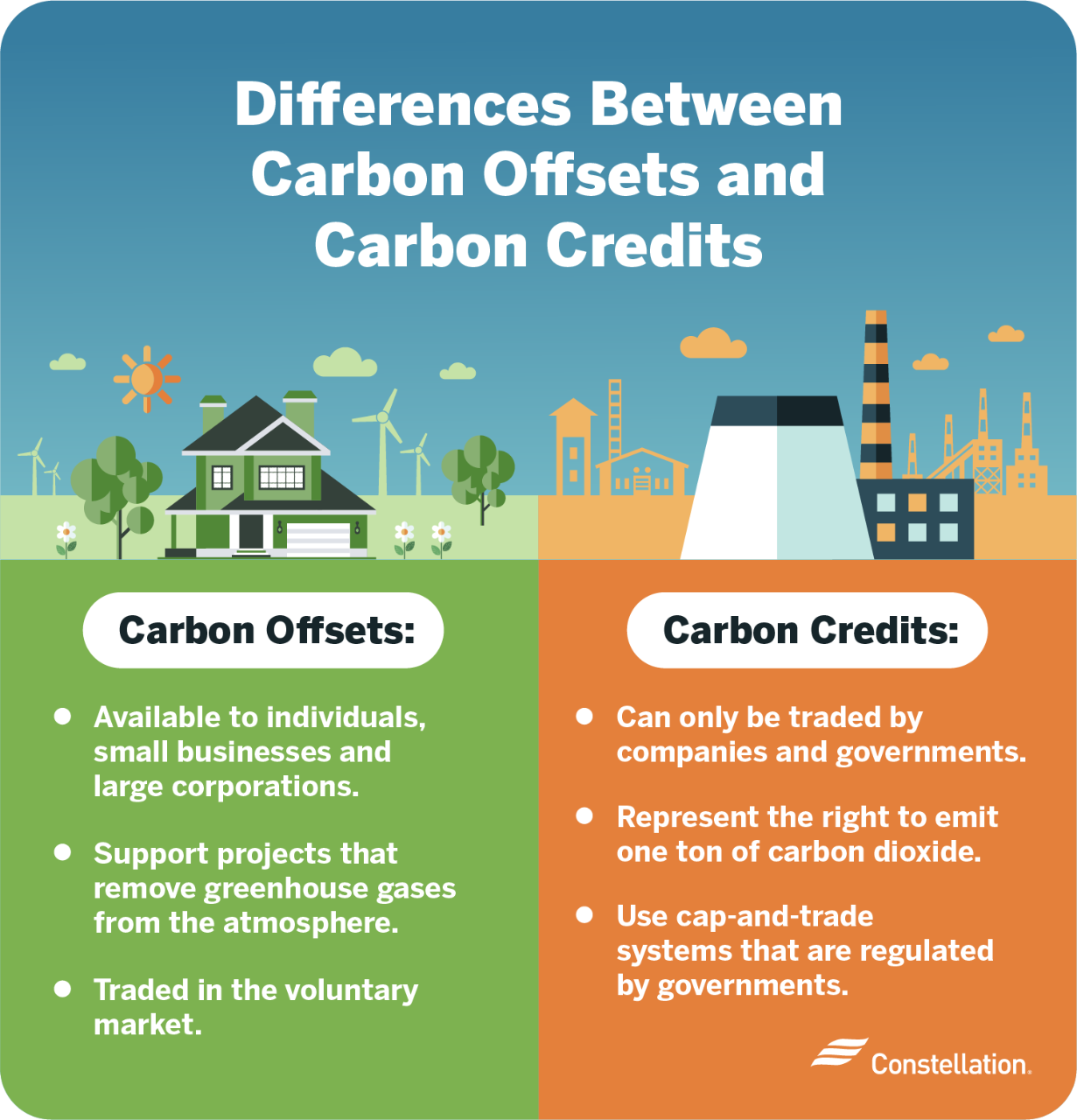 Carbon offsets are a way to reduce the creation of carbon dioxide and its presence in the atmosphere. Creating carbon offsets is voluntary and is something anyone can do, even if on a small scale.
Carbon credits are typically part of a system created by government regulations designed to limit emissions from sources in one or more sectors of the economy and supported by institutions that track and verify compliance. The aim is to reduce greenhouse gas emissions by providing a financial incentive for companies to shrink their carbon footprint.
Typically, only companies and governments can participate in the trading of carbon credits. Carbon offsets, however, are accessible to individuals and small businesses, as well as large corporations.
Do I Need Carbon Offsets or Carbon Credits?
Both carbon offsets and carbon credits are valuable tools in the fight against climate change. Which one is right for you?
Corporations can do their part by using both. They can participate in and comply with cap-and-trade programs such as the Regional Greenhouse Gas Initiative. They can also proactively invest in carbon offset projects. Planting trees is just one way to do that. Supporting regenerative agricultural projects, investing in renewable energy, and capturing landfill gas as energy are other examples.
For consumers and small businesses, supporting carbon offset activities are the option for contributing to a healthier environment. When you can't reduce the carbon dioxide you are producing, you can buy carbon offsets to work toward being carbon neutral.
Constellation and Renewable Energy
Constellation is committed to environmental stewardship. We offer transformative solutions to help you meet your sustainability goals and carbon reduction targets, as a consumer and for businesses.
Constellation has also been making significant investments in carbon offset projects. Whether it's capturing and using methane emissions in our landfill gas capture project, investing in renewable energy solutions, or supporting the growth and maintenance of diverse natural forest communities, our commitment to a clean environment is at the core of our business.