What is Carbon Offsetting?
What is Carbon Offsetting?
What is carbon offsetting? We will explain and discuss this important tool for fighting climate change by helping to keep CO2 emissions from increasing in the atmosphere. Carbon offsets also generate revenue that can be used as investments to support projects that can help reduce greenhouse gas emissions.
What is a carbon footprint?
Many human activities produce greenhouse gasses. Using electricity, operating a vehicle and throwing out trash all use energy and produce byproducts like carbon dioxide that pollute the atmosphere. The sum total of emissions attributed to your activities and purchasing choices make up your carbon footprint.
If you're careful and invest in energy efficiency, your carbon footprint may be small. However, large-scale industrial activities today produce a significant amount of greenhouse gasses. Businesses often have a large carbon footprint as a result. Knowing the size of your carbon footprint as a business or an individual is the first step at managing it.
What is a carbon offset?
A carbon offset is a financial instrument that represents a quantity of carbon dioxide (usually one metric tonne) that can be bought in open markets. A business or organization that invests in activities that reduce carbon dioxide production creates a carbon offset. A company that produces carbon dioxide can buy that credit and offset the pollution they are creating.
How does carbon offsetting work?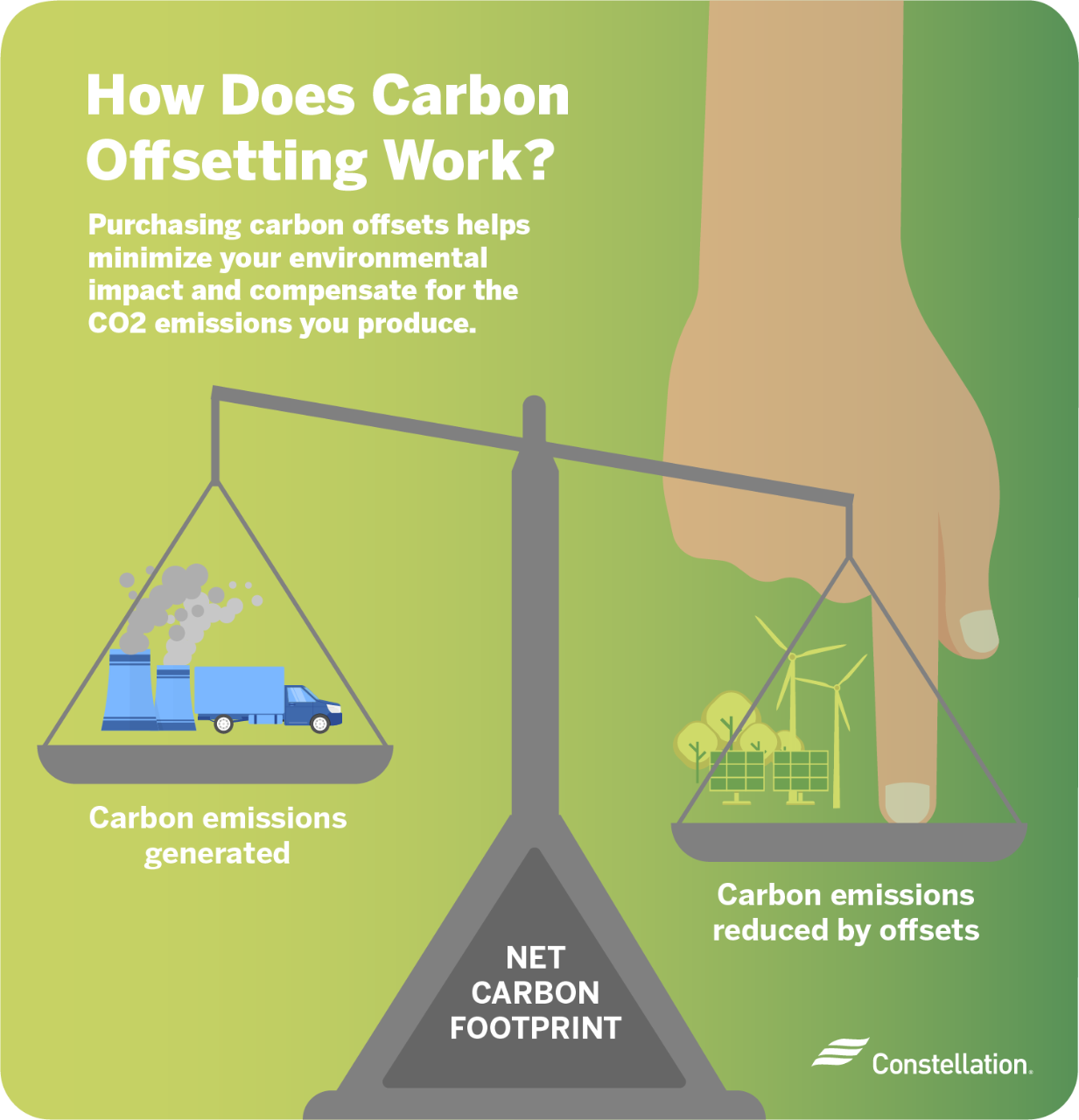 How do carbon offsets work? You have two sides of the transaction. On one side is an entity, individual, business or organization that unavoidably produces greenhouse gasses, but that wants to contribute to reducing them nonetheless. They buy a carbon offset, meaning a reduction in carbon production from an organization that invests in reducing carbon dioxide emissions and other carbon capturing initiatives.
Carbon offsets are typically measured in metric tons of carbon-dioxide equivalent, or CO2e. This means a producer of one ton of carbon can buy a carbon offset that represents the removal of one ton of carbon dioxide from the environment.
Examples of carbon offsetting
It's easier to understand what carbon offsets are with real-life examples. Let's say you're taking a roundtrip flight from New York to Los Angeles. This trip would result in the generation of about 1.3 tons of CO2, meaning you'd need to purchase the same amount in carbon offsets in order to neutralize the impact of your flight.
Generating electricity the traditional way produces carbon dioxide, but you can buy from a company like Constellation that is reducing its carbon footprint through carbon offsets or that sells carbon-free electricity.
When you purchase carbon offsets, the money goes toward initiatives that help offset carbon emissions, such as reforestation projects, and technologies that capture greenhouse gasses like hydrofluorocarbons at industrial sites, soil management, and supporting methane gas capture at landfills.
Constellation Energy and Carbon Offsetting
Does carbon offsetting work? Our efforts to improve how carbon emissions are offset are already generating results. Constellation's sustainability initiatives put reducing our carbon footprint–and yours–at the center of our work.
We also invest in customer education to help you save energy in your home and make your house more sustainable. Working together, using every available tool including carbon offsets, we can contribute to a healthier planet.