What Is an Electric Vehicle and How Does It Work?
What Is an Electric Vehicle and How Does It Work?
When thinking about what an Electric Vehicle (EV) is, people might think they are new inventions. Yet EVs have been around since the invention of the motor car. Technology shortcomings limited the idea until recent advances made them commercially viable – even desirable.
What is an EV?
EV is an acronym for electric vehicle. What are EVs? They are cars with an electric motor powered by a battery instead of a combustion engine powered by gasoline.
One of the reasons EVs have gained in popularity is improvements to newer battery technology. Old lead-acid batteries were very heavy, had a range of less than 100 miles and only functioned through several hundred deep cycles. New lithium-ion batteries have a range of up to 300 miles and 10 times the life, remaining functional through about 2,000 deep cycles.
With increasingly affordable, simpler, quieter engines that don't emit toxic exhaust, more people are asking what an electric vehicle is and why it's beneficial to own one.
Benefits of electric cars
Various types of electric vehicles are gaining consumer acceptance because of the benefits they provide. These include:
Clean air. They don't burn fossil fuel, so they are not spewing toxins on the streets and in neighborhoods where you live.
Quiet. Electric engines make much less noise than combustion engines.
Low maintenance. The engines have fewer moving parts to wear out, meaning you may spend less money and effort on engine maintenance.
Save money on gas. Though initially more expensive, you won't be paying at the pump to keep your EV running.
Fast acceleration. Electric motors produce amazing torque the instant you step on the accelerator.
Advanced technology. Most models feature sleek styling and a variety of onboard features that make them a tech showcase.
What types of electric cars are there?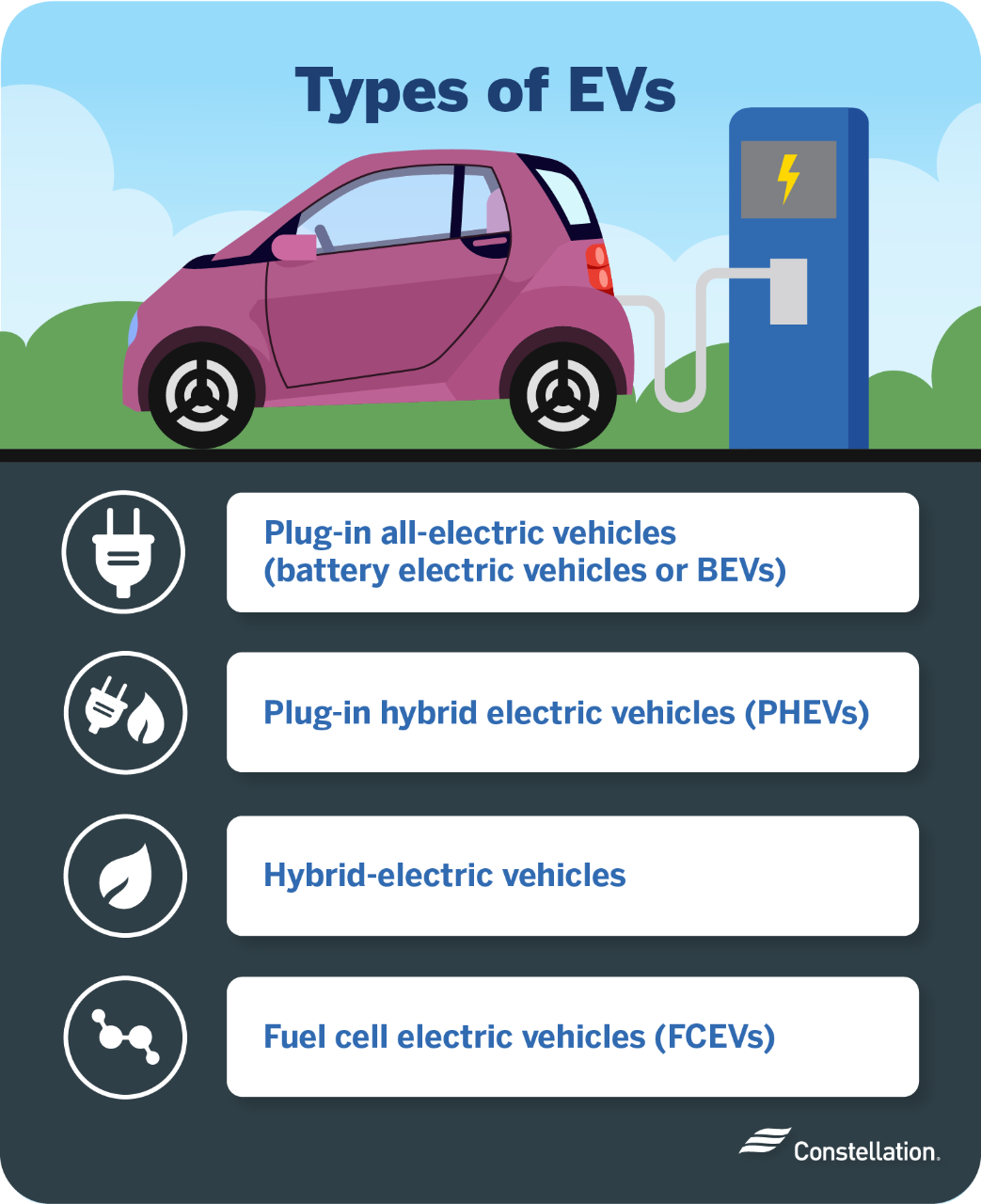 When asking: What is an EV? The answer will include several types of electric vehicles that are commercially available.
1. Plug-in all-electric vehicles (battery electric vehicles or BEVs)
These EVs are powered by a rechargeable battery. They have a range limited battery capacity. The speed of travel and terrain influence how far these cars can go between charges. Driving faster and climbing hills reduces their range.
2. Plug-in hybrid electric vehicles (PHEVs)
Hybrid vehicles run on either battery power or fossil fuels. Plug them in to charge or run them on gasoline or diesel. They have a longer range than battery-only BEVs, as you can switch between power sources. Because they have two sources of power, they require more maintenance. They also emit pollution when running on fossil fuels.
3. Hybrid-electric vehicles
You might ask: Do electric cars use gas? The answer is yes, when talking about hybrid electric vehicles. These types of EVs have a combustion engine that both powers the car and charges the battery. Instead of plugging it in, the battery gets power from the combustion engine, so it is an electric car that uses gas.
4. Fuel cell electric vehicles (FCEVs)
Instead of drawing energy from a battery, these electric vehicles use fuel cells full of hydrogen gas. The fuel cell stack features electrodes that use both hydrogen and oxygen to generate the electricity that then powers the motor. FCEVs also don't emit carbon dioxide or other forms of air pollution.
How does the electric car engine work?
In place of cylinders and pistons, electric engines generate power by creating a magnetic field that turns electrical energy from a battery into mechanical energy.
How does EV charging work?
You have choices for how you charge the battery for your EV. Level 1 chargers run through a common 120V AC outlet. When charging your EV with a Level 1 charger, a range of 2 to 5 miles will be added to your car's battery for every hour it's plugged in.
Most people buy a Level 2 charger for at-home charging on upgraded 240 V service. These chargers will give you 40 miles of range for every hour they are plugged in.
Some people find using a public charging station to be more convenient. These use DC fast charging technology that gives you 10 miles or range per minute.
The fast-growing popularity of electric cars is driving demand for public EV car charging stations. While not as common today as gas stations, that is changing. In the meantime, you'll have to put a little extra effort into planning your routes and managing your energy consumption.
EVs and their ranges
The range or distance your EV can travel on a fully charged battery will vary according to several factors. Each model of EV has different ranges. The size and chemistry of the battery determines range, with lithium-ion batteries offering the greatest distance.
Driving fast up steep hills drains the batteries faster than driving at moderate speeds on level streets, like driving conditions that would cause vehicles with an internal combustion engine to operate less efficiently. Deep cycles, drawing the battery down below 45 percent of charge, will increase oxidation and slowly cause the battery to decay. Age will do the same thing. Temperature extremes and changes in humidity can speed up the battery decay process and limit the range of your vehicle, too.
How long does it take to charge an electric car?
The three options for charging your EV offer different charging speeds and charging times. Learning a bit about the chemistry behind battery charging and your charging options will help you plan your EV energy use.
Level 1 - typically rated less than 2kW
Most electric vehicles come with a 120 V charger you can plug into an ordinary wall socket in your home. These easy and inexpensive chargers have a cost, however. Because they are so slow to charge your vehicle, it may take close to 50 hours to charge a BEV or 6 hours to fully charge a PHEV.
Estimated electric range per hour of charging: 2 to 5 miles
Level 2 - typically rated from 7kW to 19kW
Vehicle chargers that run on 240 V are often available in parking garages, some gas stations and near stores. If you have your own garage, you can buy a Level 2 charger and install 240 V service to it. This option dramatically cuts charging time. It takes between 4 and 10 hours to charge a BEV and 1 to 2 hours to charge a PHEV with a Level 2 device. You can find answers here to the commonly asked questions about home chargers.
Estimated electric range per hour of charging: 40 miles
Direct current fast charging (DCFC) - typically rated from 50kW to 350kW
DC fast chargers are an option if your EV can accommodate rapid battery charging. You can charge your EV to 80 percent in under an hour. PHEVs cannot be charged with a DCFC charger.
Estimated electric range per hour of charging: 60 miles
Charging electric vehicles on the go
While charging at home may sometimes be an option, you will probably also want to charge your EV while traveling–often in areas where you may not be familiar with your options. Constellation has made finding public Level 2 and fast chargers easy with our guide to finding charging stations.
Charge electric vehicles at home with Constellation
Charging at home is your most convenient option. To make the process smooth and easy, Constellation is/will be releasing at-home EV charging solutions that include upgrades to 240 V service. For safety, convenience and cost-effectiveness, installing an electric vehicle charging point at home is worth considering. Contact us to get an estimate for adding the latest home EV charging technology.