What Is Home Automation and Should You Do It?
At Constellation, we aim to help our customers find the right energy efficient appliances and gadgets to better manage their home. Home automation is a great way to improve energy consuming habits, and we're excited to share the best home automation ideas with our energy community.
Understanding Home Automation
Home automation sounds like a futuristic home dreamt of in the 70s: a home that acts as your personal assistant, brews your coffee, and plays relaxing songs to lull you to sleep at night. Well, that futuristic home is now a reality, and it's so much cooler than we thought. Home automation appeals to a wide array of people, some cutting edge tech-lovers looking for the newest smart gadget to have fun with, and some who just need more organization in their hectic and ever-complicated homes. Many Americans are looking for the best home automation technology out there, and we're here to help!
If you're considering home automation, here are some terms and connected home questions to quickly get you up to speed:
What is Wi-Fi? Wireless internet connection that is the main source of connectivity for smart gadgets and home automation hubs.
What is the difference between hardware vs software? Hardware is a physical object with connected abilities, while software is digital programs that have the ability to connect and communicate with hardware.
What is a smartphone? A smartphone is a cellular device that can connect to the internet through Wi-Fi, enabling users to download applications that allow them to access different digital programs such as social media apps, games, and home automation software.  
What is an app? Applications, or "apps," are free or purchased programs for computers and smartphones that serve a specific task.
What is the Internet of Things? The Internet of Things, sometimes referred to as IoT, is the ability of a hardware device to interconnect with other devices through the internet and/or your Wi-Fi network.
What is a home automation hub? A home automation hub is a piece of hardware that serves the purpose of connecting multiple devices to one home automation network, allowing them to communicate with one another.


What Is a Connected Home?
If you have a smartphone, you've already taken the first step in setting up your connected home! When you buy gadgets like voice assistants Amazon Echo and Google Home, a smart thermostat, or a Bluetooth speaker, you are buying something that can communicate with your smartphone in one way or another. These gadgets usually come with their own app that communicates with the gadget you bought, and can connect with one other device as well.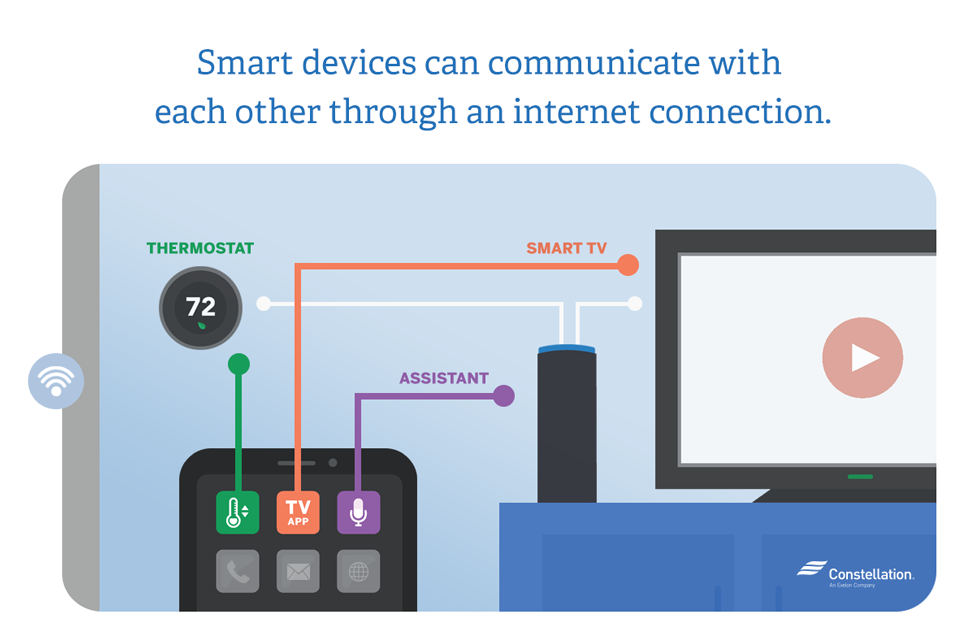 A connected home simply means that the smart devices you own in your home can communicate with each other through the Internet of Things. For example, you can use your voice to tell your voice assistant to pause your smart TV and change the temperature down to a comfortable 72°F.
 

What Is Home Automation?
Home automation goes one step further than just creating a connected home, making your home truly feel "smart."
Consider this: As you're on your way home from work, and within a certain distance from home, your home thermostat turns from an energy saving 82°F to a crisp 68°F. As you unlock your door, your home automation hub sends a notification to your other gadgets: Your lights turn on, your blinds are automatically pulled up, and your music system plays your favorite calming tunes, all without even touching a button. This is home automation. And it's awesome.
 

Ideas for Automating Your Home
So are home automation ideas swirling through your head for your own home? Here are some home automation setups that you can do, from beginner home automation technology to a home automation hub:
Single-task automation. This automation is perfect for those just entering into automating your home. Devices such as security systems and smart thermostats have been introducing automation features that let you set a programmed task to happen every day, every hour, or whenever you want.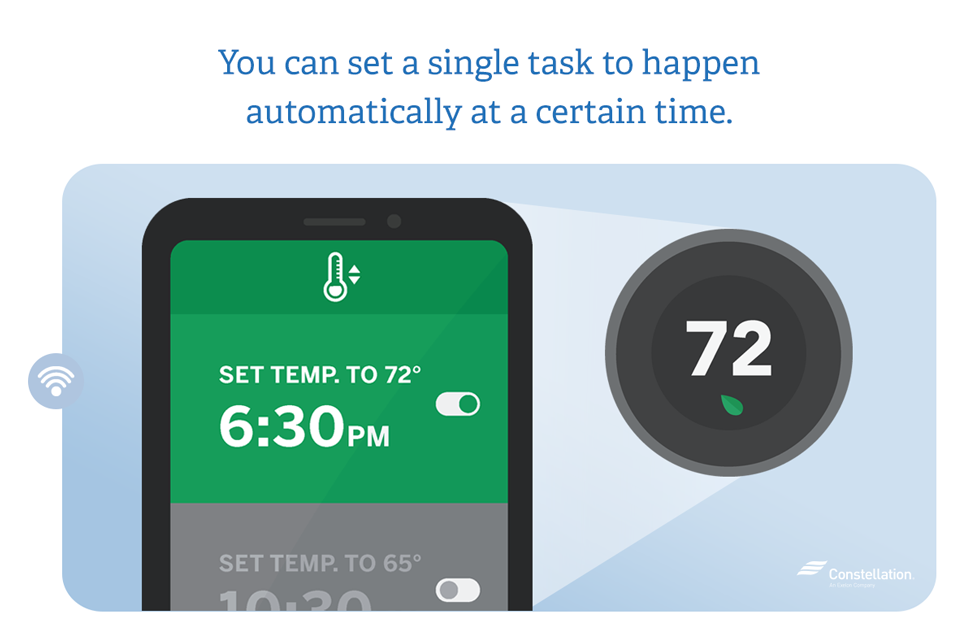 Multitask automation. For those who want to expand their home automation experience, multitask automation is a great step toward seamless connectivity. These tasks can be programmed through an applet program like IFTTT (If-This-Then-That), which takes one task and triggers other automated tasks to happen in sequence.
Home automation hubs. If your smart gadgets are the body, the home automation hub is the brain, integrating your smart devices together to create an easy array of task automations. Before the new improvements in home automation technology, automating your home involved hardwiring the system throughout the entire home. Now, Wi-Fi enabled devices allow home automation to connect seamlessly with one another. It serves as the central nervous system of all of your smart gadgets, giving you the best home automation experience.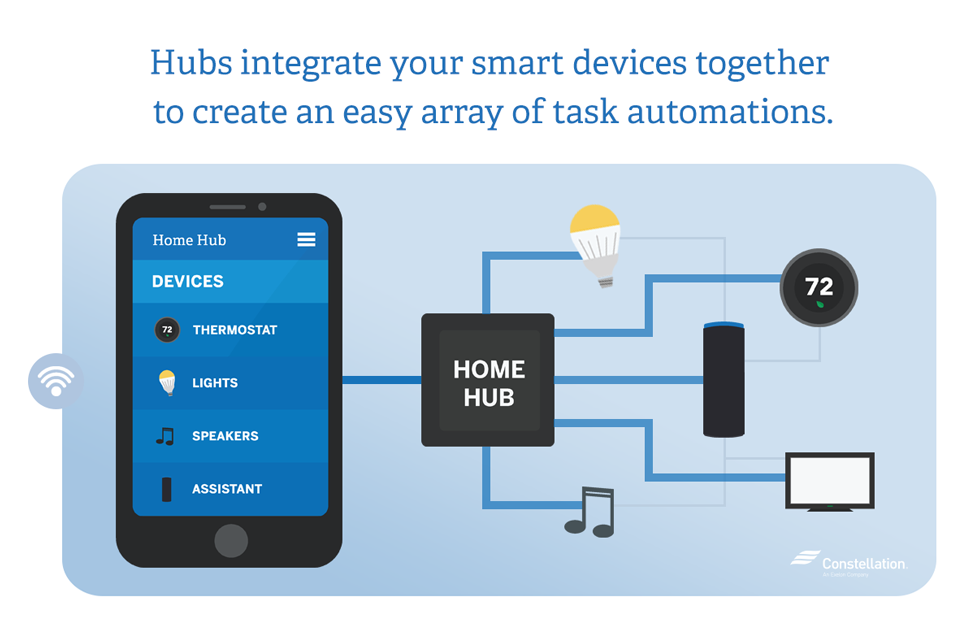 How to Automate Your Home
When creating a home automation system, homeowners have two options: home automation DIY or professional home automation installation. It is up to each individual homeowner to decide which way of automating your home is best.
Home Automation DIY. With home automation DIY, personalizing your system is much easier. Some people like the technological challenge of connecting and troubleshooting, and would be a perfect fit to try DIY home automation. To start your home automation DIY, you'll need to brush up on different gadgets, how they all connect to one another and the cost of home automation devices. Choose the home automation hub that best fits your needs, and get connecting! It's certainly a fun challenge to learn how the world of smart gadgets is working around us.
Home Automation Installation. Having a professional install your home automation system is a great way to ensure the capabilities of smart devices will be set up correctly. It is certainly an easier way of connecting your home to automation, but can get costly, depending on what home automation company you choose and their cost of home automation installation.

The Pros and Cons of Home Automation
Home automation is an investment that shouldn't be taken lightly, but turning your house into a connected home with home automation technology is not as hard  a task to undertake as you might think. Still torn? We've included some of the pros and cons of home automation: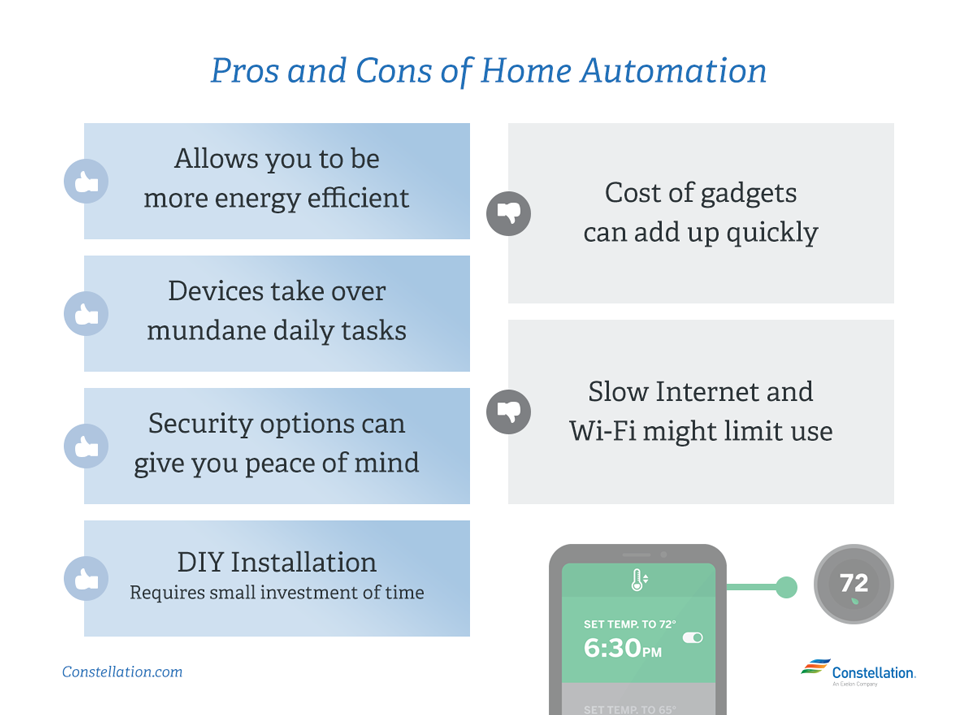 Benefits of Automating Your Home
Security. The safety of you and your family is of the utmost importance. Studies have shown that homes with security systems displayed to be in use are less likely to be targeted by burglars. Americans want their homes to be a safe sanctuary for their loved ones, and home automation security helps with that.


Energy Use. When buying home appliances, it's important to compare their energy efficiency for when they're in use, but what happens when they're not in use? They can still drain energy called "vampire energy" and raise your energy use, not to mention your energy bill. Rather than letting them suck away energy all day, home automation can turn off home technology and appliances when they're not in use.


DIY Installation.

Process that requires small investment of time.




Convenience.

After a long day, the ease of having your mundane daily tasks done for you is a joy that can't be compared. Now that Americans are busier than ever before, automating your home can help prioritize family time rather than daily to-dos.
Obstacles of Home Automation
Cost.

The cost of home automation can add up quite quickly. Picking a home automation system to be installed requires a lot of research and cost comparison between systems.




Internet Outages and Wi-Fi Connection.

An internet outage is a hassle for any household, but can especially put a damper on a day when it cuts your home automation setup. Similarly, if your Wi-Fi connection is poor or has minor issues, it can interfere with your home automation system hub or any of the connected devices that use Wi-Fi.
Is Home Automation for You?
People choose home automation for mainly two reasons: to make their lives easier and reduce energy waste. Automating your home can mean a convenient fix to an otherwise monotonous task, or creating an entirely automated home life. Not everyone is a tech expert, but everyone can benefit from home automation. What is home automation's future looking like? Stay tuned for more on the future of home automation ideas from Constellation!
Constellation offers smart home security with Constellation Connect
The same company you rely on to supply energy to your home is now helping keep you safe. Constellation is bringing affordable home security to select states. And you'll get a lot more for your money than just peace of mind.
View plans at constellationconnect.com