Preparing Your House for Extreme Cold & Winter Weather
The winter months may bring harsh weather and a higher energy load to your home. Properly preparing your house for winter can save you the troubles of dealing with snow dangers, keep you safe and warm during storms, and help you save energy in the winter.
Choose a topic below to skip to a section!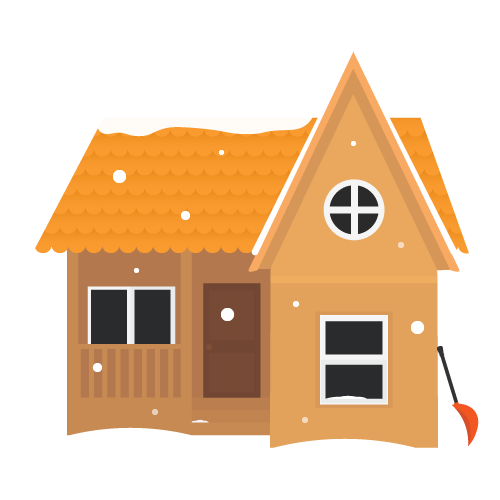 Checklist for Winterizing Your Home
Winter storms are occasional events, but the severity of winter weather lasts throughout the entire season, and winter heating is important for your comfort and safety. This also means that saving home energy and winter costs are usually of utmost importance to your household. Our homeowner's winter checklist will provide you with a few projects you can do around your home that can help prepare your house and save energy in the winter:
Weather strip your front door. To prevent heat loss around your door and save money on your energy bill, weather stripping is a good start. Get your home ready for winter and use a seal that can be attached to the bottom of the door – it should brush up against the threshold to fill any gap.
Set the perfect temperature on your thermostat. Be sure to read your thermostat's manufacturer manual. Installing it near direct sunlight, drafts, doorways, skylights and windows can cause "ghost readings" or unnecessary furnace or AC cycling. To keep up-to-date with your thermostat's current settings from anywhere, consider investing in a smart thermostat or wifi thermostat.
Properly insulate your attic. Poor insulation can cause up to six times more heat loss and dramatically raise winter costs. To prep your home and save energy in the winter, have at least six inches of good thermal attic insulation in your ceiling, and insulate your heat ducts to keep in your home's heat. A home can lose up to 25 percent of its hot air before it ever reaches the vents.
Let the sun do some of the work for you. Invest in heavy fabric curtains to lock in heat at night, and open them during the day to let in sunshine for some natural heat.
Check up on your furnace. Maximize your furnace's efficiency to save energy in the winter by scheduling an annual check-up, cleaning and adjustment.
Keep garage doors closed to keep heat loss to a minimum. For extra energy savings in the winter, attach weather stripping to the base of the garage door to reduce the overall heat loss.
Clean your gutters. If your gutters are full of old dead leaves, they have a high chance of getting clogged with snow and create a dangerous ice dam. Click here to skip down to more information on ice dams!
View Constellation's home energy options in your area to prepare your home for winter.
Extreme cold & winter storm home emergency kit checklist
Whether it's below-freezing temperatures, or a blizzard rolling in, preparing winter emergency supplies can help you stay safe in winter weather. The Federal Emergency Management Agency (FEMA) recommends having the following items ready in case of extreme cold and winter weather. The Federal Emergency Management Agency (FEMA) recommends having the following items ready in case of extreme cold and winter weather. Prepare your house for winter with this homeowners emergency kit checklist:
Medical Supplies. This includes a first aid kit, personal medications for the entire family, and any technology used for medical purposes: ie. oxygen tanks, mobility scooters, and pacemakers.
A tip for patients relying on electricity to power their medical device: be sure to call your electricity provider to let them know that if your power goes out, to set your home residence as first priority for restoring power. To report an outage or get in touch with your electricity provider through Constellation, click here.
Communication Devices. Prepare a rechargeable, crank, or battery-powered radio to receive communication in the case of disaster. Also, don't forget the phone charger! Use a power brick/portable charger if the power goes out.
Toiletries and sanitary products. Remember to include hand sanitizer in case water is unavailable for hand-washing, and to have enough toilet paper products, diapers, and feminine hygiene products.
Warm layers. Prepare for a blizzard or extreme winter weather winter temperatures by keeping sleeping bags, warm blankets, and warm clothes stocked for potential power outages.
A generator. A generator can help with winter heating and keep appliances running during a winter storm blackout, but be sure to operate them safely. Never run a generator inside. To prevent carbon monoxide poisoning, keep your generator outside, at least 20 feet away from your home.
Snow removal supplies. In order to get your home ready for winter, you'll need supplies that help you remove snow while providing you a safe path from your home to the street, such as: a metal snow shovel (plastic is too flimsy for heavy snowfall), an ice scraper and a snow brush for your car's windshield and windows, and snow removal salt to drop on your sidewalk and driveway to melt away ice.
Alternative energy sources. Depending on what you already have available, compile wood, coal, or other resources for energy for winter heating devices.
Tip: Using hand warmers can be useful if you're desperate to warm up. In extreme cases, they just might be your saving grace from nasty frostbite.
A corded telephone. If the electric goes out, your cordless phone won't work. But, if you have an old-fashioned corded phone hooked up to the phone jack, you'll be able to call for help, call the energy company during a power outage, or check in on your loved ones.
Water and Food. In extreme cases, prep your home by stocking away 3 days worth of food and water (roughly 1 gallon per person, per day). Canned goods work as well.
Tip: don't forget food and water for your pets, either!

How to Prepare to Endure a Winter Storm at Home
If you've chosen to wait out the storm in your home, and you have adequately prepared for a potential blackout, snow damage, and heat loss, then it's time to get cozy. Real cozy. While the winter winds whip outside, grab a hot tea and embrace the Oxford Dictionary's 2016 word of the year: hygge.
What is Hygge?
The Danish word "hygge" (pronounced hue-gah) is a unique feeling -- so unique that there is no translation in the English language that properly describes it! The closest we can get is "cozy", which still doesn't completely do it justice. Hygge is the feeling of complete and utter comfort, warmth, and safety. Think: cozy socks, a roaring fireplace, your favorite relaxing music, a good book, surrounded by those you love, and feeling that everything will be okay. Some may describe that image as paradise, but the Danish just call it hygge.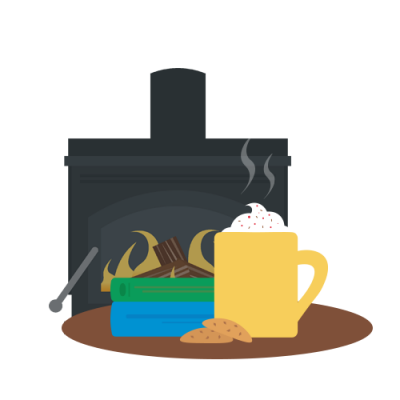 The winter holidays can be a great source of hygge, and so can having a real evergreen tree in your home, but fire safety is important. A dry tree that catches fire can take less than 5 seconds to be completely engulfed in flames. To help prevent house fires: water your tree daily; keep candles, fireplaces, or heaters away from any of the limbs; and check for electrical sockets that may be vulnerable to catching fire. Enjoy hygge responsibly!
How to Prepare for Going Outside in a Snowstorm
When a blizzard or ice storm is rolling in, it's best to stay inside during the storm, but you may want to periodically shovel the sidewalk, or dust off the car in case you absolutely need to drive somewhere. Here are some safety tips from ready.gov for when you need to brave the outdoors: 
Wear the proper clothing. Ready.gov recommends preparing for extreme cold by wearing loose fitting and lightweight layers of warm clothing, topped with a water repellent outer layer garment made of tightly woven fabric, like a windbreaker. If you don't have snow clothing, make sure to layer enough to insulate your body! 
Stay dry. Remove and replace any wet clothing with dry and warm garments. 
Don't overexert yourself. Shoveling heavy and wet snow can cause strain on your muscles, heart, and spine. Be aware of what your body is telling you, and take breaks when needed. Look for signs of winter ailments. 
Check for symptoms of hypothermia, frostbite, or chilblains. You can find a full list of symptoms and treatments on the Center for Disease Control's page on cold-related illnesses. 
Be safe while driving. The roads may be slippery, and depending on your location, possibly not plowed or brined at all. In fact, most winter storm-related deaths involve a vehicle, so be sure to know how to drive in the snow or wintry conditions! Check out Constellation's winter preparation guide for cars to learn how to drive in the snow, prepare your car for low temperatures, and any winter-related emergencies.
Double check public transport. If you don't have a vehicle and need to use public transportation, be sure to double-check the running schedule to make sure you won't be stuck outside for too long waiting for the bus or train.

How to Prepare Your Home for Winter Storm Recovery
Once the storm has passed, start your winter storm recovery process with these immediate steps:
Assess any damage. Take a short walk around your home and check if there was any lasting damage from the winter weather. In the extreme case that your home was severely damaged and you cannot dwell there, you can text SHELTER + your ZIP code (for example: SHELTER12345) to 43362 in order to find your nearest shelter.
Look out for downed power lines. Falling tree branches and limbs may cause power outages and dangerous live wires being exposed. If you see a downed power line, call 911 immediately and do not go near it. Contact your insurance.
Call your home insurance provider and see if your coverage includes damages from winter storms. If you're in need of federal assistance, contact FEMA.
Check on loved ones and neighbors. If the roads are clear, be sure to check on your elderly neighbors and call your family and loved ones to ensure that they've made it through the storm safely.
Remove ice from your walkways. 
Tip: if you have dogs or cats, consider buying a non-salt ice melt, because sodium chloride (rock salt) can chemically burn their paws!
Restore your home from the effects of a blizzard or other severe winter weather by ensuring that the outside of your home can withstand the storm's lasting side effects, and doing so can save money in the long run. When snow or freezing rain fall, that weight can cause future damage.
Wet snowfall sitting on top of your home can weaken the roof and cause cave-ins.
Snow can weigh down on tree branches and prompt them to crash down on your home, vehicle, or a person.
Ice dams in gutters can cause major roof leaks and cave-ins.

What is Ice Damming?
Ice damming occurs after any type of winter storm leaves precipitation on your roof. When snow falls onto your roof, the heat emanating from the inside of your home melts the bottom layer of snow, and causes the melted snow to slide down your roof. Once it reaches the gutters, where there is no insulation, it freezes again, but this time into solid ice.
This is the start of an ice dam, and it can only get worse. As more snow melts into water, and as more water freezes, the ice dam gets bigger. Isolated weight on your roof or gutters can cause damage. In addition, the melted water flowing to a specific area can cause leaks in your roof or wall insulation, which can greatly increase winter costs.
Why are icicles bad?
Icicles are the quintessential mark of the holidays, but these beautiful works of winter weather can prove to be a dangerous falling hazard around your house and indicate a much worse problem: ice damming.

How to safely get rid of icicles and ice dams in gutters
If you've noticed icicles forming on the side of your home, it may be too late in the season to implement ice dam prevention measures, and you need to handle the problem at hand. Icicles generally equal ice dams, so you've got some work ahead of you!
First, you'll need to take care of the icicles. These stalactite-esque formations are beautiful, but can be deadly if you're caught beneath one if it breaks and falls off your roof.
Safety tips for getting rid of icicles
Don't knock off an icicle from underneath! Use a ladder or a window that is parallel to the icicle to cut down your chances of getting injured from falling icicles.

Take a bat, broom, or rake and knock off the icicles with blunt force, one by one.

Make sure no one is walking around the outside of our home while you are doing this.

Consider yelling "Falling ice!" with every large icicle you knock down.
Once you've gotten rid of the big icicles, you'll need to handle the ice dam that was the source of the icicles.
Tips on removing ice dams in gutters:
Don't use rock salt to melt the ice. It can damage the paint and metal on your house.
Use a calcium chloride ice melter (you can shop for it here) to melt the ice and snow from your roof ledge and gutters.
Use a blunt object, like a mallet, to break apart the ice slowly. Do not use a sharp object like an axe, which could damage your shingles.
Follow the same icicle-removing safety precautions when breaking off ice from the roof.
Only attempt removing the ice dams yourself if you have roofing or construction experience. If not, consider calling a professional.
Use a ladder to reach areas of the ice dam.
Ice dam prevention tips
Stopping ice dams before they form is key to prevent damage to your home. Here are some steps to ensure that your home's roof doesn't build up ice dams in the gutters:
Scrape off the heavy snow that has accumulated. After a major snowstorm, take a broom or a rake to your roof to scrape off the heavy snow accumulated on it.
Tip: be careful of where the snow falls when you clean it off of the roof. You can bury yourself in snow, or cause damage to someone else/something else.

Install a metal drip edge. Installing a drip edge, usually made of metal roofing materials, can help prevent any ice buildup on the edge of your roof.

Install better insulation in your attic. The main cause of ice damming is the heat coming from your roof. Installing better insulation in your attic can lessen your chances of getting ice dams in your gutters.
Tip: check out Constellation's blog to find out how to install properly insulation in your attic.
After the blizzard passes and the winter weather subsides, remember to learn from the storm. If you made any mistakes preparing for a blizzard, take note of them and make sure you're prepared for when the next winter storm comes through.
To find more guides on preparing for winter, click here:
Learn More About the States We Service
Interested in finding an energy plan that fits your budget? Explore electricity or natural gas plans in your area: