Winter Preparedness at Work: Prepare Your Small Business for Winter Weather

When winter weather threatens your small business and its ability to be open and gain profit, taking some preventive winter. You can choose to close or stay open during a winter storm or disaster , but be sure to prepare adequately for either.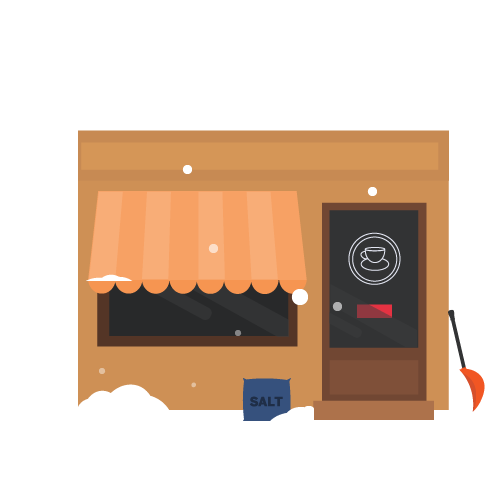 Choose a topic to skip to a section:
Communicate with your employees. Preparing your business for a winter disaster starts with having a predetermined way to communicate with all employees to let them know if the store or office will be open that day. 
Let customers know if and when you're closing. If you will be closing early due to a winter storm or blizzard, or not opening at all, use social media channels to relay that information. If you have a store-front, make sure to post a sign notifying your customers of your closing as well. 
Salt the sidewalks. If you plan for your small business to be open during the winter storm, be sure to brine or salt the sidewalks to prevent ice from forming and causing slippery situations! For information about slip-and-fall incidents, visit webstaurantstore.com's resource to learn more about what your business is liable for. 
Keep an eye on power lines. If you see a downed power line near your business, call 911 immediately and do not go near it, it could still be live with electricity. Try to prevent any customers from getting near it as well. 
Consider buying a generator. Have a generator for any important devices or products needing electricity, like walk-in coolers and food storage. 
Check on your smoke and carbon monoxide detectors. Regularly replacing batteries for smoke and carbon monoxide detectors is a good practice for winter preparedness for your business, and especially important if you will be using a generator. If you're using a portable generator, never keep it indoors. They produce high levels of carbon monoxide and could cause harm to those inside. 
Have mailing back-up plans. When preparing your business for winter, think about what things you rely on the mail service to provide. If you have payroll checks or other important documents coming in the mail, and the roads are too bad for mail to be transported, do you have other ways of accessing them? Contact whoever is sending your important documents to ensure that mail interruptions will not cause disaster in your small business.
Prepare a Winter Emergency Safety Kit For a Your Small Business
In extreme cases of winter storms, you and your employees may become snowed in at work, or need to wait out the storm. In areas where heavy snowfall is typical, consider making a winter emergency kit for your small business to ensure winter workplace safety. This winter preparedness checklist for your business, provided by FEMA, includes:
A hand-crank or battery-charged radio 
Water and food snacks 
A whistle or noisemaker that can be used to signal for help 
Copies of important business documents, all kept in a waterproof and fireproof container. 
Flashlights and/or candles First-aid kit Moist towelettes or hand sanitizer 
Extra toiletries (including feminine hygiene products) 
Cell phone chargers for all types of cellular devices (and/or portable cell phone power banks or chargers)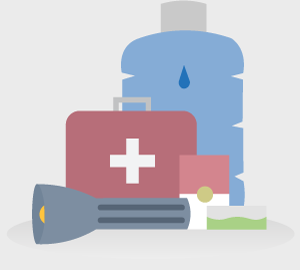 Lower your thermostat during off hours. The #1 way businesses waste money in the fall and winter is by heating unoccupied space. By simply setting thermostats to a comfortable temperature during working hours, and setting your heat lower during off hours, you may significantly reduce your energy bill and better prepare your business for the winter months. Although you can do this by hand, a programmable thermostat can be set to return temperatures to normal before you arrive, and adjust the heat back down after you leave. Just set it and forget it. Even better news is your programmable thermostat will also help reduce summer cooling bills.


Take advantage of off‐peak hours. Energy is the most expensive during the peak hours of 9am to 5pm. If you have equipment that requires a lot of energy, Constellation recommends that you try to stagger the use of your equipment, or operate it during off‐peak hours (generally, after 5pm and before 9am) to avoid high peaks or surges in usage. This may require a little more planning on your end, but it may reward you with substantial savings.


Replace air filters. Regular HVAC maintenance not only keeps your systems operating at peak efficiency, which reduces energy bills, but it can also uncover small problems before they become expensive or dangerous. Consider setting up a schedule and reminders to regularly replace filters. This will help keep internal parts clean and ensure that a dirty filter doesn't choke airflow. In the end, you will enjoy cleaner air and find peace of mind knowing your business is best prepared for the winter.


Utilize free energy from the sun and minimize heat escape. Something we do at Constellation is take advantage of natural light and heat—so open the blinds and let the sunlight in during the day, especially if you have southern and/or western sun exposure. This will allow the sunlight to naturally light and heat your business for you. To make sure the heat stays where you need it, make sure to seal leaky windows and doors, keep exterior and freight doors closed as much as possible, and consider installing strip doors to limit heat loss.


Remember, small, inexpensive changes add up. Constellation small business customers know that small changes can add up, quickly. Some of the same things you do at home can have a big impact on your small business energy bill. The changes we've mentioned here don't require a lot of money or effort. They really just require a commitment from you and your team, and a desire to use energy in a smarter way.
View energy solutions for your small business to see how you can potentially save on energy costs this winter.
OSHA Business Winter Weather Safety Tips
Ideally, you'd probably like your small business to be closed during a large winter storm, but some occupations don't allow that. These occupations include public servants and 24/7 workers that many Americans are grateful toward during these times of crisis. If you own a business that has to work during harsh winter storms, consider these OSHA winter safety tips to prevent cold stress on your employees:
Train your workers properly. Teach your employees winter weather safety tips for the workplace that will keep everyone safe and sound. These include essential skills like learning how to spot unsafe areas during blizzards, how to properly dress themselves for severe winter weather, and how to monitor themselves and their co-workers for signs of hypothermia, frostbite, or other winter ailments.

Tip: for information on how to spot hypothermia, frostbite, chilblains, and trench foot, check out the Center for Disease Control's information on cold-related illnesses.

Keep an eye on your employees. Stay in touch with your employees and/or supervisors to keep tabs on how the crew is doing. Sometimes, people suffering from hypothermia experience confusion and disorientation, so having an outside observer can save their life.

Form a buddy system. Either suggest or require all workers to travel in groups of at least two. This will raise winter workplace safety and awareness, while reducing the possibility of a worker being abandoned or left behind to freeze in harsh winter weather.

Provide areas of warmth and refueling. Plan ahead and make sure that your employees have a safe place to go in the event that they get too cold or need a warm beverage. This could be as simple as designating a tent with a space heater and some hot coffee. A little goes a long way, and a kind gesture can increase employee happiness and productivity in the long run.

Schedule warm-ups. OSHA gives a great chart that helps plan out employee work intervals between work and warming up. You can find the OSHA business winter weather safety tips and warm up schedule here.
How to Recover Your Business From a Winter Storm
Once the storm has passed, it's time to start your small business's recovery, both physically and financially. Consider making these first steps following the storm:
Assess the damage and check your insurance coverage

Ensure that no damage to your store has the potential to injure employees or unaware customers

Reach out to your community and see if you can help others
Prepare Your Small Business for Future Winter Disasters
Recovering from a blizzard or ice storm can have hefty costs on your small business. Since your business may have to close during a winter storm, loss of profit is probably inevitable.This isn't helped by the potential damage to your building, which can cost a pretty penny to fix. Save money with these money-saving tips for small businesses:
Invest in energy efficiency. Need to replace office appliances ruined by the storm, or replace appliances that have just gotten old? When you've applied all winter energy saving tips, but still want to squeeze out more energy savings, buying energy efficient office equipment can save you a lot of money in the long run.

Find tax credits and rebates. If you've invested in energy-efficient appliances in the break room, office equipment, or items for your small business, you may be eligible for small business energy tax credits
Explore Additional Winter Preparedness Resources From Constellation
Learn More About the States We Service
Interested in finding an energy plan that fits your budget? Explore electricity or natural gas plans in your area: