Small Business Security Systems

Improving Security with Small Business Security Systems
Small business owners know how much time and money goes into running a business. Between coordinating daily tasks, communicating with clients, and ensuring quality service, owners already have enough on their plates.
Lack of a small business security system can result in lost revenue, lost assets, and even compromised safety. When you add in losses due to vandalism, data breaches and other crime, the importance of security in the workplace becomes apparent.
Although large corporations can usually survive theft and other business-related crimes, small businesses – from restaurants, to retail stores, to manufacturers – have much narrower financial margins.
Many small business owners recognize the importance of having a security plan for their small business in place. The loss of expensive electronics, product or inventory can cripple small businesses and organizations. Fortunately, business owners have many options to choose from when it comes to securing their business premises.

Does Your Business Need a Security System?
Most small businesses already have a security system of some type in place. Small business security systems can protect your equipment, inventory and sensitive information. Common small business security systems usually include motion sensors, alarm sirens, or video cameras to keep your employees and customers safe from harm.
With connected technology, many business security systems are evolving to include so much more than just sensors or cameras. As technology improves, business owners are able to connect and monitor their premises in smarter and more efficient ways.
Take control of your energy
Improving your small business security is just one of many ways you can make a smarter business. Lock in a fixed-rate to take control of your energy today.

Types of Security Systems for Business Settings
Small business security systems often include security cameras, alarms and automated security systems. Each has its own strengths and drawbacks, and some types of security systems for business can even be controlled remotely with smartphone apps.
Types of security systems for businesses have grown to include door sensors and biometrics scanners, which can tell small business owners who has access to what and who is going where. Business owners can receive alerts on their smartphone every time a sensor detects a presence in their warehouse after hours. Even inexpensive devices like smart locks can add to your safety and security in the workplace by giving virtual access to select employees and individuals; no physical key is needed.
Choosing between a small business security camera system and small business alarm system
Which is better for securing small business premises, an alarm system or security cameras? Alarms with motion detectors offer an immediate deterrent to burglars: as soon as movement is detected, the alarm sounds.
The best of both worlds: automated small business security systems
When it comes to selecting the best business security system that meets the unique needs of your business, it is important to consider multiple products that can work together for seamless coverage and protection. The best part about modern-day business security systems is that many of these technologies can be interlinked to work together using small business smart technology and can be set up to take advantage of the strengths of each system.
Automated small business security systems combine the strengths of both alarms and security cameras while making up for their individual flaws. These automated systems often allow for 24-7 monitoring while keeping small business owners notified of potential security threats through their smart devices.
With the combination of both a small business camera and an alarm security system, business owners can be notified as soon as movement is detected on the premises and shown live footage to determine what is tripping the alarm. Put together, these systems paint a complete picture of the small business premises and can make it easier for small business owners to deal with both real and false alarms.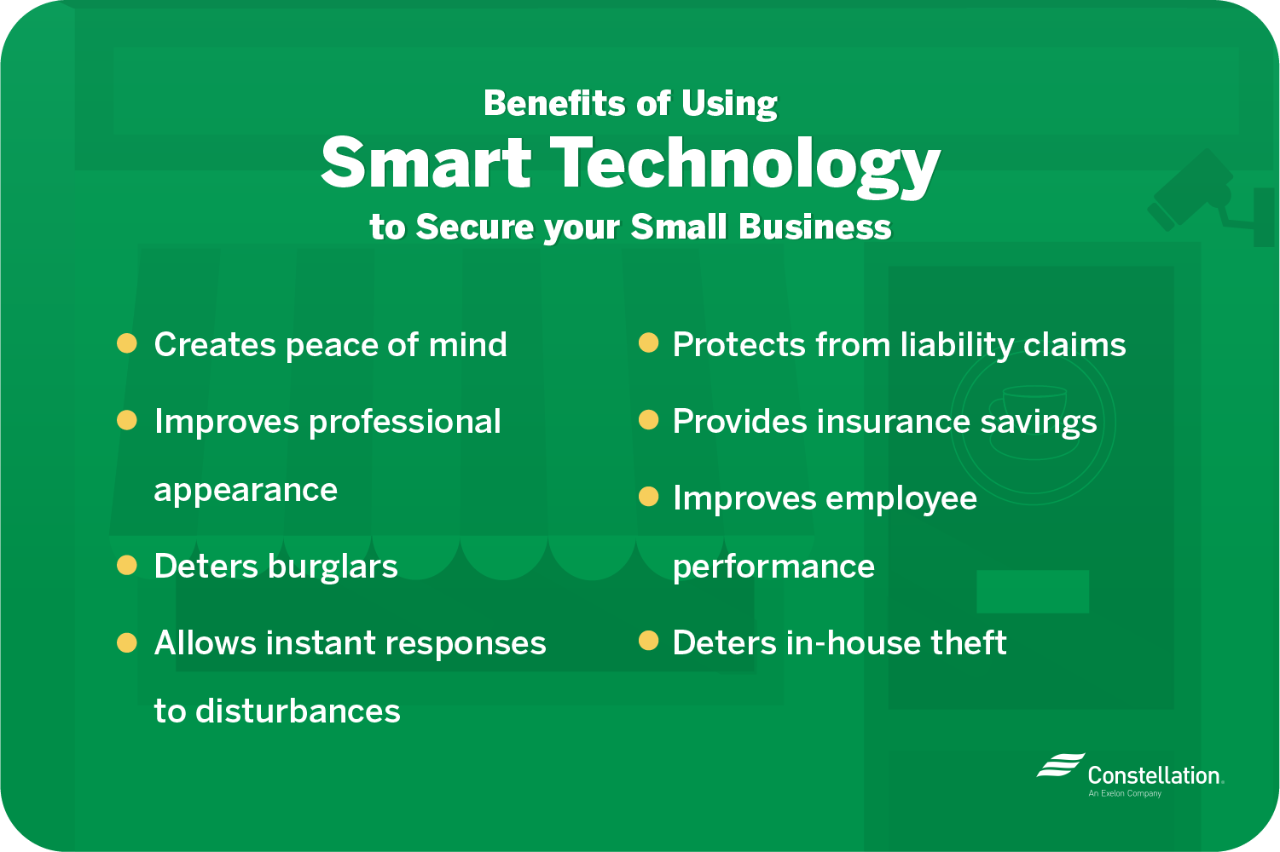 Benefits of Using Smart Technology to Secure Your Small Business Premises
Securing small business premises requires an initial investment, but the importance of security in the workplace far outweighs the cost. When you improve business security, you lower the risk of theft and vandalism while also reducing the risk of physical theft of sensitive customer data.
The benefits of small business security systems include the following:
Peace of mind. The visible presence of security cameras and alarms creates a safer environment, providing peace of mind to both employees and customers. Installing a panic button might give employees the tools they need to call authorities should an issue arise.


Improved professionalism. The visual elements of a security system add to your business's professional appearance while assuring customers you value them and that their safety is important to you.


Theft deterrence. Burglars prefer easy targets and are less likely to risk breaking into protected premises, especially if they can see the small business security system.


Instant responses. Automated systems send alerts when motion sensors are tripped, or alarms are activated, allowing you to take immediate steps to protect your property.


Protection from liability. Security cameras can help prove your side of the story in terms of customer complaints or liability claims when you provide recorded information stamped with dates and times.


Insurance savings. Many insurance companies will offer discounts if you improve business security.


Less shrinkage. Security cameras deter in-house theft and allow you to identify where inventory is being wasted.

Top 12 Workplace Security Tips
Security products have specific uses, and a robust security system takes advantage of the many options available. The following workplace security tips will help you get the most out of your small business security system.
Place security cameras in conspicuous locations to deter criminals.
A properly displayed security camera alerts criminals to the presence of a security system, improving business security and increasing the likelihood they'll move on to less-protected premises. Security cameras should be installed near doors, loading bays, windows, security gates, or any areas with a lot of traffic.
Since the presence of security cameras often deters theft, some business owners may be tempted to purchase a less expensive "dummy" security camera –– what looks like a security camera but effectively does nothing.
While a dummy security camera might fool or deter criminals, small business owners run the risk of missing out on important evidence if crime were to occur in the area. Always use real security cameras where possible.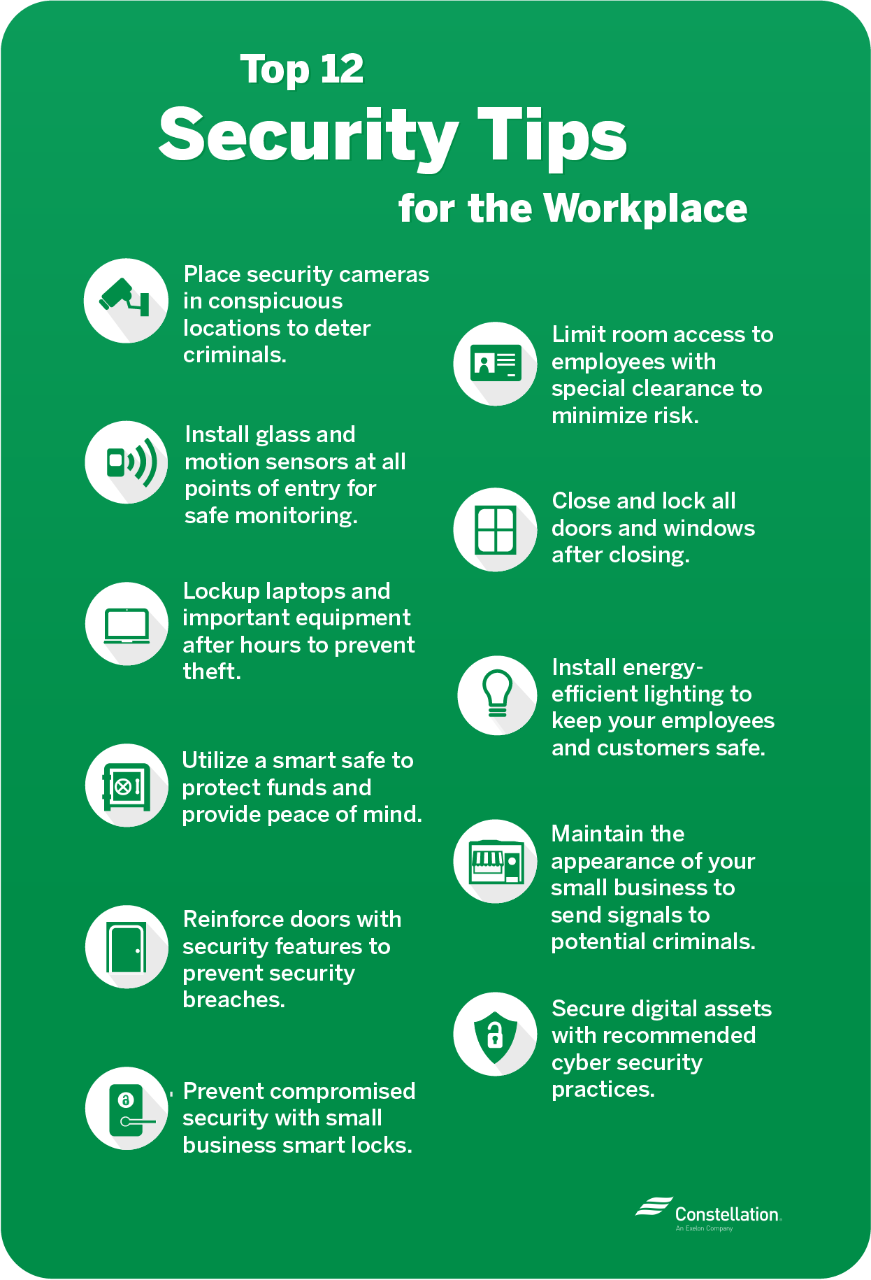 Install glass-break and motion sensors at all points of entry for safe monitoring.
Motion detectors will send business owners instant notifications if someone enters the premises after hours. A notification from a glass break detector or window/door sensor may suggest a crime is in progress and allows owners to alert the authorities quickly.
Lock up laptops and important equipment after hours to prevent theft.
Burglars prefer to target cash and small portable items. Locking up laptops and other expensive equipment in secure locations makes theft of such items less likely.
Utilize a smart safe to protect funds and provide peace of mind.
A bolted smart safe keeps cash and vital documents safe. Should someone attempt to open the safe without proper authorization or outside of work hours, the safe notifies the business owner through the owner's smart device.
Reinforce doors with security features to prevent security breaches.
Sometimes the tried-and-true workplace security tips are the most effective. Installing latches and deadbolts on doors and other entry points makes breaking in more difficult. Burglars don't want to spend time at the scene of the crime—they prefer quick in-and-out attacks. A strong latch is a great first line of defense, and in some cases may be all the deterrence you need.
Use ID cards and biometrics.
For safety and security in the workplace, ID cards allow supervisors, customers and staff to quickly identify personnel and identify unauthorized intruders. Securing highly sensitive equipment or information behind biometric locks adds an extra layer of security.
Prevent compromised security with small business smart locks.
The loss or theft of keys has always been a weak point in any business security system. With smart locks, business owners can authorize which employees have keyless access to the premises, revoking access as needed.
Limit room access to employees with special clearance to minimize risk.
In highly sensitive business areas, such as warehouses, server rooms and counting rooms, it's important to limit who has access. The use of keyless smart locks, ID cards and biometric systems helps prevent unauthorized access by trespassers or employees.
Close and lock all doors and windows after closing.
Locking all doors and windows after hours is one of the simplest ways to improve business security—and yet it's one employees can overlook as they're closing down. Smart locks can be programmed to lock at specific times, reducing the risk of a forgotten door remaining unsecured.
Remember to close blinds before closing up, as this prevents "window shopping" –– when a burglar takes stock of your inventory as they plan the theft.
Pro Tip: For more energy savings, you can check out our blog post on the most energy efficient windows to lower energy usage for your small business.
Install energy-efficient lighting to keep your employees and customers safe.
Using energy-efficient office lighting can improve employee safety by eliminating dark areas and reducing the risk of accidents in low-light conditions.
When it gets dark outside, you can also use outdoor solar LED lights to secure your business premises. Ensuring that the outside of your business is well lit gives criminals fewer areas to hide, and outdoor lights can also make dark parking lots safer for employees and customers.
Pro Tip: Need more information on business lighting? Check out our blog post on LED vs. CFL light bulbs.
Maintain the appearance of your small business to send signals to potential criminals.
Deter criminals from targeting your small business by keeping your building exterior and your landscaping well maintained. This limits locations where criminals can hide while sending a clear signal that you pay close attention to your property (you're also providing an attractive first impression of your business to prospective customers).
Secure digital assets with recommended cybersecurity practices.
In today's online-connected world, it's important to consider virtual protection, as well as physical security, when looking at types of security systems. Small business owners should secure all data and customer information using recommended cybersecurity practices, including installing antiviral programs, protecting documents with passwords and limiting how many employees have administrative privileges on computer networks.
How to Prepare You and Your Staff for Workplace Security
Designing and implementing a security plan for small business increases workplace safety awareness. Security should be a responsibility shared by employees, who should be trained to follow established security procedures.
Prepare for emergency risks with small business security plans.
A security plan for small business locations should include:
Prearranged staff responsibilities for disaster planning and recovery.
Predetermined evacuation routes.
A directory of employee contact information.
Procedures for safely backing up information in the event of a power outage.
A checkout list to revoke access and privileges of employees leaving the company.
Established procedures for opening and locking up the business.
Outline standard procedures with a small business security policy.
An outline of acceptable employee behavior can protect businesses from potential security breaches. Such policies should outline who has access to which areas of the business, who can authorize visits to the business and so on. These policies help small business owners track who enters and exits the business and improves your business security.
Train employees for improved workplace security awareness.
Along with workplace security tips, it's important to teach employees how to avoid confrontation with dissatisfied customers or angry members of the public.
Safety training can also teach employees how to prevent or treat injuries and reduce the risk of liability. After all, customer service has a role to play in keeping your business safe: studies show that a friendly and attentive staff can reduce the risk of theft.
Pro Tip: For more information on employee training, check out FEMA's training on workplace safety awareness.
Schedule weekly or monthly document shredding to protect sensitive information.
High-profile news stories of online data breaches focus on hacking and software vulnerabilities as primary threats to sensitive information, but data is often stolen through less technical means, such as going through a company's garbage for documents.
Be sure to shred all documents related to employee or client information before disposal—or, better yet, join the many small businesses that have already transitioned to a paperless office.
Watch out for security scams to prevent potential losses.
Social engineering is a field that, in the context of information security, describes behavior used to manipulate people. Many scams rely on social engineering techniques, from an email threatening immediate legal action to a person simply walking into a restricted area as if they belong there.
Keep your employees aware of potential scams targeting small businesses, and train them to be on the lookout for anything that seems suspicious.
So, to answer the question: Does your business need a security system? In almost all cases, the answer is yes.
From training employees to follow the best workplace security tips, to installing new technology, small business owners now have the tools they need, to feel protected and secure. It's why small business owners are linking their smartphones with systems to monitor and protect their businesses. After all, by using the best small business security systems you can reduce shrinkage costs, discourage potential theft and make life safer for both your employees and clients.