How To Use Smart Small Business Technology
How Do I Use Smart Small Business Technology?
The best small business technology was once only accessible by larger corporations with big budgets. That's no longer the case. Smart office gadgets and wifi-enabled devices, like smart thermostats, are now available to a variety of businesses, from accounting firms and law offices to hair salons and bakeries. Small business owners are embracing the accessibility and affordability of the latest generation of smart devices to manage energy costs, improve security and increase workplace efficiency.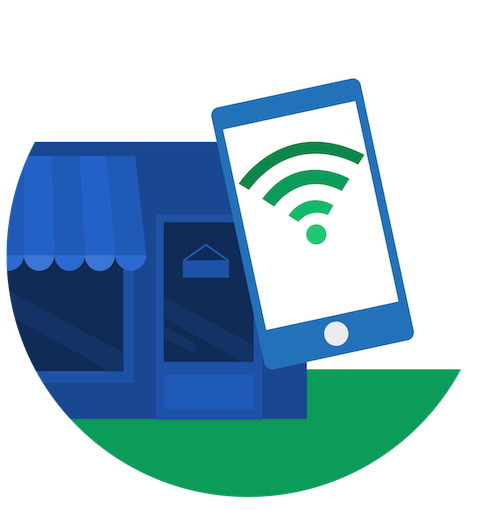 Some Considerations before Using Smart Business Technology
Before you start investing in your small business technology needs, make sure you've setup a framework for your gadgets and software to interact. This isn't as big a cost as you might think—in fact, many smart devices for your small business operate in the same manner as those found in a connected home.
To setup your smart office or small business, you'll need the following:
A hub: This allows smart devices to operate and interact.
Connectivity: You'll need Wi-Fi or some other internet connection.
A device: A laptop, tablet or smartphone would work.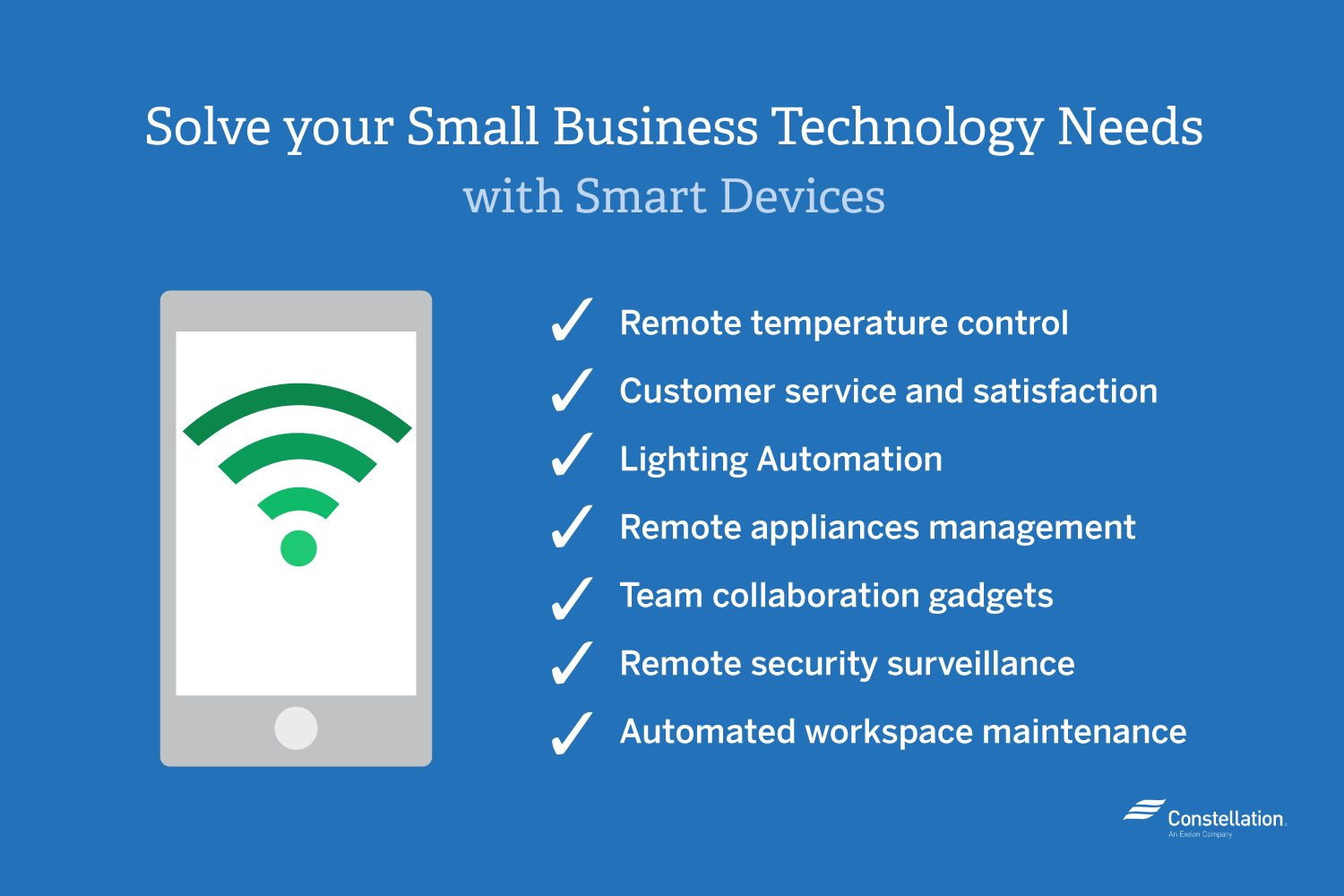 7 Ways to Use Smart Small Business Technology
With the foundation of your smart office in place, it's time to start adding some smart devices for your business. Generally, business owners look to technology to solve seven issues:
1. Use a Smart Thermostat to Change Small Business Temperatures Automatically
Heating and cooling account for a significant amount of any business' utility costs—and they can be controlled with the installation of a smart thermostat. Ideal for small business settings as diverse as shops, cafes, offices and more, smart thermostats allow you to:
cut overall heating and cooling costs by up to 15 percent,
reduce heating/cooling when the workplace is not in use,
gather data on energy usage and create a more efficient heating/cooling schedule,
set the thermostat to detect when the workplace is in use, and
remotely control the thermostat through smartphone apps.
The benefits of a smart thermostat extend to employee productivity. OSHA recommends a workplace environment with temperatures of 68 to 76 degrees Fahrenheit and humidity between 20 and 60 percent. Your employees will be more productive when they're comfortable.
Pro tip: Not sure what type of smart thermostat you need? Two good options include Honeywell or the Ecobee4 Wi-Fi Thermostat.
2. Use Smart Sensors to Manage Small Business Energy Costs
Like heating and cooling, lighting accounts for a significant amount of any business's utility bills. Many small businesses have already made the switch from incandescent lighting to more energy-efficient LED or CFL bulbs, but you can make even better use of your lighting with small business smart technology.
For example, a café manager can remotely control dimmer switches for a romantic evening ambiance. Motion detectors can turn off lights when spaces are not in use. Using a remote app, you can set timers for when energy-efficient outdoor lighting comes on and off, taking a to-do item off your staff when they leave. As part of your energy management system, smart lighting also helps you track energy usage throughout your workspace.
3. Improve Customer Satisfaction with the Best Small Business Technology
Smart technology can have a tremendous influence on customer satisfaction. Online appointment scheduling is popular with salons and small restaurants. Customers can book the times that are most convenient for them and receive reminders via automated text message or email.
In addition, cash registers can be replaced with online payment systems through tablets and smartphones. Such small business payment processing systems allow the customer to pay by credit or debit, add tips and receive digital receipts. Online payments make tallying the day's profits easier while reducing the risk of theft and mistakes at the register.
However, small businesses with an online presence may struggle to provide real-time, virtual customer service. Responding to online requests for information cuts into your workday and hiring a customer service team is too expensive for most small businesses. Chatbots offer a solution!
Among the best small business technology solutions you can invest in this year, is an application which includes chatbot functionality (chatbots are artificial intelligence applications capable of answering common questions for your business with your online customers). Their remarkably effective conversational interfaces allow them to provide customers with instant answers to questions about
product location,
shipping notifications,
business locations,
appointment reminders, and
product prices.
4. Improve Team Performance with Smart Gadgets for the Office
Nowadays, small business technology allows you to maximize time and resources while fostering a collaborative culture.
For example, if you or your team have high printing needs, smart printers with Wi-Fi capability can let you print from anywhere and can be networked to work with every computer in your office. Many of these printers can also automatically order new ink when levels fall low. Portable smart printers are another option, allowing you to take your printing on the go. In addition, grab a 3-D smart laser scanner for designing and measuring documents.
If one of your small business technology needs is making regular presentations or frequent collaboration, smart device casting could save time and leave a lasting impression on potential clients or partners. While you can purchase smart casting products specifically for business, devices such as Google Chromecast also work: simply plug the device into the screen or projector, and use the accompanying apps to display your smartphone or laptop monitor on the larger screen.
5. Protect Your Small Business with Remote Monitoring & Security Gadgets
Worried about theft or vandalism on your premises? Security smart devices for your business helps deter theft while providing video footage should you ever need evidence for an insurance claim.
As with so many office productivity gadgets, products intended for home security automation are well suited to smart business security applications, including smart locks and motion-sensing security cameras. Small and easily installed, smart security cameras boast multiple features, including:
motion-activated video recording uploaded to the cloud for easy retrieval,
night vision,
high-decibel alarms, and
intelligent video alerts sent to smartphones in the event of unexpected activity.
Security systems can even interact with your energy management system, using their motion detectors to determine when the system turns on lights and adjust thermostats.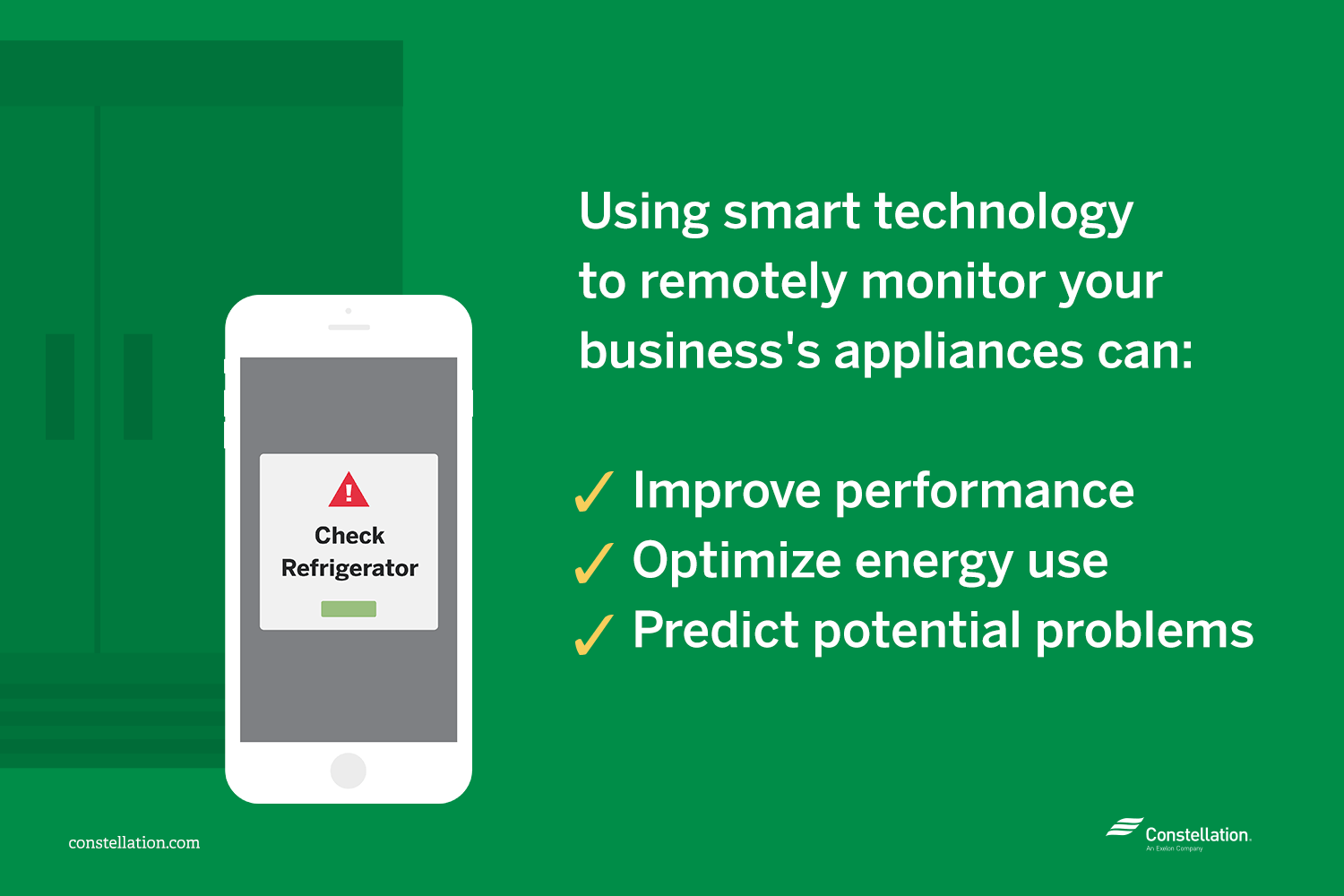 6. Improve the Efficiency of Small Business Appliances with Remote Management
Smart technology has brought us the internet of things (IoT), a complex web of computing systems embedded in appliances that allows them to send and receive data. If you're a small business with a reliance on commercial dishwashers, ice makers, refrigerators, or other large equipment, data gathered from your appliances helps you manage energy use and lower daily operating costs.
If your appliances don't include smart technology, you can purchase add-ons such as the iDevices Switch that perform the same functions. For facilities managers, software and hardware from energy software start-ups allow for the oversight and fine-tuning of multiple commercial appliances.
7. Use Smart Cleaning Devices to Keep Your Small Business Clean
A small business usually has two choices when it comes to maintenance: hire a cleaning service or perform maintenance in house. Commercial cleaning services are an expense, but assigning staff to vacuum or clean windows can be a poor use of your workforce.
There are some smart devices for your business that may be able to perform some of your janitorial tasks for you. A robot vacuum cleaner or mopping robot can be programmed to clean the floor when staff aren't present (just be sure to program your smart security so its motion detectors don't identify the robot as a potential intruder). You can even purchase glass-washing robots if your building has large windows.
Where to start is entirely up to you!
If you're concerned with energy conservation, you may want to start building an energy-management system centered on your lighting and a smart thermostat. If productivity is an issue, you may prefer to start with networked printers or online project management systems. Or perhaps you simply want the peace of mind smart office security provides.
None of the small business smart technology discussed here comes with significant expenses attached, and the benefits of a smart office offer a significant return on investment. Gadgets for office productivity, chatbots, and smart appliances are rapidly becoming the norm and are expected by potential customers and clients. By adopting the best technology for small businesses now, you're preparing your business for the future.