A utility bill is an itemized list of charges associated with services that are essential to running your household. Think of these as your infrastructure.
When thinking about what a utility bill is, most of them include basic information like your name, address, date, and account number. You will see how much of the service you used in the billing period. Some utilities and providers include data to help you track your monthly usage. Lastly, payment details, including the amount you owe, due date, and how to pay are included.
Don't just pay the bill and throw it away. Use the information to track your usage habits. If you pay close attention, you can see where you may be inefficient. You can also use utility bills as proof of residency.
What is Considered a Utility Bill?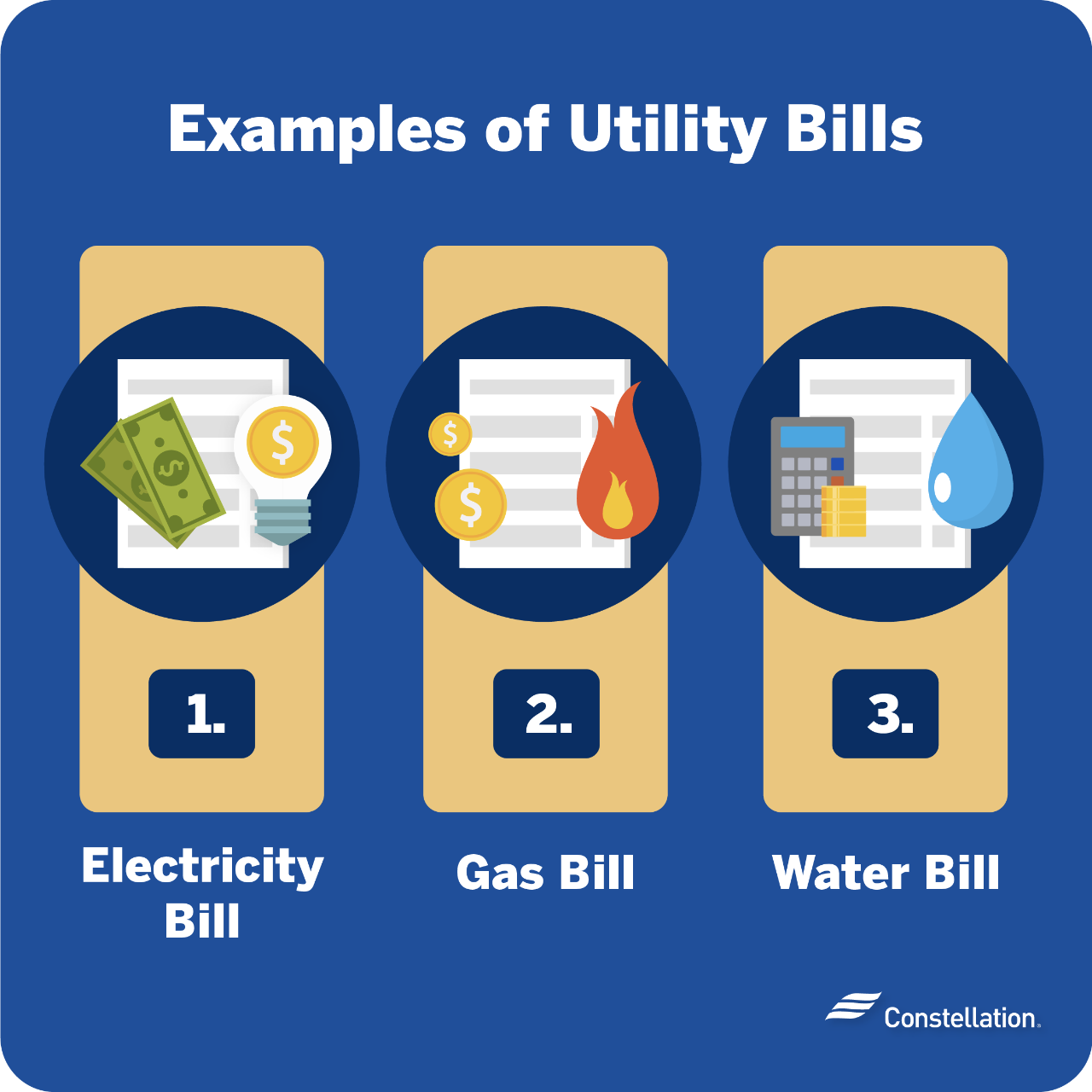 Opinions vary about what is considered a utility bill. Utility bill examples include traditional services, such as electricity, gas, and water. Other common types of utility bills include sewer and trash, when not covered by taxes. As technology and lifestyles have evolved, additional items may fall into the category of what is a utility bill. Other utility bill examples may include internet, cable, and condo or community association fees. Here are examples of what is included in utilities with some details on average monthly utility costs:
Electricity Bill
For many households, the bill for electricity comes to mind first when thinking about "what is a utility bill." Turning on lights, running your AC, having hot water, and doing laundry or dishes all require electricity in many homes. The average utility bill in America, according to the U.S. Energy Information Administration (EIA), is over $115 a month.
Constellation's customers may pay less when they choose service plans that match their usage habits. You may save money and energy with these electricity efficiency tips:
Improve insulation around your home to keep your house cool in summer and warm in winter.
Service your HVAC system often and be sure to replace its filters regularly.
Unplug appliances not in use to stop energy waste.
Run appliances only when full.
Gas Bill
Gas is on the list of utility bills for a lot of people. Common uses for gas are cooking, drying clothes, and getting hot water. Gas heaters are also in use in many homes. The price consumers pay varies between just under $10 per thousand cubic feet in Indiana to nearly $55 per thousand cubic feet in Hawaii.
Constellation customers can combine their gas and electric bills in some service areas, which may help to save on monthly expenses. Learn how to read your electricity and gas bills to determine the rate you pay in your specific situation. Reduce high gas bills with these tips:
Lower the temperature setting on appliances–you might not need the water so hot or to use heated dry on the dishwasher.
Properly maintenance appliances to keep them running efficiently.
Replace outdated, old appliances.
Water Bill
Use of water varies by household. If you are filling a pool or keeping a lawn green, you will use much more water than someone who uses it only for cleaning and drinking. The U.S. EPA tracks water usage and estimates the average American uses 82 gallons a day. In some locations, sewage is included in water bills. Here are some water conservation tips:
Switch to low volume toilets and use shower heads that reduce flow.
Repair leaks and dripping faucets.
Think about plantings around your home that don't need frequent watering.
Cover your pool to minimize losses due to evaporation.
What Other Bills Are Considered Utilities?
Other utility bill examples cover regular services that some people don't always put on lists of what is considered a utility bill.
Are Trash and Recycling Considered Utilities?
In some cases, trash and recycling are included in city taxes or through homeowner associations. In others, you may be directly billed. These services are considered utilities.
Is an Internet Bill a Utility Bill?
Most people will say "yes". Working from home, remote schooling, gaming, and connecting home services make the internet a necessity for many.
Is a Cell Phone Bill a Utility Bill?
Most individuals consider a cell phone as important as their landline phone – and some even more so. Is a phone a utility bill? Most would say yes.
Is a Cable Bill a Utility Bill?
Cord cutters may be on the rise, but there are still millions of Americans who have cable television. Is a cable bill a utility bill? For some people, it remains in that category.
Is an Insurance Bill a Utility Bill?
Insurance does not generally make the list of utility bills. It is not part of the infrastructure of running your house.
How to Budget for Home Utilities
Utilities are necessary for running your home, so you can't completely eliminate them from your budget. The best you can do is to keep tabs on the costs and trends and look for ways to save. When you control and predict your utility costs, you will be better able to budget these basic household expenses. Consider these budgeting tips:
Go back over four to six months of expenses, using credit card bills, checking account records, and receipts. Learn how to read energy bills. Average what you spend by each expense category.
Prioritize expenses from the most important to those you can potentially eliminate.
Make goals for each category and look for ways to reduce spending.
Be sure to budget for unexpected expenses, like car trouble, uncovered medical expenses, and possible necessary repairs to your house.
What if You Can't Pay Your Bills?
If you fall behind in paying your utility bills, don't ignore the problem and hope it will go away. Utilities could shut off services, leaving you in uncomfortable circumstances, racking up late fees and possibly incurring reconnection and other charges. Let your utility company know if you have a problem. Utilities often have programs that could help you get caught up on your late payments. Some nonprofit organizations can also provide temporary assistance.
Learn More About Your Choice When It Comes to Utilities
Take control of what you spend on utilities, beginning with your electricity or natural gas bill. Explore your options, such as those provided by Constellation. You may find that changing plans could save you money. Check out the differences between retail energy providers vs. utilities to learn more about choices that could help you with your budget.