How to Renew Your Home Energy Contract & Services with Constellation
How to Renew Your Home Energy Contract & Services with Constellation
Easily Renew Your Contract with Constellation Today!
Interested in renewing your Constellation energy contract?
Have your Renewal Key available and click here to get started.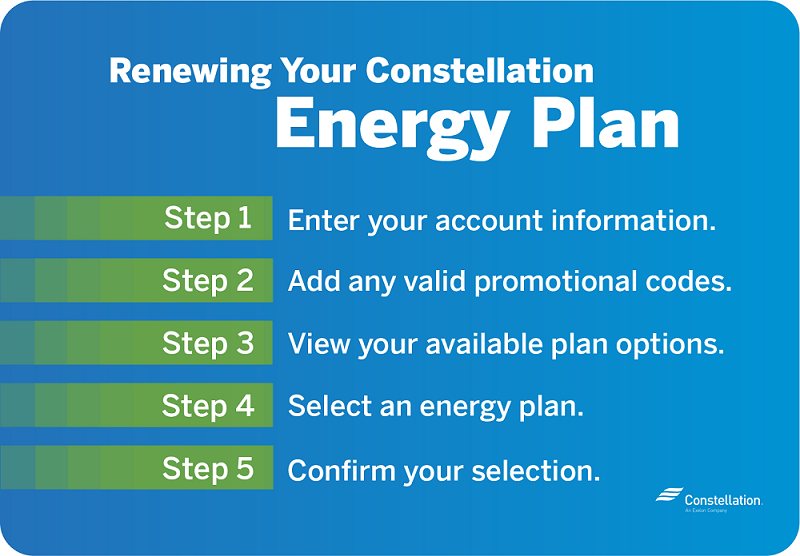 Energy Contract Renewal FAQ
How do I know that my electricity plan is expiring soon?
Constellation will mail you a renewal notification with an explanation of your renewal options. Some customers also receive an additional notification by email. This notice will arrive at least 30 days before your contract's expiration date.
When should I start planning for my energy contract renewal?
It's best to start planning for your Constellation contract renewal a few months before your current contract expires. This way, you have time to think about any changes you might want to make to your plan and compare your various home energy options.
Note: You can renew your contract with Constellation once you receive your home Constellation renewal notice.

What happens if I don't renew my home energy contract?
If you don't actively select a Constellation renewal plan, you'll automatically be entered into a variable (month-to-month) plan at the current rate. The type of contract you'll be entered into if you don't actively renew depends on the state you live in.
In some states, such as Texas, Michigan, and New Jersey, your contract will roll to a variable rate. In other states, such as Maryland, Ohio, Pennsylvania, Illinois, Connecticut, Kentucky, Indiana, Virginia, Delaware, and Washington, D.C., your contract will roll to a fixed rate. Customers in Georgia and Massachusetts will be notified of how they'll be renewed if they don't act on their renewal notice.
Can I change to a different energy plan when it's time to renew?
Yes, you'll have the opportunity to switch plans during the renewal process. When you receive your renewal letter, Constellation will provide recommended energy plans based on past usage. You can also enter your Renewal Key to see which short- and long-term plans are available to you, or browse our selection of energy solutions for your home.
Note: Unsure what factors to consider when choosing a plan? Check out our guide on how to shop for an energy plan and make your decision with confidence.
If my rate changes during renewal, when will my new rate go into effect?
If your energy rate changes during the renewal process, your new rate will go into effect after the end of your previous contract term.
You can also read our Residential & Home Energy FAQ for more information on Constellation's renewal process.
Bundle Home Services & Energy Management Solutions with Your Energy Plan
Constellation does more than provide energy solutions. For example, customers in Houston and Dallas have the opportunity to bundle their energy plans with home services plans or energy management systems. 

Renew Your Contract Today!
If you have your Renewal Key, you can renew online.
Don't have a Renewal Key? Contact Customer Service at 866-711-6250.