Reducing Healthcare Expenses through Energy Efficiency
Opening and running a medical practice can be a costly venture. In addition to basic medical office operating expenses like rent and payroll, medical facilities also require specialized equipment that can be expensive to run. Needless to say, this equipment can contribute to increasing the cost of running a medical practice.
Consultants estimate that starting a basic primary care facility costs around $70,000 on the low end, with an additional $50,000 going toward things like furniture and technology. However, there are things you can do to ease the cost of running a medical practice, including managing your energy use.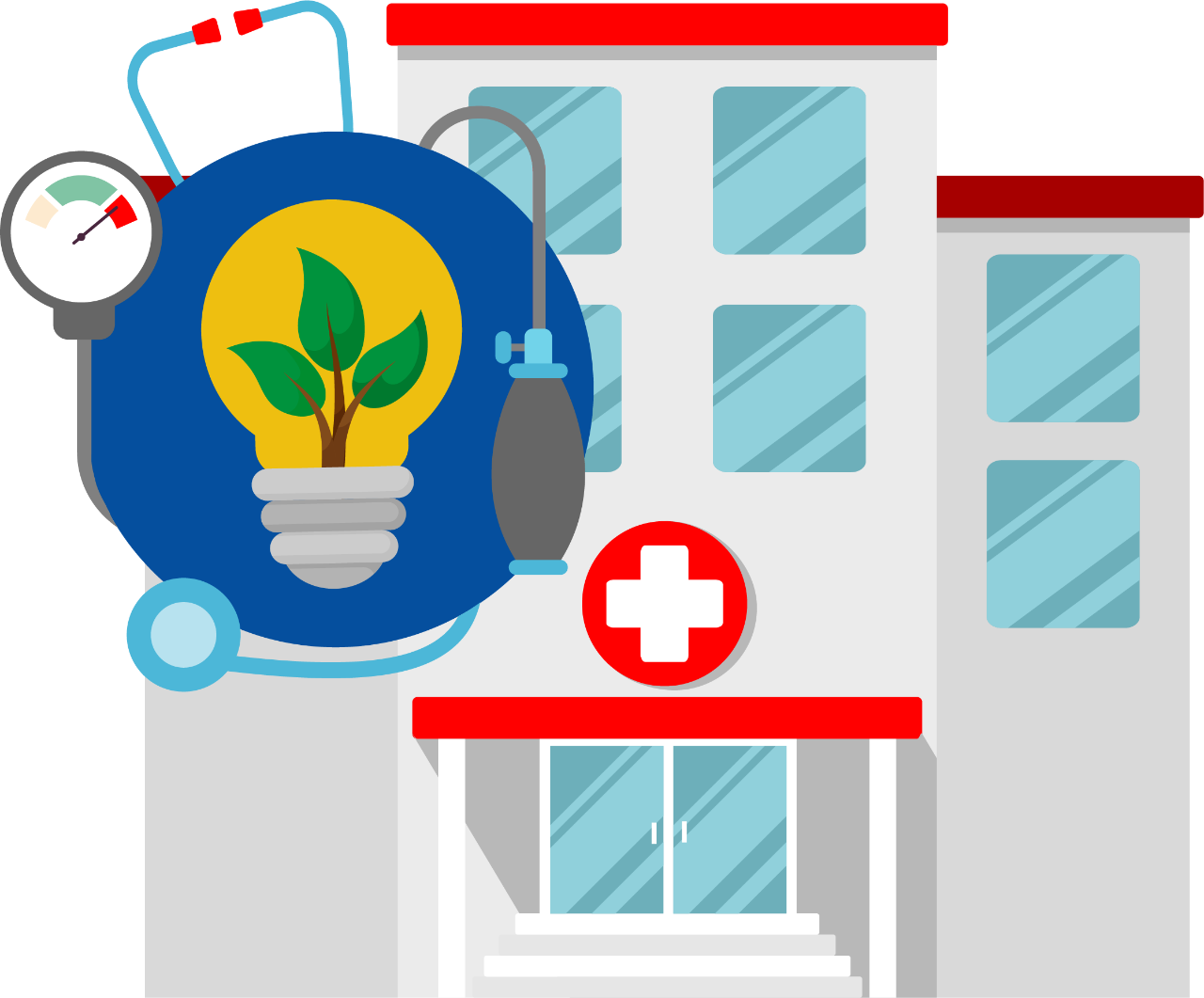 Healthcare industry operating costs
On an ongoing basis, you'll need to cover medical office operating expenses like rent, payroll, insurance, medical supplies, and utilities. About 40% of physicians say that roughly half of their revenue, on average, goes toward their medical practice overhead.
These medical office operating costs can vary widely depending on your location and area of expertise. For example, dental practice expenses will differ from physician practice expenses, and some more specialized physicians require high-tech equipment that can be fairly expensive to purchase and operate. It can also be beneficial for some medical practices to invest in facilitation programs geared toward research and quality improvements to enhance the patient experience.
Average healthcare industry energy consumption
The median Energy Use Intensity (EUI) for medical office buildings in the U.S. is 245 kBtu per square foot, and 467 kBtu per square foot for larger facilities. However, that use can vary widely depending on the size of the space, the type of specialized medical equipment used, and the energy efficiency of the health care facility. That can have a major impact on the environment; it is estimated that health care facilities will contribute 23 million metric tons of greenhouse gas emissions by 2020.
Your energy use can also have a big impact on medical practice overhead costs. The average monthly cost for commercial buildings in the U.S. is just over $650, and specialized equipment like those used at medical facilities can increase that cost even more. These costs are expected to decrease as healthcare energy efficiency improves.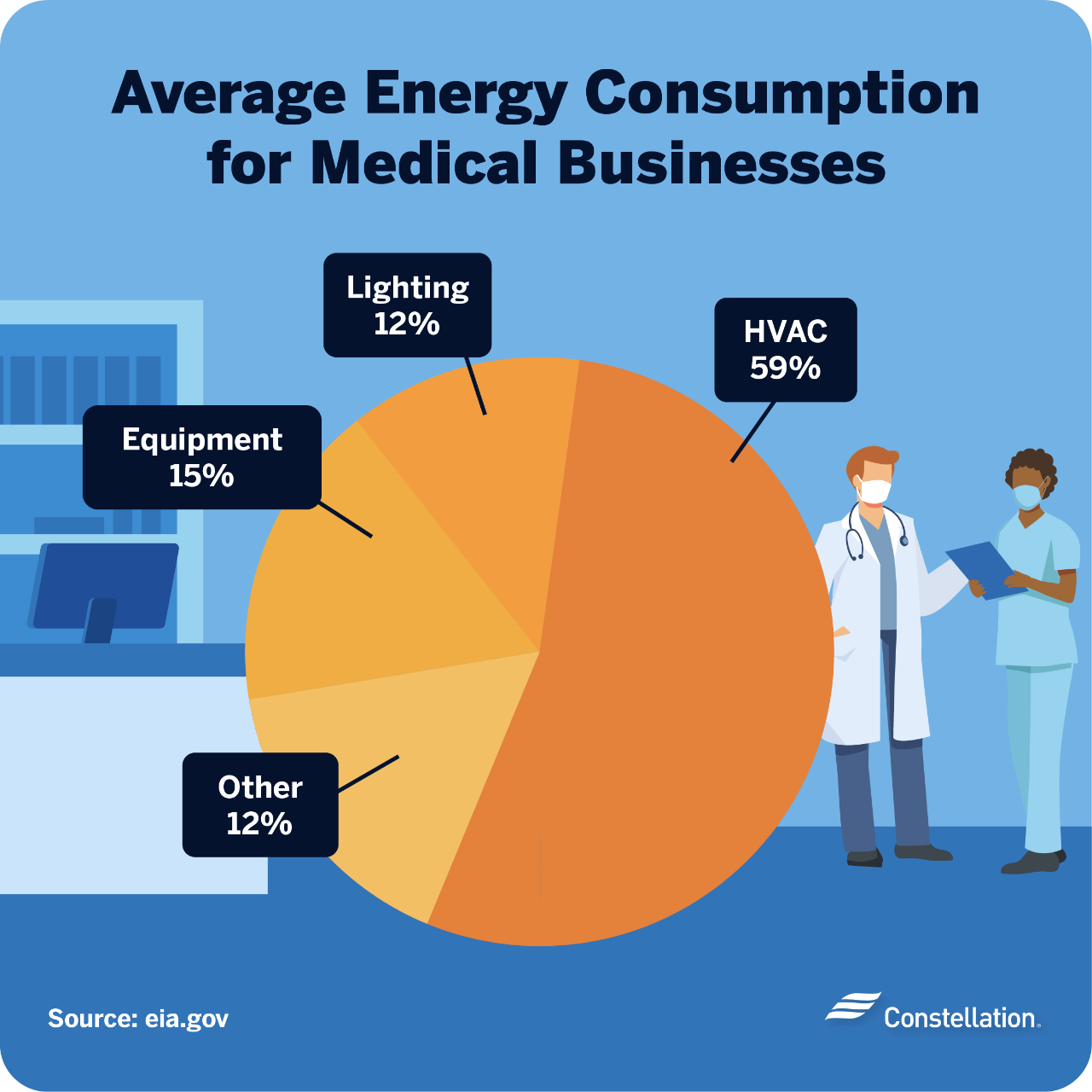 Take control of your energy
Reducing your healthcare operating costs is only one way to improve your bottom line. Lock in a fixed-rate to take control of your energy today.

Healthcare industry quick facts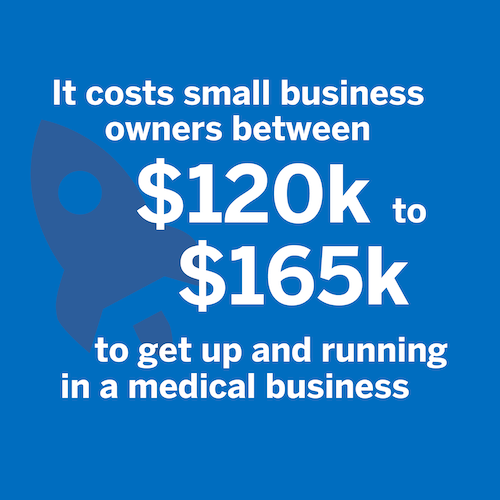 It costs small business owners between $120,000 and $165,000 to get up and running in a medical business.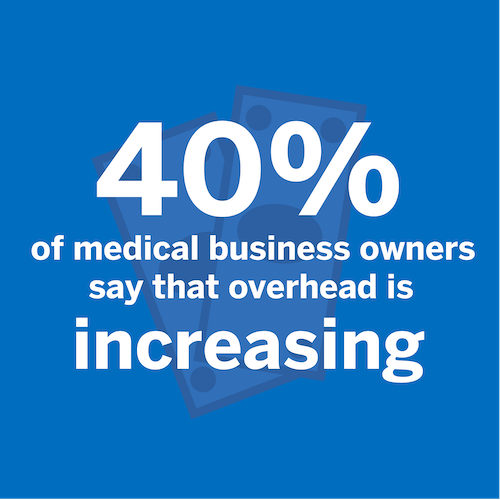 Forty percent of medical business owners say that the average medical practice overhead is increasing while their wages remain steady.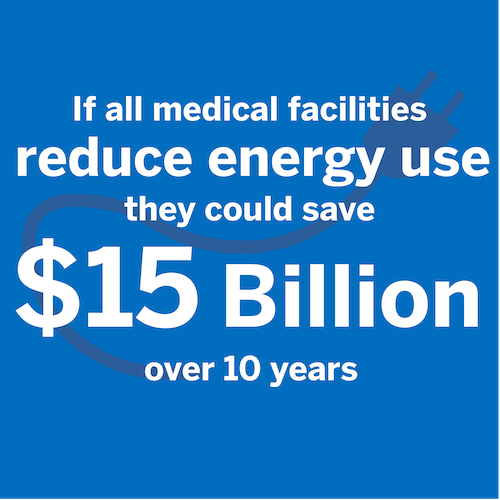 If all medical facilities were to reduce energy use and cut certain waste, they could save about $15 billion over 10 years.
Energy-saving strategies for the healthcare sector
If you want to decrease your medical office operating expenses to make your practice more profitable, you can take a few simple and practical steps to save energy throughout your facility. Initially, these don't have to cost your business a ton of money. Start with those that require relatively inexpensive investments and provide immediate savings, then work toward the larger capital investments to maximize your ROI.
Identify energy-saving opportunities.
Constellation's Efficiency Made Easy program can help medical practices find opportunities for improving energy efficiency. Trained professionals can seek out opportunities for healthcare energy efficiency and decrease operating costs through common sense solutions. This requires no upfront capital and could possibly help your business start saving on energy costs right away.


Use an energy management system.
The ability to analyze energy consumption is important for healthcare businesses because it allows you to make sure that your energy use is in line with your business. For example, you may be losing money by running equipment at night when the facility is closed. Energy startups provide energy management systems that provide valuable insights into lowering your medical practice energy expenses.


Install energy-efficient lighting.
Making the switch to energy-efficient lighting may provide you with the most immediate savings on the cost of running your medical practice. You can switch to commercial LED lighting, as there are plenty of LED light benefits and cost savings with these efficient bulbs. You can also install solar lights outdoors or motion detectors so lights in bathrooms, halls and closets will turn off automatically when rooms are not in use.


Adjust thermostats.
Healthcare organizations can save on heating and cooling costs by adjusting thermostats based on occupancy and season. For example, during winter you can set the thermostat a few degrees cooler at night when the building isn't occupied. With a programmable thermostat, you can even set the temperature to automatically change throughout the day so you don't have to set it manually.


Investigate energy-efficient HVAC solutions.
When it comes to your heating and cooling systems, there are a number of small changes you can make to improve energy performance. You might consider installing variable frequency drives, energy-efficient motors and demand-controlled ventilation. Together, these upgrades can help you keep your healthcare facility at an ideal temperature while saving on your energy usage.


Initiate power on and power down procedures.
At the end of each day, your office should shut down as many energy consuming devices as possible. Create a checklist of energy-saving actions your team should perform at the end of each work day, like turning off lights and powering down computers and equipment. These energy-saving ideas could help decrease your medical office operating expenses, help your staff stay organized, and keep your usage under control.
Appliances require a fair amount of energy to operate. In your facility's kitchen and restrooms, try to select ENERGY STAR®️ appliances that deliver higher efficiency ratings than others on the market. This can help you prevent energy waste from appliances that are in use constantly.
Get started on reducing your healthcare energy consumption
In addition to these practical solutions, Constellation can help you locate and identify opportunities for cutting healthcare operating costs through our Efficiency Made Easy program. Our team of energy professionals can show you how to make your healthcare facility energy-efficient to help lower your energy use, without any upfront cost. Conserving energy can help your small business lower its healthcare facility costs and its carbon footprint allowing you to potentially increase profits and new growth opportunities.
Additional healthcare resources
Interested in finding more ways to lower your healthcare energy consumption? Check out our healthcare-related resources for more exciting strategies.