Restaurants & Grocery Stores
Energy Efficiency Tips for Restaurants and Food Service Businesses
Restaurant energy efficiency has become more important with today's high energy prices. It takes a lot to run a successful business. The cost of opening and running a restaurant will vary tremendously. What is universal is that average operating costs for a restaurant are high.You are likely operating on tight margins. In many cases, expenses are going up much faster than income. The same is true for grocery and convenience stores.
Taking control of restaurant utility costs is one way to get the math working more in your favor. We will address ways to control energy consumption and also ways to cut costs.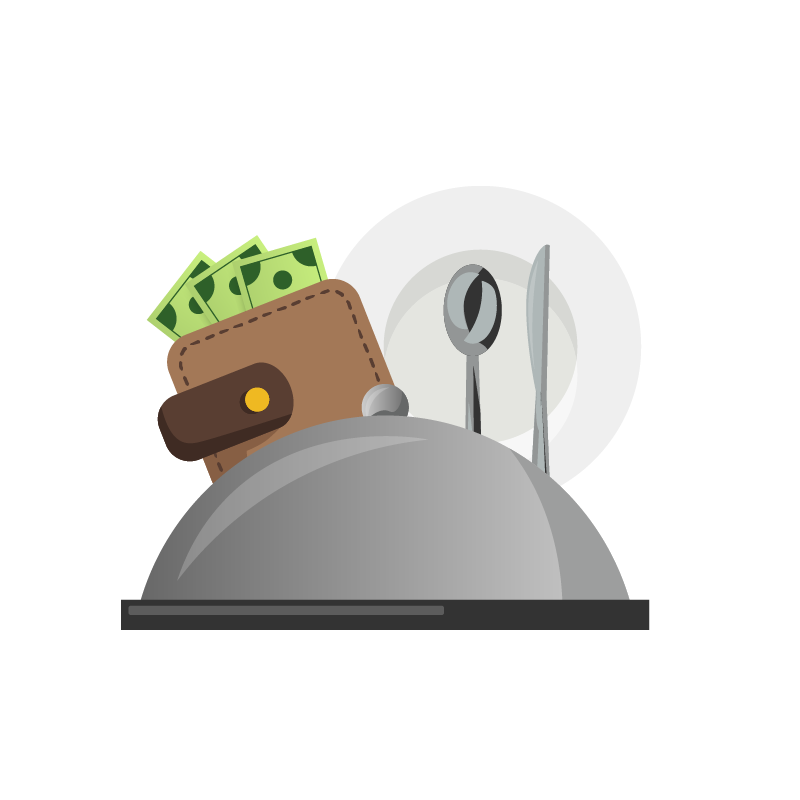 Estimating restaurant industry operating costs
The latest research from the National Restaurant Association has tracked food costs as being up 17.1% between March 2021 and March 2022. Labor and utility cost increases are also in the double digits. The typical independent restaurant is lucky to pocket a pre-tax profit of $.05 for every dollar brought in. 
Raising prices isn't easy. If you are like many restaurant operators, you're lucky to be able to boost menu prices and still keep up your volume. The result is a serious squeeze. The same survey quotes 57% of restaurants as being behind on their expenses.
Restaurant Case Study: Dan's Dogs

Restaurant owner Paul Davis decided it was time to look for ways to lower his restaurant energy use. Find out how Constellation helped this small business accomplish its goals in our comprehensive case study.
Average restaurant energy consumption
Most restaurants are heavy energy users. Learning how to save electricity in a restaurant, therefore, can have an outsized effect on profitability. Restaurant energy use is five to seven times more per square foot than in other businesses. Compared to the typical home, restaurants use more than 30 times the amount of electricity. 
Even energy-efficient restaurants find that they consume the most energy on refrigeration, lighting and cooling. Controlling your restaurant energy consumption can help you minimize your restaurant operating costs.
Increasing restaurant energy efficiency is only a start. You can also trim your bill by exploring options to lower the cost of energy. Your restaurant may benefit from locking in a fixed-rate for electricity to insulate it from spikes in energy prices.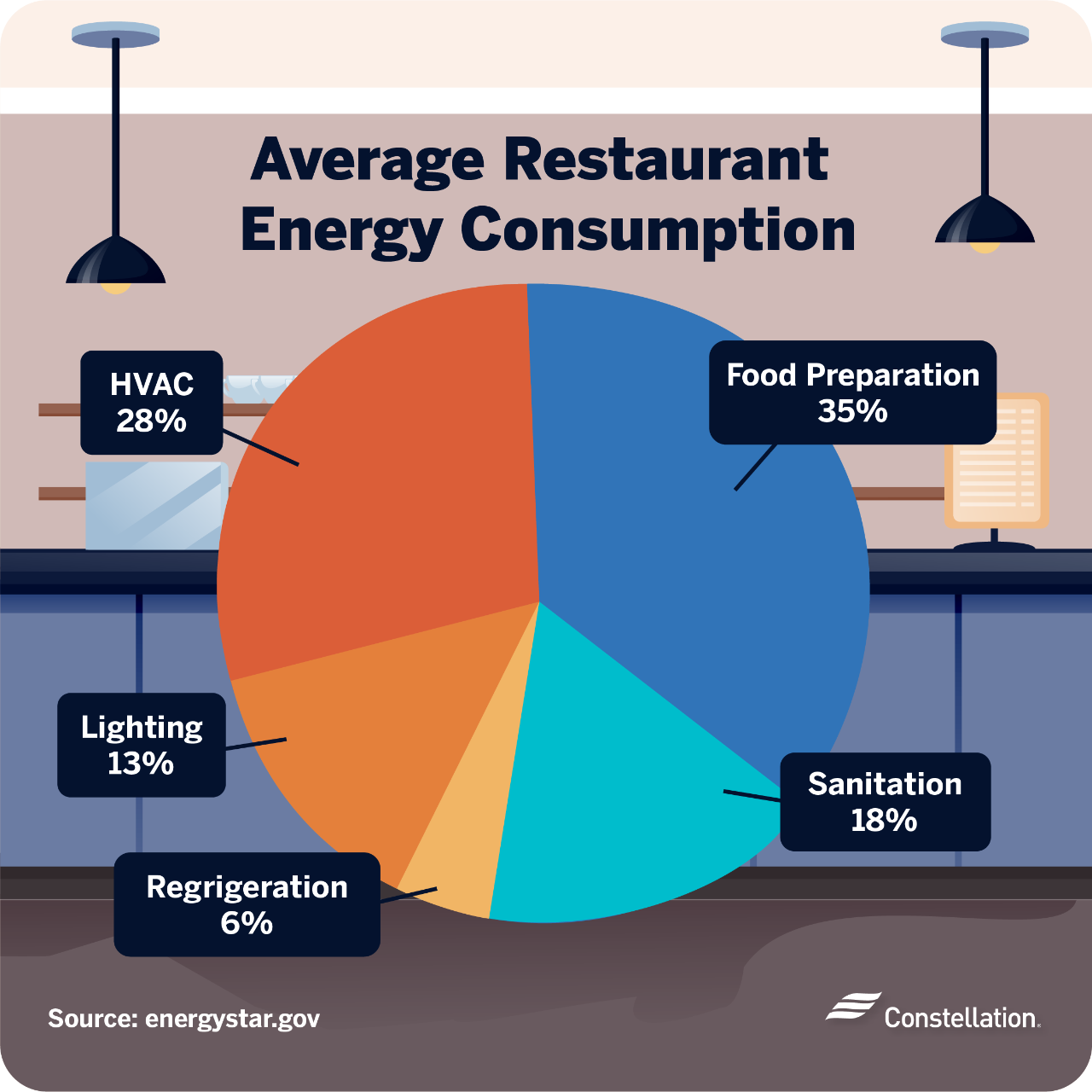 Take control of your energy
Reducing your restaurant operating costs is only one way to improve your bottom line. Lock in a fixed-rate to take control of your energy today.

Restaurant industry energy usage quick facts
How to make your restaurant energy-efficient
With so many expenses eating into restaurant and grocery store profits, cost-saving is vital. These energy saving tips for restaurants can also trim energy consumption in grocery stores and convenience stores.
Understand your energy costs. Before you can cut restaurant utility costs, it makes sense to figure out where and when you are using the most electricity. Establish a baseline to measure your cost-cutting progress. Consider adding an energy management system to make it easier to analyze energy usage and prioritize potential improvements. 
Switch to energy-efficient lighting. Energy-efficient lighting lowers energy usage without having to make a huge investment. LED bulbs use only a small fraction of the power of incandescent bulbs and last longer.Install motion sensors in bathrooms or closets so you don't pay to light rooms when they are not in use. Switch outdoor lighting to solar power.
Use appliances efficiently. Refrigeration is often a major driver of energy costs in restaurants. Make sure its doors are not left open and that the seal tightly when closed. Door sensors can remind your staff to close them. Upgrade to an energy-efficient refrigerator and then carefully store items in it to make the most efficient use of its cooling power. Be sure to frequently clean the coils to remove greasy gunk that lowers their efficiency.
Support your HVAC with practical solutions. You can cut heating and cooling costs with simple things like installing a vestibule at your entrance. You won't lose as much warm or cool air every time the door opens. Awnings also help. You might consider using a smart thermostat to maintain the ideal humidity and temperature. It can adjust to conditions throughout the day to make your restaurant more comfortable for your customer.
Replace old appliances. In many cases, you can slash restaurant utility costs by replacing older appliances with newer, energy-efficient models. Look for ENERGY STAR®️ products or models with water-saving and energy-saving features.
Go paperless. Instead of printing out receipts for every customer, give them the option of going paperless. Eliminating paper means using less energy by your printer or POS system. 
Maintain your HVAC. Getting regular seasonal service keeps your systems in top shape. Change the filters more often than you think. In a restaurant environment, they clog up fast. 
Use fans. Fans that exhaust hot air from your kitchen can help keep the workspaces cool. In the front of the house, they can make your patrons feel more comfortable all year round.
Get started on reducing your restaurant energy consumption
Constellation can help you boost your restaurant energy efficiency through our Efficiency Made Easy program. Our team of energy professionals show you how to lower your energy use without an upfront cost. Conserving energy brings average operating costs for a restaurant to a lower level for greater profit and the opportunity to grow.
Energy efficiency for grocery stores
While the average operating costs for a restaurant are challenging, they are even tougher for grocery stores and convenience stores that have margins in the 1% to 3% range. Many techniques for how to save electricity in a restaurant also apply to food retailers.
Quick facts on grocery store energy use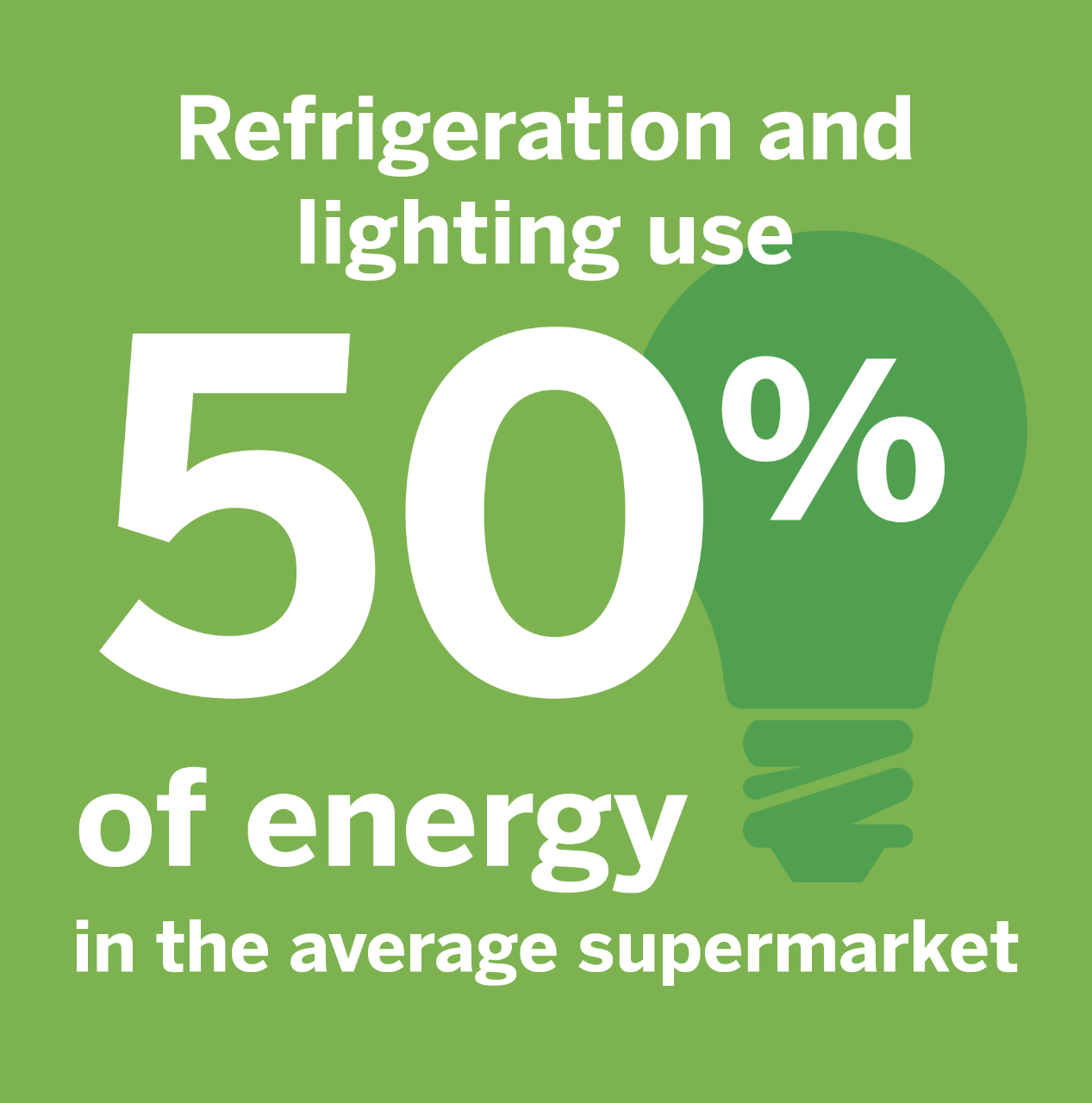 Refrigeration and lighting are responsible for over 50 percent of total energy use in the average supermarket.
Estimating grocery store operating costs
Most of the energy consumption in grocery stores is due to refrigeration and lighting. A close third is the HVAC system. Front doors and loading dock bays open and close frequently, causing a loss of cooled or warmed air. Conduct an energy audit to establish a baseline for your energy consumption patterns and identify where to prioritize investments to improve energy efficiency.
Average energy consumption for grocery stores
According to the EPA, grocery store energy costs are about $4 per square foot. Given the average grocery story size being around 50,000 square feet, you can expect an annual energy bill north of $200,000.
More energy-saving resources for restaurants and food service businesses
Energy-efficient restaurants are profitable restaurants, especially when you have the right energy plan in place. How much your restaurant uses depends on your building, your appliances, and your operating methods. Here are more restaurant-related resources to help you maximize your restaurant energy efficiency.