Reducing Restaurant Expenses with Energy-Efficiency
Restaurant owners know that it takes a lot to run a successful business. The average cost of opening a restaurant is a hefty $275,000 to $425,000 depending on your location, service style, and whether you plan on purchasing land or leasing a space. But startup costs are just the beginning for any restaurant.
Equipment costs can be expensive, and once your business opens, you must factor in other continuous operating expenses like rent, food ingredients, staffing, marketing, and utilities. This means controlling your restaurant expenses, and decreasing your energy use, is essential to turning a profit.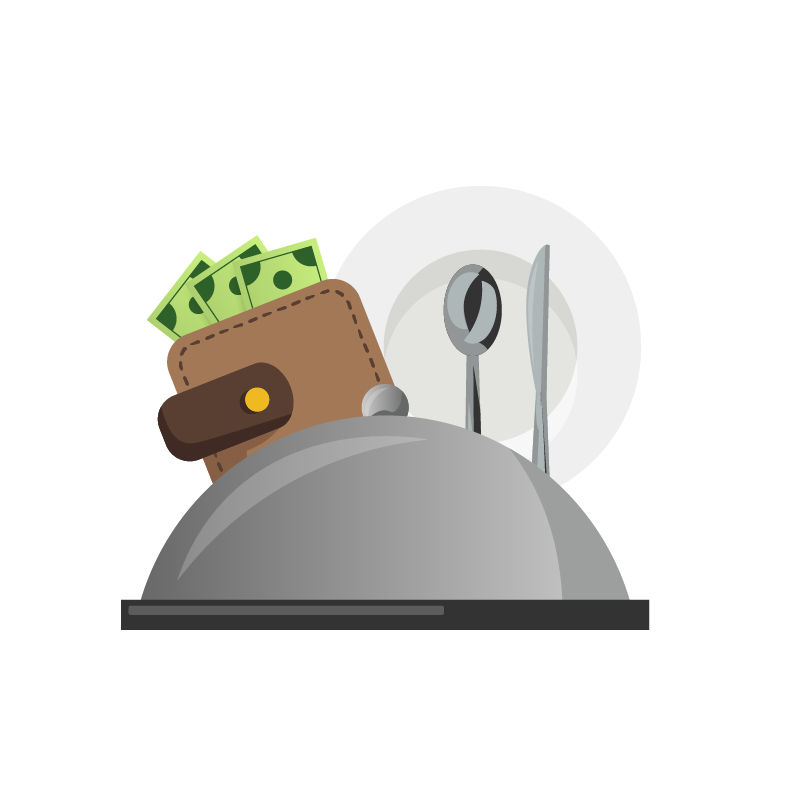 Estimating restaurant industry operating costs
Restaurant operating costs tend to be high, and it pays to watch your expenses closely. Independent restaurant owners earn, on average, only about 6.5 cents for every dollar their restaurant brings in. The rest goes toward paying for restaurant expenses. For most owners, the biggest restaurant operating costs include payroll and salaries, food costs, liquor and other consumables. Rent or real estate, along with insurance and utilities or energy use, also figure in as significant expenses.
While some restaurant owners may focus on raising prices or reducing hours to save on restaurant costs, budgeting for energy-efficiency is an effective long-term strategy for lowering expenses. According to this 2018 survey, about 63% of restaurant owners are turning to capital investments to grow their business.
Restaurant Case Study: Dan's Dogs

Restaurant owner Paul Davis decided it was time to look for ways to lower his restaurant energy use. Find out how Constellation helped this small business accomplish its goals in our comprehensive case study.
Average restaurant energy consumption
As small businesses go, restaurants are heavy energy users, and large energy usage can be a problem. Restaurant energy use is five to seven times more per square foot than other commercial businesses, and compared to the typical home, restaurants use more than 30 times the amount of electricity. In terms of energy consumption, some of the biggest restaurant equipment costs come from refrigeration, lighting and HVAC systems. By improving your energy-efficiency, you can save on energy consumption and minimize your restaurant operating costs.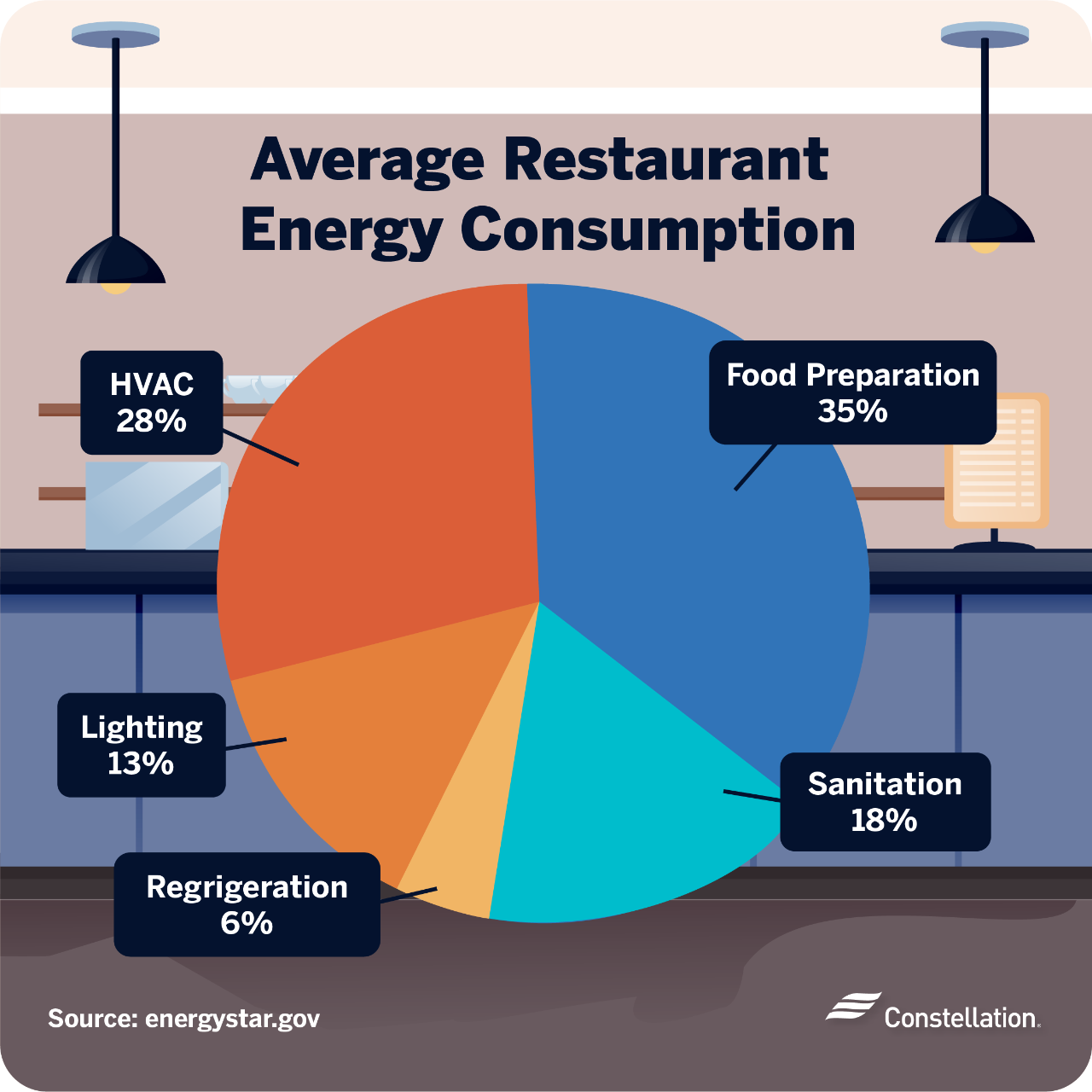 Take control of your energy
Reducing your restaurant operating costs is only one way to improve your bottom line. Lock in a fixed-rate to take control of your energy today.

Restaurant industry quick facts
How to make your restaurant energy-efficient
With so many expenses eating into restaurant profits, it's important to explore every cost-saving opportunity. By starting small and securing immediate wins, you can use the savings to make investments in energy-efficient capital purchases to lower your restaurant energy consumption and increase your ROI. Here are tips for cutting your restaurant's energy consumption.
Understand your energy costs.
To reduce your energy costs, first understand your restaurant energy use and where energy is being used most. For example, you may notice that you're using a lot of energy by operating equipment at night, so a shutdown procedure can help cut costs. An energy management system can help you analyze your operating and capital costs for equipment so you can see opportunities for improvements.


Switch to energy-efficient lighting.
Energy-efficient lighting is an easy way to lower restaurant costs without making a huge investment. Install motion sensors in bathrooms or closets so you don't pay to illuminate rooms that are not in use, and upgrade any outdoor lighting to solar power. LED bulbs use only a small fraction of the power of incandescent bulbs.


Use appliances efficiently.
Refrigeration can be one of the biggest costs in operating your restaurant. Your refrigerators and freezers can waste a significant amount of energy if doors are left open unintentionally. To remedy this issue, install door sensors that alert your team. Also, pack food items strategically so the appliances can circulate air more effectively, or look into purchasing an energy-efficient refrigerator for your kitchen.


Augment your HVAC with practical solutions.
You can cut down on your restaurant equipment costs by updating your heating and cooling systems. Installing a vestibule, or top and side awnings near your entrance can help control the climate in your restaurant and lower your operating expenses (for restaurants, this isn't uncommon). To prevent running your HVAC system constantly, try maintaining the ideal humidity to make your restaurant more comfortable for your customers.


Update old appliances.
Tracking the age of your appliances can help you lower your restaurant energy use. Older appliances require more power to operate than newer, energy-efficient models, and can drain away your budget. Look for ENERGY STAR®️ products or models with water-saving and energy-saving features to replace older appliances.


Go paperless.
Instead of printing out paper receipts for every customer, give them the option of going paperless. This can reduce the amount of paper you use, lower your restaurant equipment costs, and decrease the amount of energy required to run your printer or POS system. Instead of wasting paper, you can send them a digital receipt via email or text.
Get started on reducing your restaurant energy consumption
In addition to these practical solutions, Constellation can help you locate and identify opportunities for cutting restaurant operating costs through our Efficiency Made Easy program. Our team of energy professionals can show you how to make your restaurant energy-efficient to lower your energy use, without any upfront cost. Conserving energy can help your small business lower its restaurant costs and its carbon footprint allowing you to increase profits and potentially realize new growth opportunities.
Relevant restaurant resources
Interested in finding more ways to lower your restaurant energy consumption? Check out other restaurant-related resources for more exciting strategies.