Guide to Buying an Energy-Efficient Refrigerator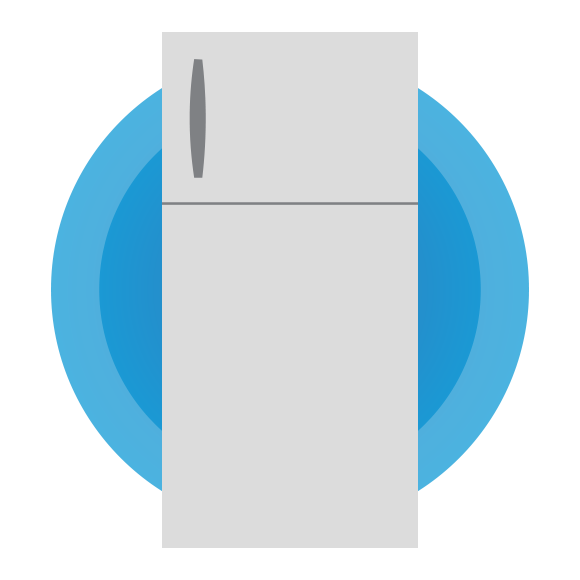 Guide to Energy-Efficient Refrigerators
The refrigerator is one of your home's hardest working appliances, typically making up 13.7 percent of a home's energy usage, according to the Department of Energy. In other words, owning energy-efficient refrigerators makes good financial sense!
The question, though, is which energy-efficient refrigerator model should you choose? What are the best fridges on the market? And what should you look for when buying a refrigerator? We're here to help break it all down for you. 
What to look for when buying a new energy-efficient refrigerator
ENERGY STAR® offers the following 6 tips for shopping for an energy-efficient refrigerator.
Measure the space for the fridge. Leave at least a 1-inch clearance around the unit for adequate airflow. Don't forget to factor in how much space the door needs to swing open in relation to adjacent walls, cabinets and appliances.

Consider your family's needs, and get the right size. What is the standard size of a refrigerator in cubic feet? Fridges come in many different sizes, but the most energy-efficient refrigerators are usually 16-20 cubic feet.

Consider opting out of the icemaker and dispenser. Yes, they're convenient and reduce the need to open the door, which in turn helps the freezer maintain a consistent temperature more easily. But they do increase a refrigerator's energy use by 14-20 percent and usually increase the purchase cost of the fridge as well.

Look for a fridge with an "energy saver" switch. This switch lets you turn down or off the heating coils that prevent condensation. This enables you to better control the anti-sweat heaters in the fridge, which can lower your refrigerator energy costs by 5-10 percent.

Consider an ENERGY STAR®-certified refrigerator. Turn your energy-efficient refrigerator search into an easier task — make a beeline to ENERGY STAR® fridges. These models typically exceed general appliance efficiency standards and often qualify for rebates.

Compare the actual energy use number on EnergyGuide labels so you can find the most efficient refrigerator.



How to read a refrigerator's EnergyGuide label
Look for the bright yellow EnergyGuide label on an appliance to compare energy-efficient refrigerators and how much energy they use. We've put together an EnergyGuide label cheat-sheet based off of the most commonly used metrics on EnergyGuide labels.
Specific features of the refrigerator model.

Projected cost of running the refrigerator for a year, based on the nation's average usage.

Estimated amount of kWh used yearly for the refrigerator.

An ENERGY STAR sticker signifies that the refrigerator has passed energy-efficiency guidelines set by energystar.gov.
Cost range to help better understand where the refrigerator's cost lands in the average usage cost bracket.
Lists the make, model, and refrigerator's capacity size.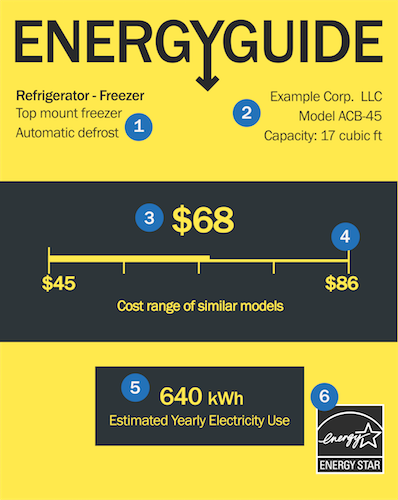 Which refrigerator style is most energy efficient?
When buying a refrigerator, energy efficiency is achieved best when considering freezer placement. In the energy efficiency battle of bottom-mount freezer vs. side-by-side fridges or top-mount freezer vs. side-by-side fridges — yes, it does matter where that freezer sits:  The most energy efficient refrigerator style is a top-mount freezer refrigerator. The variation in how much energy savings can be achieved with a top-mount freezer refrigerator depends in part, ENERGY STAR® states, on whether it has an ice dispenser. Generally a top-mount freezer refrigerator that has earned ENERGY STAR® certification uses less energy than a 60-watt light bulb.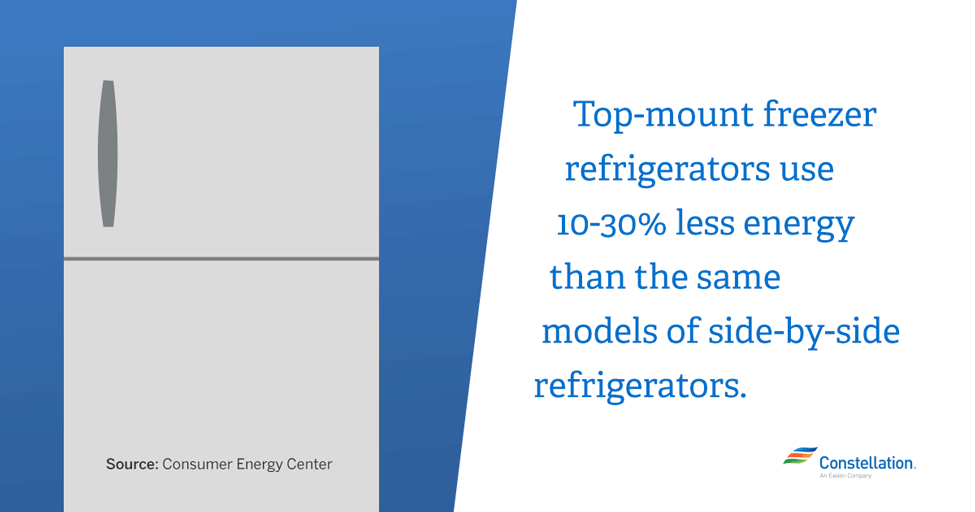 Why the top-mount freezer refrigerator is the most energy-efficient refrigerator
While it might seem as if having a fridge with the freezer on the top or the bottom is really just about whether or not you want to stoop to get out your ice cream, it is the placement of the freezer in relation to the compressor that makes the energy difference. The compressor — which is near the bottom — generates heat. This heat makes it harder for the bottom freezer to achieve and maintain ideal temperatures. The top freezer models are farther away from the compressor and therefore can maintain ideal temperatures using less energy.

More tips for saving on a new refrigerator:
The best time to get a deal on an energy-efficient refrigerator is during holiday events such as Presidents Day or Black Friday.
To find the newest refrigerator technologies, manufacturers release their new models September, October, and January.
When buying a refrigerator, look for appliance tax rebates from manufacturers.
Another point to keep in mind when buying a refrigerator is their potential for costly repairs, says Consumer Reports. Side-by-side refrigerators with icemakers are more than twice as likely to need repairs as those with freezers either on the top or bottom. One Consumer Reports study found that side-by-side refrigerators with an icemaker had a repair rate of 36 percent. This contrasts with a 28 percent rate for top or bottom mount freezer refrigerators with an icemaker, and a 15 percent rate for top or bottom freezer refrigerators without an icemaker.
Now that you know not all energy-efficient refrigerators are created equal, we hope you find the best energy-efficient fridge out there to serve your household's budget and food needs.
How to buy other appliances: