Small Business Technology Upgrades for an Energy-Efficient and Productive Workplace
Outdated technology in the workplace limits a business's reach, profits and productivity as well as customer satisfaction. A small business in a rural setting, for instance, cannot reach customers across the country without the right technology: access to a broadband connection alone makes a difference of hundreds of thousands in revenue every year for American businesses, according to the Federal Communications Commission.
Outdated cybersecurity increases the risk of costly data breaches; older computers and laptops run slower, are susceptible to CPU overheating and consume more energy than newer models. If you've ever wondered, Why is my laptop so hot?, it's time to ask another question: How often does your business upgrade its technology?
Why Is It Important to Upgrade Your Technology?
Upgrading small business technology offers multiple advantages. For instance, refitting or replacing incandescent lighting with commercial LED lighting reduces energy. In another vein, maintaining a recommended computer replacement cycle speeds up business processes and reduces the risk of cyber attacks.
Does technology increase productivity? If you choose the right technology (and limit the use of distracting, nonessential technology and devices), then yes, upgrading technology has a positive impact on productivity. More-effective equipment allows employees to complete workflow tasks faster.
How often does your business upgrade its technology?
Just how often does your business need to upgrade its technology? The answer differs from business to business. A salon's technology requirements are very different from a manufacturing companies, a dental office's or a retail store's.
No firm schedule for identifying outdated technology in the workplace exists; instead, small business owners need to watch for signs like the ones below that their technology needs an upgrade.
Take control of your energy
Upgrading your small business technology is just one of many ways you can make a smarter business. Lock in a fixed-rate to take control of your energy today.
Seven Signs That It's Time to Upgrade Your Business's Technology
Certain events can alert you that you may need to consider upgrading your technology, ranging from a computer's CPU overheating to high energy bills to losing ground to competitors. Below are seven signs suggesting you're dealing with outdated technology in the workplace.
Pro Tip: "CPU" stands for "central processing unit"; the CPU is the part of a computer system that performs basic operations and manages the system's components.
Your technology has excessively high energy demands.
High energy bills are a sure sign you need to upgrade some of your business technology, whether that means replacing old computers or choosing energy-efficient outdoor lighting. Newer technology is usually designed with greater energy efficiency in mind.
Older computers and electronic hardware also tend to produce excess heat, which can affect building cooling loads. If CPU overheating is a consistent problem in your workplace, you may want to consider upgrading to energy-efficient computers.
You've noticed your computers or devices moving at a crawl.
As computers and laptops age, they begin to slow down. Slower computer speeds interfere with employee productivity, the completion of important processes and customer service, especially if the affected computers crash on a regular basis.
The sheer size and complexity of business software and apps can slow computers to a crawl, a problem made worse if you have a slow internet connection.
Pro Tip: If your employees often wonder, Why is my laptop so hot?, then that may be a sign that your device's hardware is overtaxed.
Your technology is no longer sustainable.
Older equipment often lacks business sustainability—and a sustainable business is one that manages its financial, social and environmental obligations. For instance, an inefficient computer may drain energy from your business and contribute to your CPU overheating, or an older printer could also use more ink than newer models do. Older printers may force you to replace ink cartridges more often than you would need to with a newer model (and those same ink cartridges may also be more expensive than newer, resource-conserving cartridges).
Older manufacturing equipment often wastes more materials and energy than do modern designs (and such equipment is more difficult to service and repair). Watch your technology carefully for signs that it's no longer sustainable.
Your machinery is too big for your space.
Machinery, servers and other office equipment take up space, with older models tending to be larger and bulkier. Oversize equipment can especially become a problem; a server installed in a tiny room can lead to overheating issues, especially with improper ventilation.
Modern design focuses on sleeker, smaller equipment, freeing up office space. As for servers, switching to cloud storage provides a protected environment for your data at rates comparable to or cheaper than maintaining and running a private server (you'll also free up some office space).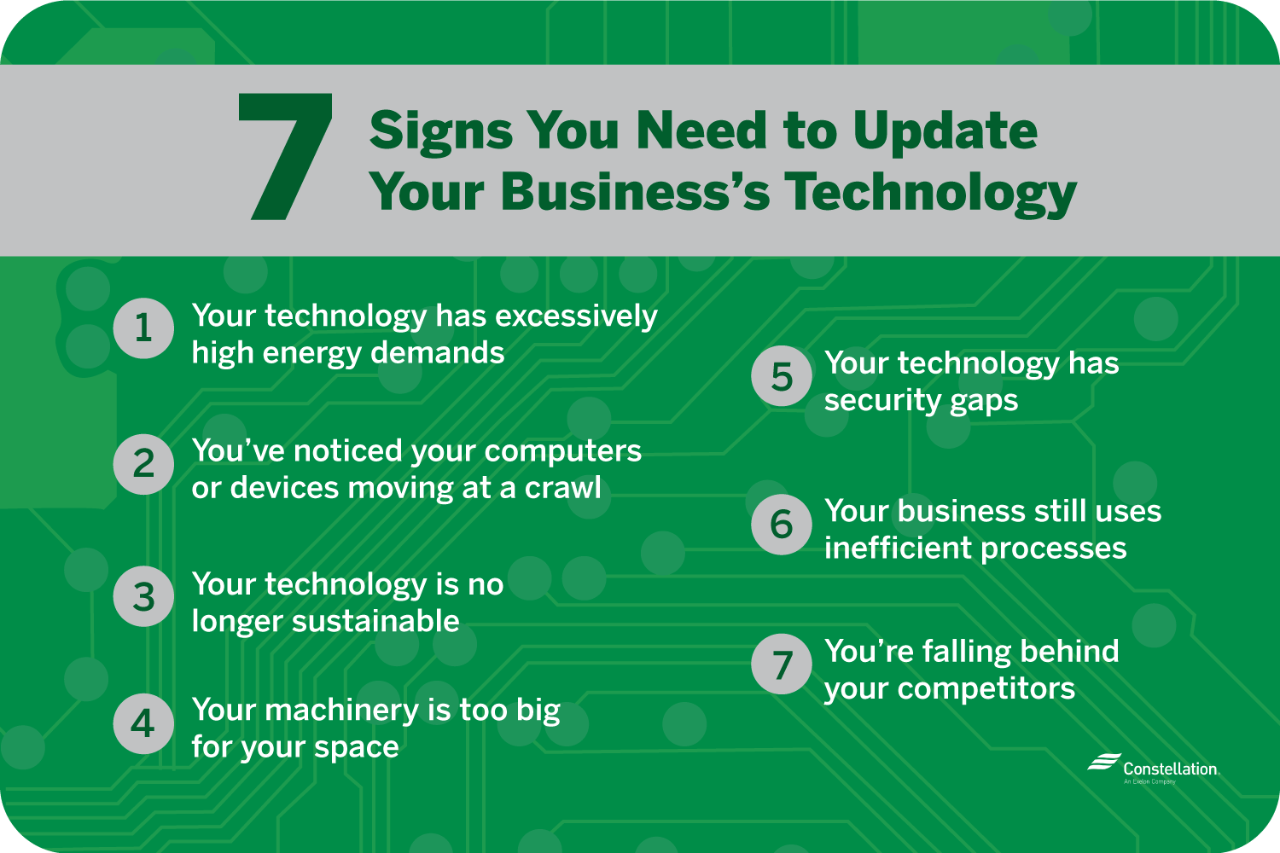 Your technology has security gaps.
Outdated technology in the workplace can pose a security risk. As small business security systems age, vulnerabilities in the systems' operating programs may develop. This is true for both physical security systems and data security.
At the final phase of a system's life, manufacturers often stop offering updates and patches, preferring to focus on their newer models and leaving users with older systems exposed to cyber attack or theft.
Your business still uses inefficient processes.
Are your employees laboring over administrative tasks better suited to automated processes? Consider installing an automated phone directory, which allows you to provide information to callers and automate call routing via custom menus. In addition, customer service chatbots free your employees from even more administrative tasks, allowing them to get more work done in other areas.
Pro Tip: Ready to automate your business's administrative tasks? Check out this article comparing phone systems for businesses, and learn more about how chatbots can redefine your customer service here.
You're falling behind your competitors.
Slow computers, ineffective systems and high energy costs will hold your business back, especially if you're competing against businesses working with the latest technology.
Up-to-date technology and services impress customers and clients by proving you're dedicated to providing them the best possible service or product—which is all very important, but does technology increase productivity among staff? Yes! Like customers, staff members see modernization as a sign you're committed to success and growth, which improves morale and promotes a feeling of job security.
How to Finance Your Small Business Technology Upgrades
Modernizing business technology costs money, of course, whether you're purchasing energy-efficient printers or transitioning from private servers to cloud-based storage. If you're just wondering whether to upgrade a laptop or buy new ones altogether, the resulting costs can probably be included in your normal operating costs. For large-scale modernization of outdated technology, you may need to consider financing.
Know your needs. Before you replace existing technology, it's important to take an energy audit of your workplace to see if you have any outdated technology. Look for the equipment that puts the most demands on your utilities. Products such as the Kill A Watt electricity monitor quickly identify your business's largest energy users. Implementing cost-saving ideas for the workplace can also lower your energy consumption and help you decide which equipment needs replacing first.


Know your cash flow. Is your business capable of covering new equipment purchases with its existing cash flow, or will you need to secure financing to modernize the workplace? The former option is obviously ideal—but not always feasible. For instance, if you struggle with constant furnace or central air conditioner maintenance, then you might need a new HVAC system. Replacing or retrofitting an HVAC system, however, is a small business technology upgrade few can afford to pay out of pocket, even though its benefits outweigh initial costs down the line. Know what's feasible for your business.


Look for equipment-leasing deals or incentives. Purchasing equipment may not be possible due to cash flow or financing considerations; however, some companies lease equipment to small businesses on a quarterly or even weekly basis. Depending on your business, leasing can prove more cost effective than purchasing, especially if the lease agreement includes regular maintenance and upgrade options. In addition, state and local grants, loans or rebates can eliminate or defray the costs of upgrades.


Look into lease terms. Leasing companies typically offer three-, five- and seven-year contracts. Before signing a lease, consider how long you expect your business to remain in your current location. Circumstances may require your office to change locations, and this may determine how often your business needs to upgrade its technology.


Look for government programs for small business technology. Local, state and federal programs are available to help small businesses become more energy efficient, which often requires that you replace outdated tech. If you're looking for a program near you, ENERGY STAR®️ lists possible resources for small business owners.
Other Important Small Business Technology Upgrades
When replacing outdated technology, it's important to maximize the impact of your new equipment, both in terms of the benefits it brings to the workplace and its working life span. By getting the most from your new tech, you're making an investment in your business that will give you a return for years to come.
Connect smart technology to your small business.
Voice assistants, motion-detecting lights and other office productivity gadgets can automate small business processes while helping you conserve energy.
Consider a computer replacement schedule.
If you're wondering, Is my computer outdated?, chances are it probably is. The recommended computer replacement cycle for desktops is five to six years, with laptops requiring replacement more frequently. Be sure to consider what to do with old computers, which may be sold, donated to nonprofits or recycled. In all cases, ensure all sensitive data is properly wiped from the hard drive before recycling or returning the computer.
Know how to stop a laptop from overheating.
Knowing how to prevent a laptop from overheating can extend the working life of your existing equipment, so before you decide to upgrade the laptop or buy new, take the following steps:
Clean the unit's CPU and graphics card fans (check your device's laptop for safety instructions before doing so).

Keep the laptop on a hard, flat surface for unobstructed airflow.

Use compatible laptop coolers or cooling pads.

Maintain a cool environment.

Lower the screen brightness.

Limit which apps automatically open when booting up.

Routinely run antiviral and anti-malware software.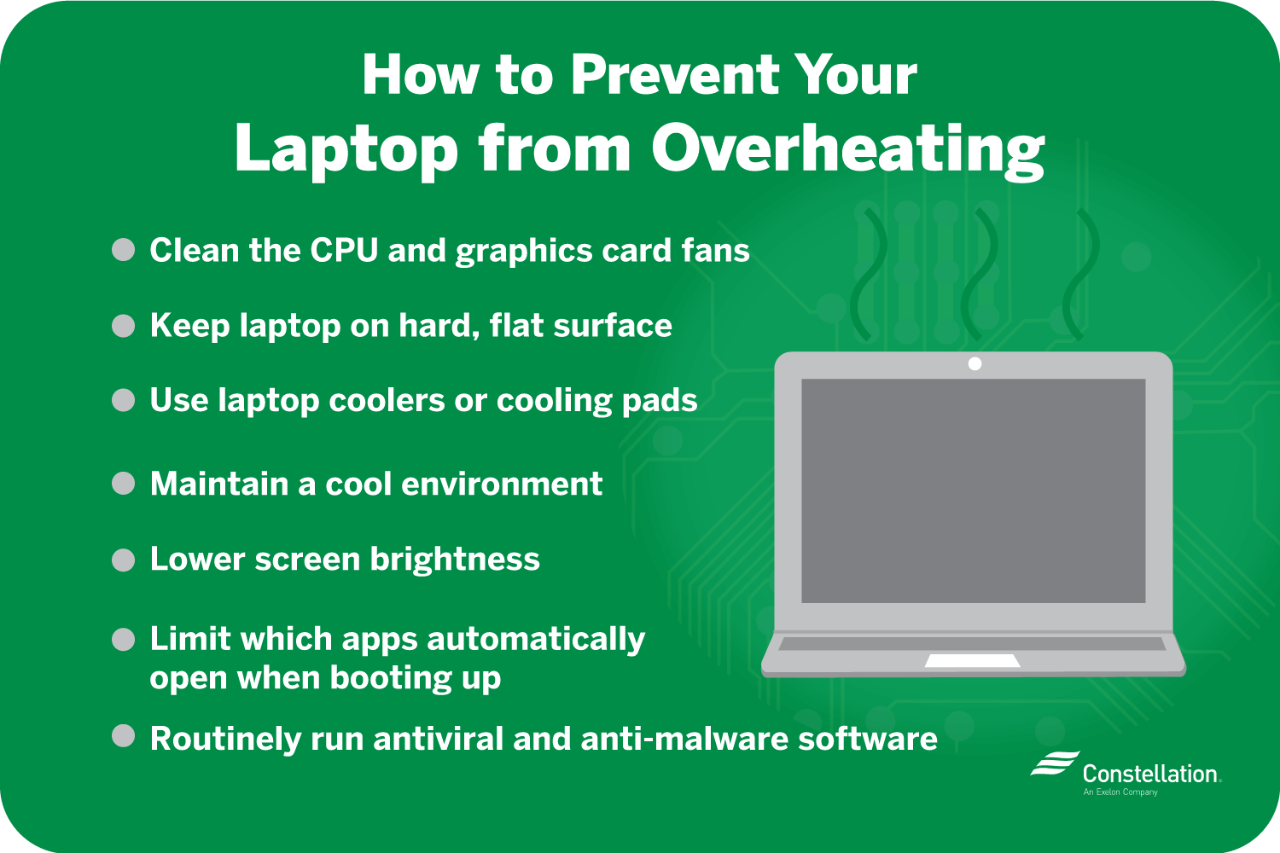 Ensure that your HVAC is in good condition.
Overheating equipment can cause a business's HVAC to work harder and consume more energy, which shortens the HVAC's working life. Work spaces need to be properly equipped to handle any equipment heating needs, and the HVAC itself requires regular maintenance to ensure optimal performance.
Use apps to save time and energy.
Apps produced by energy start-ups are capable of monitoring energy use and lowering the workload of technological devices. Some can also alert users to potential problems with energy use.
Train your staff to use energy-efficient practices.
Your workforce can have a significant impact on the energy use and life span of your equipment. Teach employees how to prevent a laptop from overheating and help them create simple but important energy-efficient habits, such as powering down equipment at night and setting computers to hibernate when not in use.
So does technology increase productivity? The answer: absolutely.
There are many ways that upgrading your technology can increase productivity, and outdated technology in the workplace can have effects that worsen with time. New equipment and the latest computers—or, at the least, ensuring your current equipment runs at optimal capacity—can mean the difference between failure and success for your small business. Now that you know what to look for when considering small business technology upgrades, you can stay up-to-date and maintain a better, smarter workplace.