Commercial Real Estate Energy Efficiency Tips
Commercial real estate energy efficiency does more than improve the environment. It increases profit margins in two ways. First, it builds value in your property because green buildings rent at a premium and sell for a higher price. Second, it cuts operating and maintenance costs to improve margins.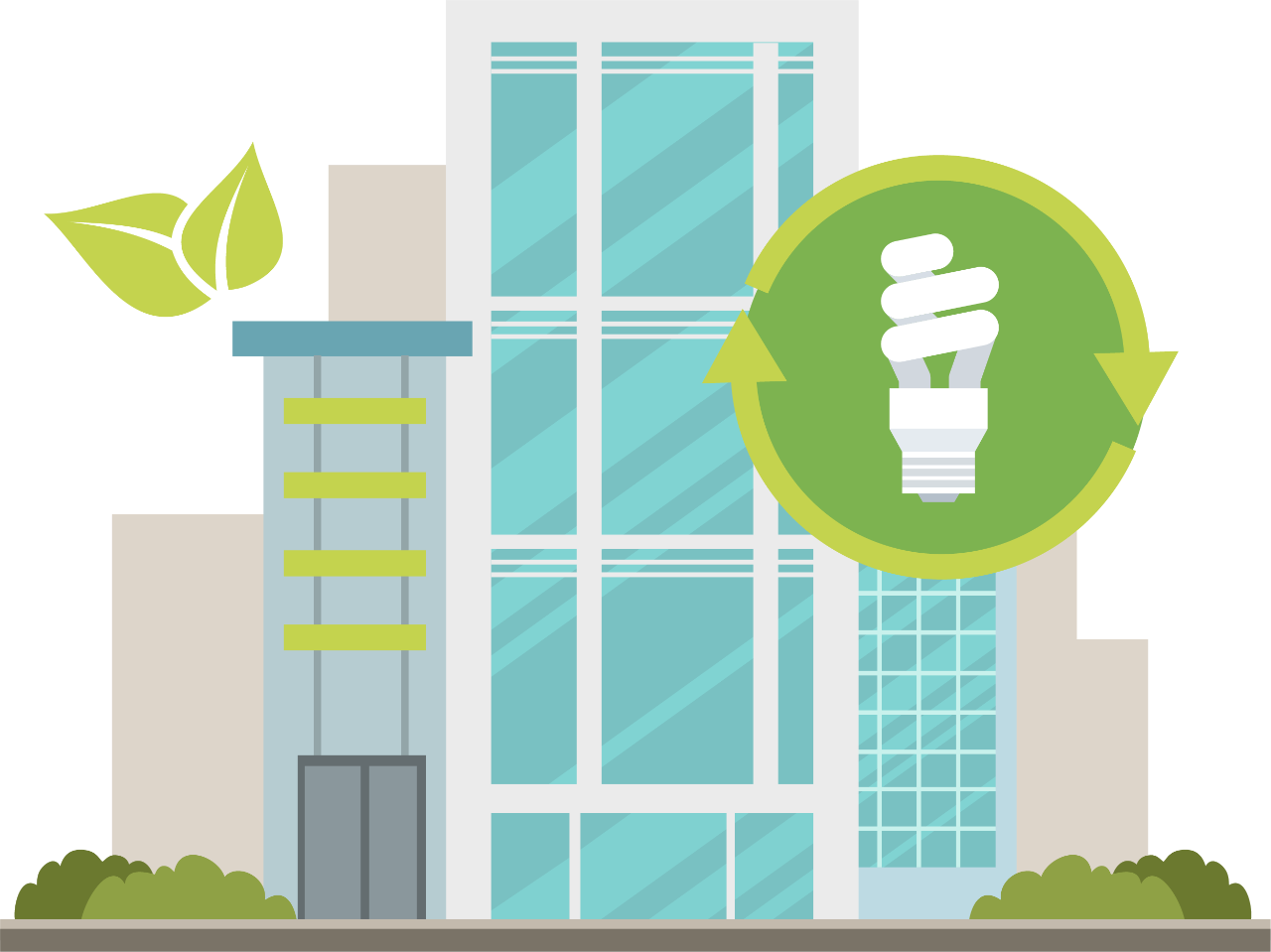 Energy conservation in the commercial property industry
Cutting energy consumption in your commercial real estate properties will lower your building operating cost per square foot. Those costs will vary tremendously based on location, type of building, how it is used, and the efficiency of the systems running in it.
The most recent Building Owners and Managers Association study of average operating expenses shows the variety in costs. Operating expenses per square foot in Indiana average $6.46. In New York City, commercial property owners shell out $28,67 per square foot. 
Cutting commercial real estate energy consumption as a major part of those operating expenses has been the goal of the Department of Energy's Better Buildings Initiative. Since the program started in 2011, the government estimates commercial real estate properties have saved $15.3 billion dollars after implementing recommended best practices. 
Estimating commercial real estate building operating costs
It is easy to budget for predictable major fixed expenses, like real estate taxes and building insurance. Others are more challenging, like repairs, maintenance, cleaning, parking, roads or grounds and utilities. If you are in a competitive energy market, you can rethink your energy supplier and contract terms with small business energy pricing that gives you flexibility in controlling this cost.
Average energy consumption in commercial buildings
The U.S. Department of Energy has estimated that commercial buildings produce 16 percent of the nation's greenhouse gas emissions annually. When you make changes to improve commercial real estate energy efficiency, you will contribute to lowering that number. You will also contribute more profit to your bottom line. Buildings with lower emissions and lower building operating costs per square foot have a higher property value, a trend that is only growing.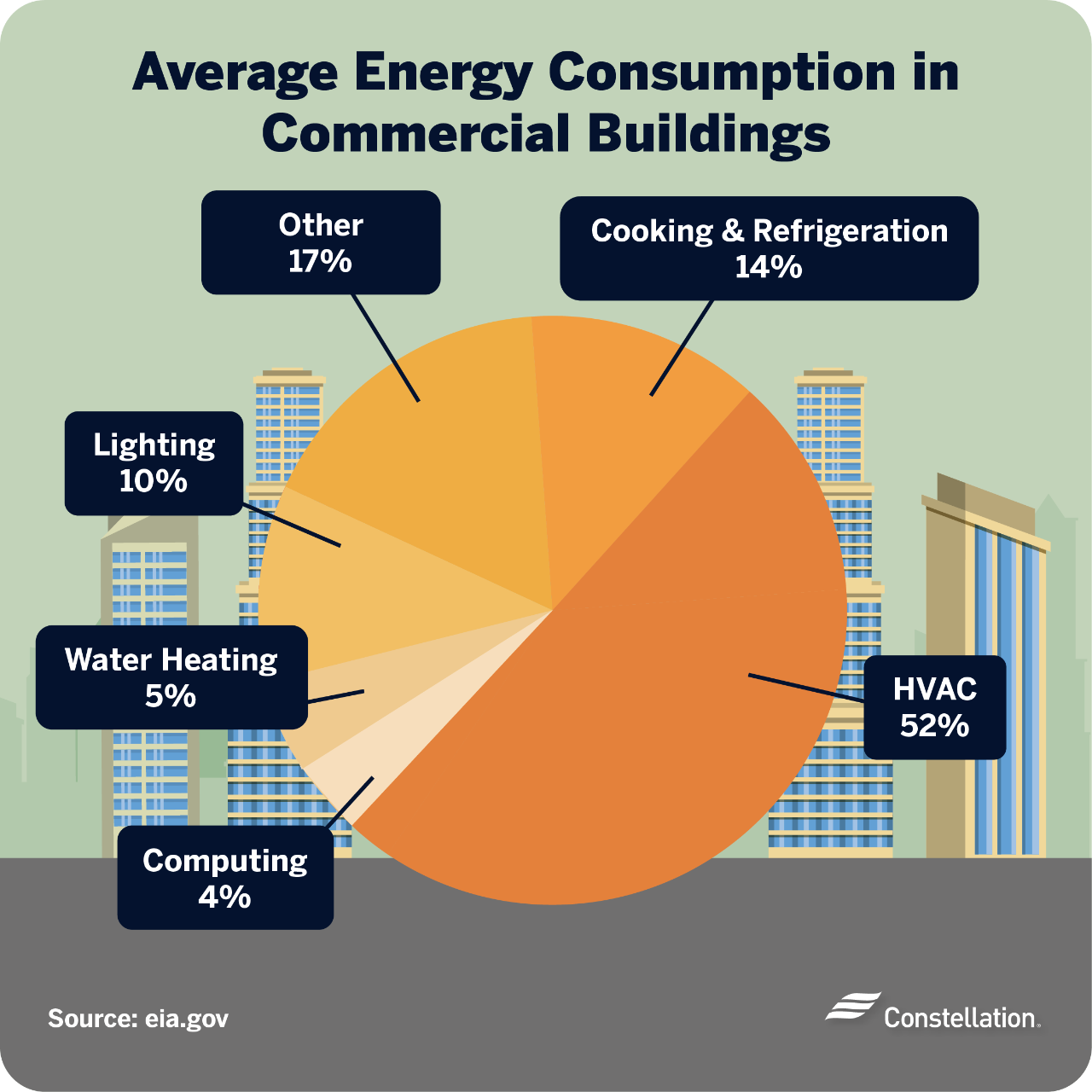 Take control of your energy
Reducing your commercial real estate operating costs is only one way to improve your bottom line. Lock in a fixed-rate to take control of your energy today.

Commercial real estate quick facts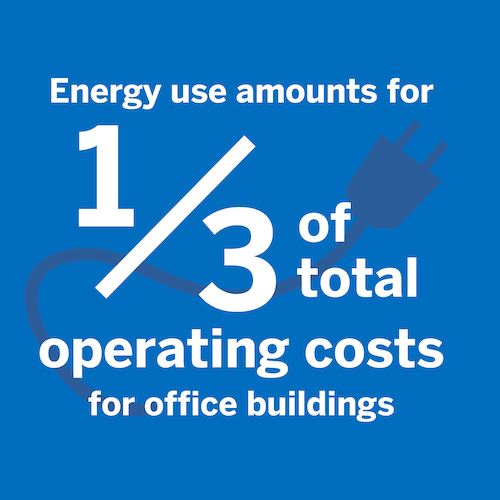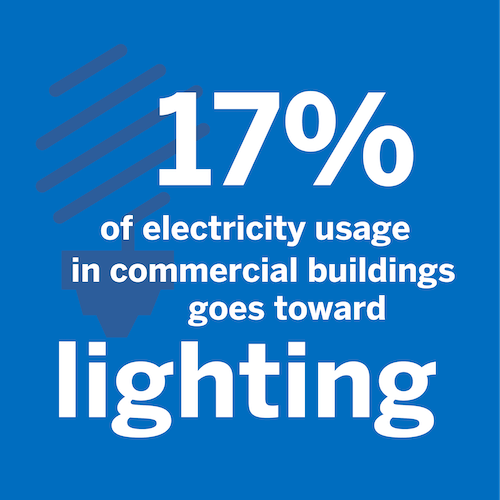 About 17 percent of electricity usage in commercial buildings goes toward lighting, making it the largest end use of electricity.
How can commercial buildings reduce energy consumption?
Since energy is a major commercial real estate operating expense, reducing the power your tenants or occupants consume is vital to controlling costs. Small adjustments can have a big effect on your property's carbon footprint and monthly operating expenses.
Identify inefficiencies through an energy audit. Take advantage of our Efficiency Made Easy personalized energy audit program to get the details you need to make decisions that can reduce your average operating expenses for commercial real estate.


Use data analytics to track your energy usage. Energy management systems software will monitor your small business energy use and make it easy to track, control and optimize systems and energy use on your site.


Regulate your energy use through automation. Automate your building with smart systems that turn devices on and off depending on usage, control lighting and energy-efficient appliances and that optimize heat and air conditioning by balancing various factors in each area of your building.


Evaluate and update your HVAC equipment. Heating and cooling typically accounts for the lion's share of commercial real estate energy consumption for many buildings. Replace outdated equipment with new ENERGY STAR ® rated systems and you will also cut commercial building maintenance costs per square foot.


Switch to energy-efficient lighting systems. Commercial LED lighting not only lasts longer, it uses only a fraction of the electricity consumed by incandescents. You can also invest in outdoor solar lights to cut down on electricity even more.


Find and identify air leaks. Seal drafts and air leaks in your building, particularly around windows and doors, and upgrade your insulation to reduce heating and cooling expenses.
Get started on reducing your costs
In addition to these practical solutions, Constellation is here to help you with small business energy-saving resources, including the Efficiency Made Easy program to help you identify ways your business is wasting energy. 
Our team of energy professionals can show you how to make your commercial real estate facility energy efficient without any upfront cost. Let us help you lower costs, reduce your carbon footprint and increase the value of your property.
Additional commercial real estate resources
Interested in finding more ways to lower your commercial real estate energy consumption? Check out our related resources for more exciting strategies.