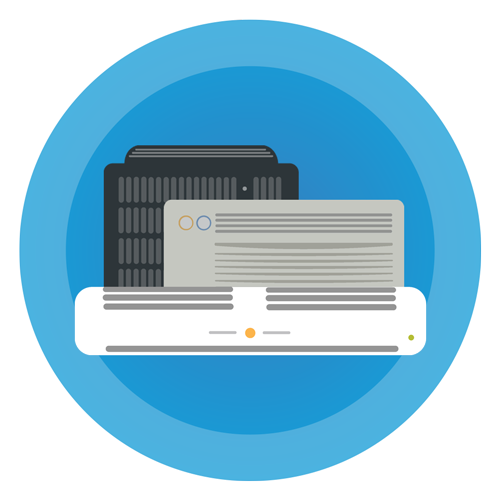 How to Choose an Energy-Efficient Air Conditioner
There is possibly no modern invention more essential to comfortable living than air-conditioning. Air conditioners today—from window units to central systems—are more energy efficient and cost effective than ever before, so your energy bill doesn't have to go up while you cool down.
It's a wonderful feeling: walking out of the sweltering heat and humidity of an August day into a room that has been cooled to the ideal home temperature. And air-conditioning is still a relatively modern invention!
What to Look for When Buying a New, Energy-Efficient Air Conditioner
There are a few key things to look for when you're buying a new energy-efficient air conditioner that will help keep your energy bill—and the temperature in your home—low.
Features to Look for When Choosing an Air Conditioner:
Right size A/C for your space: Size matters when you're choosing an air conditioner. A too-large unit will cool the air but leave it damp and clammy. A too-small unit will have to work overtime to maintain the set temperature, driving up your energy bill. Air conditioner sizing is probably the single most important factor to consider.


Programmable temperature settings: These days, even basic window units come with digital displays so that you can set a precise temperature and even schedule your A/C to turn off when you'll be out and back on when you're coming home. Central air systems are frequently even more flexible.


Energy-saving setting: Another feature to look out for in the best air-conditioners is an energy-saving setting, which means that the unit will turn off not only the compressor but also the fan once your space has cooled off, thus conserving energy.


High EER and SEER ratings: These two related (but not interchangeable) ratings are a measure of a particular unit's energy efficiency measured in BTUs. Meanwhile, EER stands for "energy efficiency rating," and SEER stands for "seasonal energy efficiency rating." Overall, a higher rating means greater efficiency, and SEER and EER ratings can be found for both room and central air-conditioners.


ENERGY STAR® certification: Look for the blue ENERGY STAR® certification when you're deciding on the best air conditioner for your home. This certification means that this particular unit has met or exceeded higher efficiency standards than other similar models.


Wifi-enabled A/C: If you've begun to experiment with making your home smart—if you have a device like Alexa or Google Assistant, for example, or a Wifi-enabled thermostat that you can adjust with your smartphone—consider installing a smart air conditioner. You can find smart versions of all types of A/C units—window, split unit, portable, ductless mini and so on. Because these units are so adjustable, the energy-saving possibilities are amazing and allow you to really fine-tune your usage.
How to choose an air conditioner size
Properly sizing an air conditioner is important to ensure your home is cooled without using excess energy. Air conditioners work by (1) reducing the humidity and (2) reducing the temperature. A larger A/C will not cool your space faster and better—but it will cool the air faster than it can remove the humidity, so what happens is that the air turns damp and clammy.
It's easy to choose the right size, however, because useful websites like ENERGY STAR® provide an air conditioner BTU chart that tells you what size model you need for your size space. Simply measure your space to figure out the square feet you're trying to cool, and then consult an air conditioner BTU chart (like this ENERGY STAR® chart) to figure out how many BTUs you need for that size of space.
When selecting the size of a central air conditioner for your home it is important to check the "tonnage" for each model. According to Energy.gov, one "ton" is equivalent to 12,000 BTU per hour, and sizes generally range from 1- to 5-ton units. The tonnage required for your A/C may increase depending upon factors such as your local climate and the square footage of your home.
If you are looking to purchase a new central air conditioner, ENERGY STAR® offers equipment sizing guidelines to help you select the correct size for your home.
How to read an air conditioner's EnergyGuide label
One great way to learn a little more about a specific air conditioner is to examine the bright yellow EnergyGuide label. These labels are required by the Energy Labeling Rule for both room and central air conditioners, and they pack a lot of information into a small space. EnergyGuide labels are a useful way to quickly compare similar models without having to spend all your time researching different air conditioners.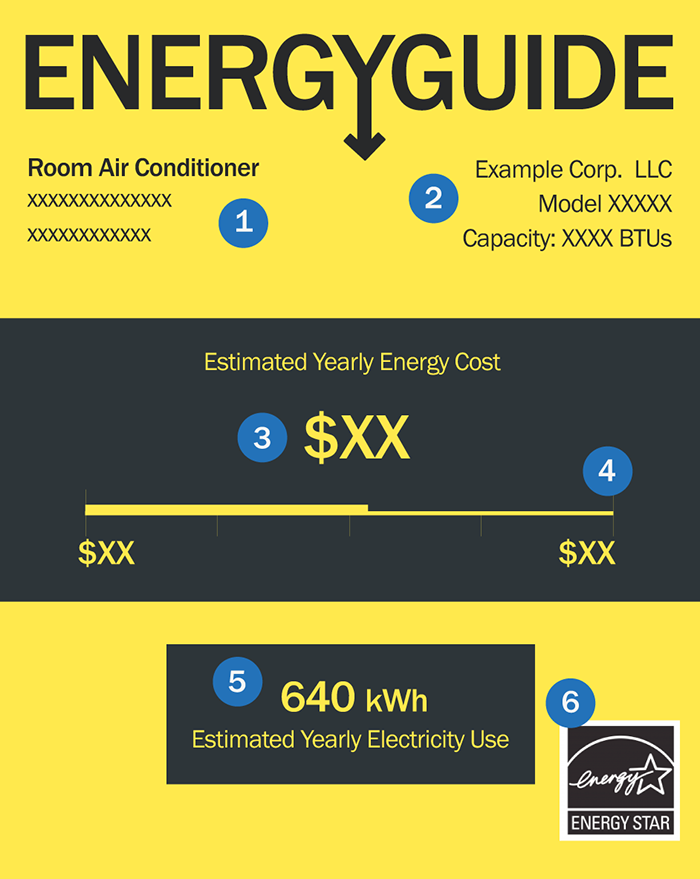 This lists the type of air conditioner and any key features.

This is the make, model and size of the appliance.

This is the average projected yearly cost of running the air conditioner.

This is the range of costs of similar air conditioners so you can judge where the yearly cost falls in comparison to other models.

The EER is the energy efficiency ratio, a number produced by dividing the air conditioner BTU rating (its output) by its wattage (its input). The higher the number, the better.

The ENERGY STAR® designation signifies that the air conditioner has passed the stringent energy efficiency guidelines set by energystar.gov.
Choosing Between Different Types of Air Conditioners
Different types of air conditioners are better suited for different living spaces. For instance, if you live in an area that experiences intense heat for a majority of the year then you'll probably want a split or packaged air conditioner. But if you're unable to install central air in your home for whatever reason, you may have to look at a window unit or a portable air conditioner.
You'll also need to keep in mind the air conditioner sizing before deciding what unit to buy - having the wrong sized A/C unit for your room could increase your energy bill. To help you make a more strategic decision here are some of your options:
Types of central air conditioners
For central air conditioners, you can generally choose between either a split or packaged A/C system. These units push air through your home's air ducts (if you have them), and are preferred for homes where it is hot for a majority of the year.
Split air conditioners
Split air-conditioning units usually come in two pieces—an exterior compressor and an interior fan system of some kind. The louder component goes outside, where the noise and heat will be less of a nuisance, and the cool air is pushed around the inside of the house through ducts.
Packaged A/C systems
Packaged air-conditioning systems are central air, often installed as part of a dual heating and air-conditioning system (HVAC). If your residence already has forced air heating (and therefore ductwork), packaged or central air conditioning will be the most efficient and (relatively) least expensive option.
Other types of air conditioners
Window unit A/Cs
Window units are self-contained air conditioners that come in a wide range of sizes. They can be put in place only during the months that they are needed, or sometimes they are permanently installed by being inserted through the wall of the house.
Portable air conditioners
Portable air-conditioning units look a lot like dehumidifiers. They are wheeled cabinets that (like window units) include all the necessary components of a cooling system. They need to be vented to the outside and usually come with a kit for this purpose. Some portable units are self-evaporative, but many will require you to empty a water tank at regular intervals.
Inverter air conditioners
Unlike the compressors in traditional air conditioners, which regulate temperature by turning on and off, inverter air conditioners work at variable speeds, drawing only the amount of energy they need to maintain the set temperature. They therefore use less energy than traditional air conditioning units and cool more efficiently, but since the technology is relatively new, the initial investment—that is, the cost of the units—is higher.
Ductless mini-split A/C units
Ductless mini-split units also come in two pieces—a wall-mounted interior unit and an exterior compressor. They are quiet and energy efficient, and they can be installed in houses where retrofitting ductwork would be prohibitively expensive or complicated.
Wifi-enabled/smart air conditioners
A Wifi-enabled air conditioner uses your smartphone as a sophisticated remote control, and some integrate easily with smart home devices like Amazon's Alexa or Constellation's smart home hub, Constellation Connect. This gives you very precise control over the appliance cooling your house, and it also allows the system to provide you with feedback about energy usage and efficiency.
Solar air conditioning systems
Solar air conditioning systems are exactly what they sound like—air conditioning units that are powered partially or totally by solar energy.
Comparing Air Conditioners: Split vs. Window vs. Portable A/C units
Maybe you're wondering what the relative merits are of split A/C vs. window A/C or window A/C vs. portable A/C.
Here are some comparisons that might help.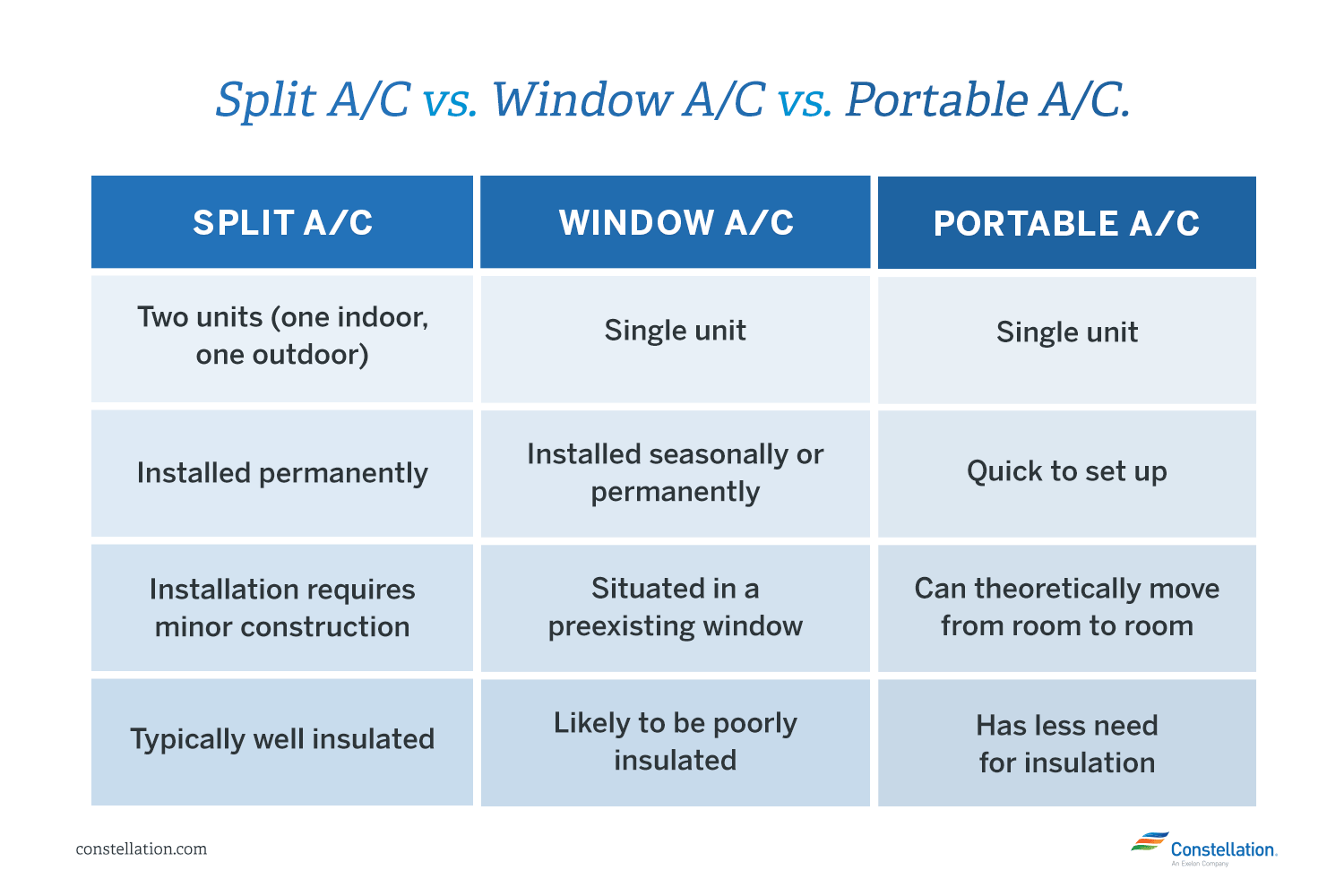 It's also worth looking at some of the pros and cons of each air conditioning option.
Advantages of split air conditioners:
They have greater energy efficiency than either window or portable A/Cs.
They don't block up a window all summer long.
They tend to be quieter and less physically intrusive.

Disadvantages of split air conditioners:
The outside unit can be large, noisy and intrusive.
They tend to be expensive, and installation can be time consuming and drive the cost up further. (This is less true of ductless mini-split units, of course.)
They might be tricky to install in older homes without pre-existing ductwork, and it might not make sense to retrofit air conditioning.
Advantages of window A/C units:
These units are easy to find and install.
They're relatively affordable—a good unit might only cost a couple of hundred dollars.
They're relatively quiet and energy efficient.
They drain to the outside.

Disadvantages of window A/C units:
While you can technically move them, that would be a hassle.
Not all windows support these air conditioning units well.
They are difficult to insulate, allowing more hot air into your home than a split system.
They're not pretty.
Advantages of portable A/Cs:
They don't take up a window.
They can be moved from space to space as necessary.


Disadvantages of portable A/Cs:
"Portable" is relative because the unit still needs to vent to the outside.
They can be more expensive than comparable window units.
They're less efficient and noisier than window units.
Many models will require you to periodically drain a condensation tank (like dehumidifiers).


What is an evaporative cooler?
If you live in the Western United States you may be familiar with the evaporative "swamp" cooler. The evaporative cooler is an alternative to standard air conditioners that draws hot, dry air through damp pads, adding moisture to the air. Usually, evaporative coolers are less costly to build and install since they're basically a powerful fan with a pad that collects and redistributes cool, damp air back into your home. They are also less costly to run, using as little as a quarter of the electricity used by an air conditioner. Evaporative coolers also don't use any environmentally unfriendly chemicals such as those found in older A/C units.
Evaporative coolers aren't recommended if you live in the Eastern United States--just regions like Nevada or New Mexico that have a hot, dry climate. If you live anywhere with high humidity, evaporative coolers could fill your rooms with hotter, more humid air, so while the cost and potential energy savings may sound enticing, it's strongly advised that this device is only used in appropriate regions and you will be far better off using a regular energy-efficient air conditioner.
9 Ways to maximize your energy-efficient air conditioner
Once you've bought and installed your energy-efficient air conditioning system or A/C unit, you're good to go, right? You just turn your A/C on in the summer, off in the winter, and you're done, right? Time to enjoy that lemonade by the pool!
Not quite - The way you use your air-conditioner is as important as what air conditioner you buy. So here are 10 tips for how to maximize your energy-efficient air conditioner.
In the summer, program your settings to match the ideal thermostat temperature of 78 degrees to better manage cooling costs.

At night, when the air is cooler, try turning the A/C off and opening the windows.

Turn off all unnecessary lights and appliances. They all generate heat that the air conditioner has to then remove.

Program your thermostat to increase the temperature by a few degrees when no one is home. Doing so will decrease the workload on your A/C.

Install and use ceiling fans. They circulate the air more efficiently than an air conditioner can by itself, and they use far less energy. Just make sure that you've set the correct ceiling fan direction with air conditioning—counterclockwise, which sends the air down.

Fully and properly insulate and seal any point where an A/C unit (or any part of a larger A/C system) enters your house. A poorly seated window unit, for example, can let in more hot air than your unit can cope with.

If you have window units, make sure they're clean. Monthly air conditioner cleanings—wiping down the vents and rinsing the filter—will keep your units running smoothly and efficiently.

If you have central air conditioning, make sure your air ducts are clean. There are many benefits of air-duct cleaning, including catching mold before it gets a hold on your system; keeping dust out of the air and off your clothes, furniture and surfaces; and improving the efficiency of your air-conditioning system.

Keep your home cool with these air conditioner maintenance tips to help prolong the life of your unit.
Air conditioners are more sophisticated and energy efficient than ever. They come in a range of styles and sizes to suit any living situation, making it simple to find the best air conditioner for your home. They're also—quite literally—a breath of fresh air on a hot, muggy day, so rest assured you can now choose the best one!
How to buy other appliances: