Guide to Buying an Emergency Generator for Home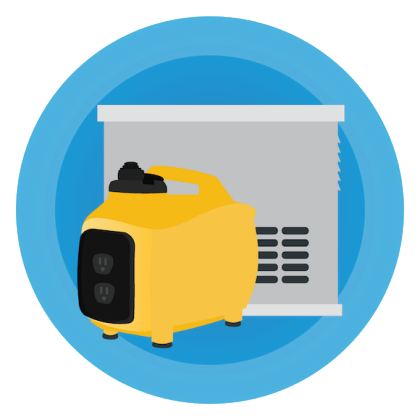 Emergency Generator Buying Guide
A home generator is a major purchase, so you've made the right choice to do extensive research before trying to decide which type of generator may be best for you. Our generator buying guide can help you understand how to shop for a generator, as well as keep you aware of important generator safety issues so that you can make the right choice for your home.
Power outages are a fact of life. Though most short-term power outages can be handled without causing more than a minor inconvenience, some homeowners may want to consider buying an emergency generator for home in preparation for long-term power outages. Here are some points to consider when buying a generator:
Consider portable vs. standby generators. Decide which of type of generator is best for your home and budget. Keep reading to find a portable vs standby generator comparison.
Determine your energy needs. What generator sizes will power the essentials in your home? Consult our generator sizing chart below for reference!
Consider the energy source. Are you buying a propane, diesel or natural gas emergency generator?As you're sizing a generator for your home, be aware that whatever generator you choose, you will need to have ample fuel and a place to store it safely.
Analyze the placement needs. The home generator you're considering will need proper placement, so decide what the safest options will be to protect your property.
Consult a professional. When installing a generator that requires any changes to your home's electrical wiring, always call the experts.
Pro tip: You can find your appliance's wattage use by either looking at its silver wattage sticker or googling your appliance's watts.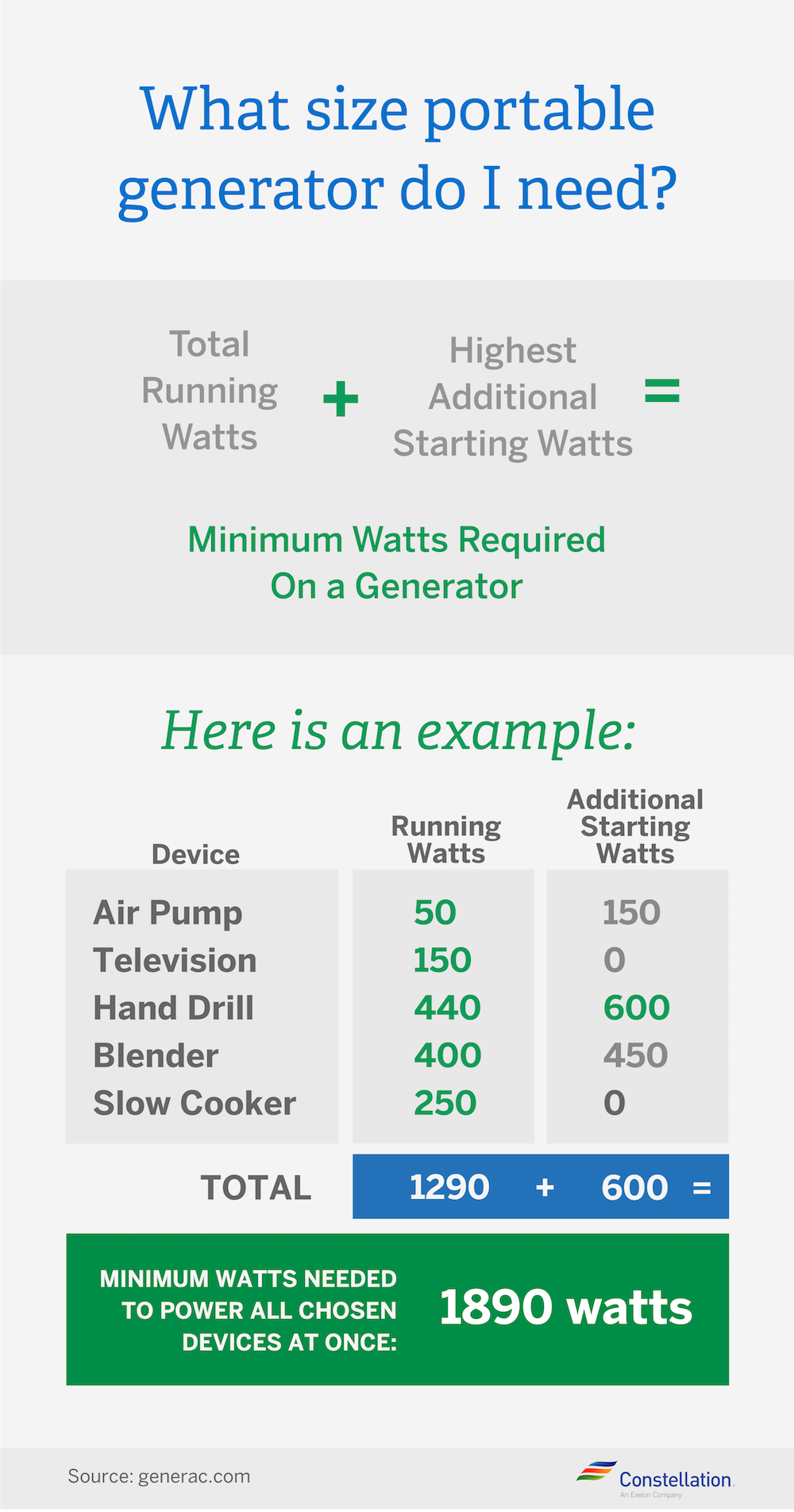 What is the best emergency generator for fuel efficiency?
You may hear this term used a lot in car commercials, but when it comes to generators, fuel efficiency equals energy efficiency. Look at it this way, the gas used to power the generator is used to power your home; so the more you get out of the gas, the more you get out of the energy. After that, practicing energy conservation can help you save even more.
Determining how your generator will use its fuel depends on the size of your generator vs. the amount of power you will need from it. To get the most fuel-to-energy use out of your generator, you will want to know what size you need. We've got you there!
Home emergency generator sizing guide
As you learn how to shop for a generator, you need to figure out what generator size is best for your needs. Sizing a generator can be tricky. Using our generator sizing chart can help you to sort out just how much or how little power you will need to operate your home's essentials in a power outage.
You will need to make a list of essential appliances, their wattage and how much electricity it takes for these items to start up to help determine the generator size that is best for your home. Once you have completed the assessment of your needs, the generator sizing chart below can help you determine what type of electric generator you should purchase.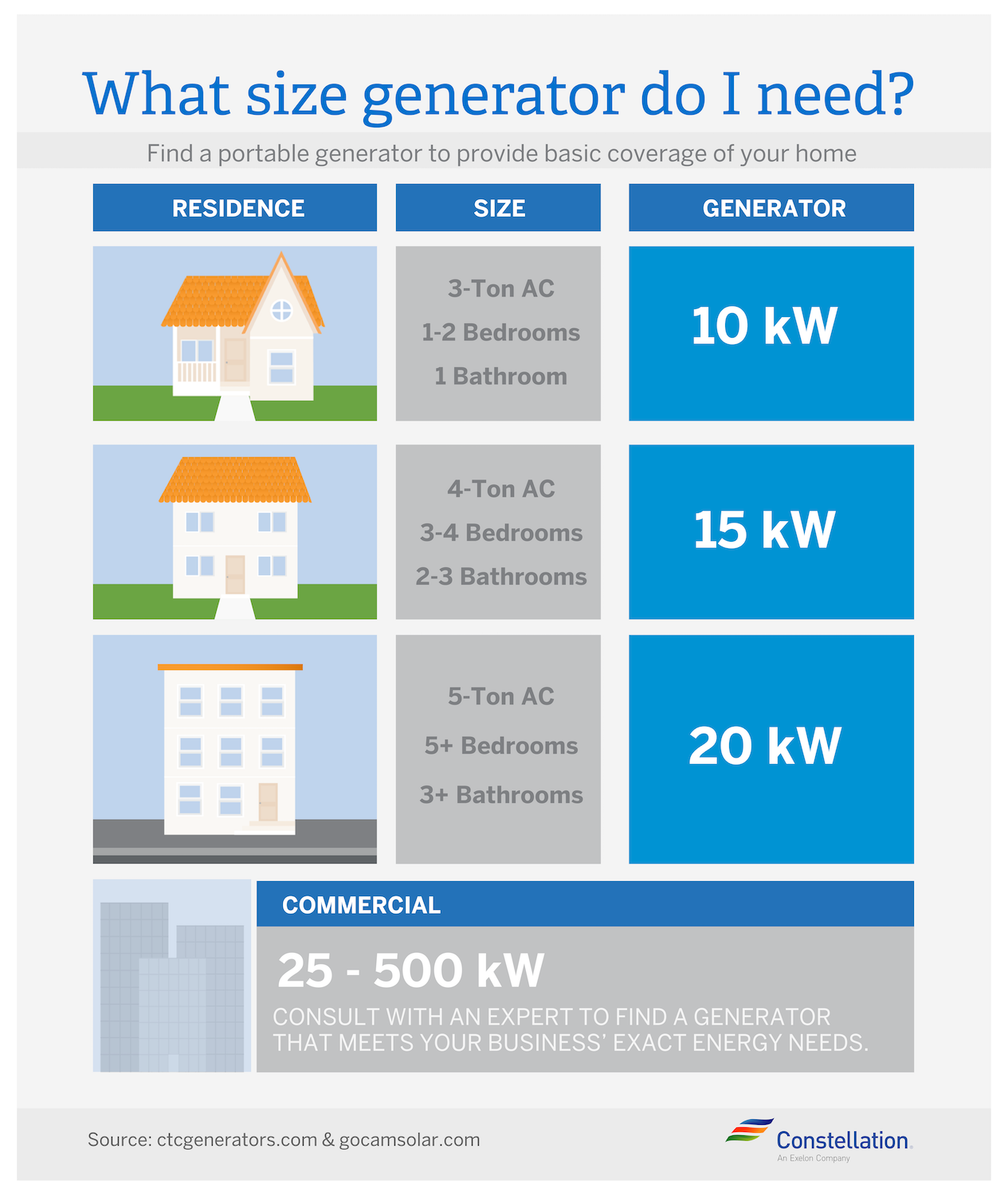 Portable vs. Standby Generators
The first thing to think about as you investigate the types of generators available are the pros and cons of a portable vs. standby generator. A portable electric generator can be used in an emergency power outage situation, but these types of generators also can be used when camping or where power is needed on the go. However, standby natural gas generators are permanent systems that are wired into your home and are easily switched on to maintain energy connection in a blackout power outage. When sizing a generator, consider the various situations where you might make use of the appliance.
Here are some important things to think about when deciding between a portable vs. standby generator.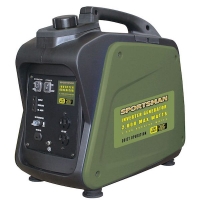 source: samsclub.com
Portable generator advantages:
Is generally less expensive
Doesn't require professional installation
Typically powered by gasoline
Portable generator disadvantages:
Can be loud
Requires fuel that must be manually refilled
Can only power a few essential electrical devices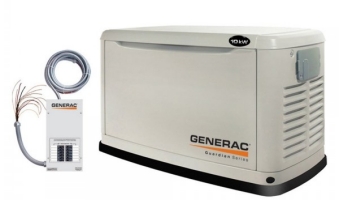 source: kitsuperstore.com
Standby generator advantages:
Produces enough power to allow normal levels of power usage
Connects to existing natural gas line of home
Automatically switches on during a power outage
Standby generator disadvantages:
Is generally more expensive
Requires professional installation and maintenance
The price of emergency generators for home use
Standby generators generally cost more than portable generators, but how much of a price difference is there, really? Turns out, it can be in the thousands. Here are the average prices from a portable vs. standby generator:
Portable electric generator cost | $200-800
Standby natural gas generator cost | $2,500-4,000
Residential emergency generator safety tips
Sizing a generator is an important part of understanding how to shop for a generator, but there is another crucial point to consider – generator safety. Ensuring that you take proper care when using a generator to power your home is important since electrical generators can be hazardous if not used properly. Here are a few generator safety tips to follow:
Be sure to place a portable generator at least 15 feet from any structure.
Generators should only be used in well-ventilated areas to protect from carbon monoxide output.
Generators should be kept dry and operate only on dry surfaces to prevent electrocution.
When refilling a generator, be sure to let it cool down completely to avoid starting a fire. Store fuel in a safe place, away from sparks or flames.
Only use approved, heavy duty extension cords to power your appliances. Do not overload the generator with more wattage draw than it can manage.
The most important thing to remember about selecting the right type of generator is to plan ahead: for a winter storm, prepare for a hurricane or a blackout/brownout. During a power outage, people rush to the store to grab a generator, so stores may be out of the generator size you need or might not give you enough time to have the generator safely installed in your home. Prevent installation issues by purchasing and installing a generator long before you're in need of one.
How to buy other appliances: