Guide to Buying Energy Efficient Ovens & Stoves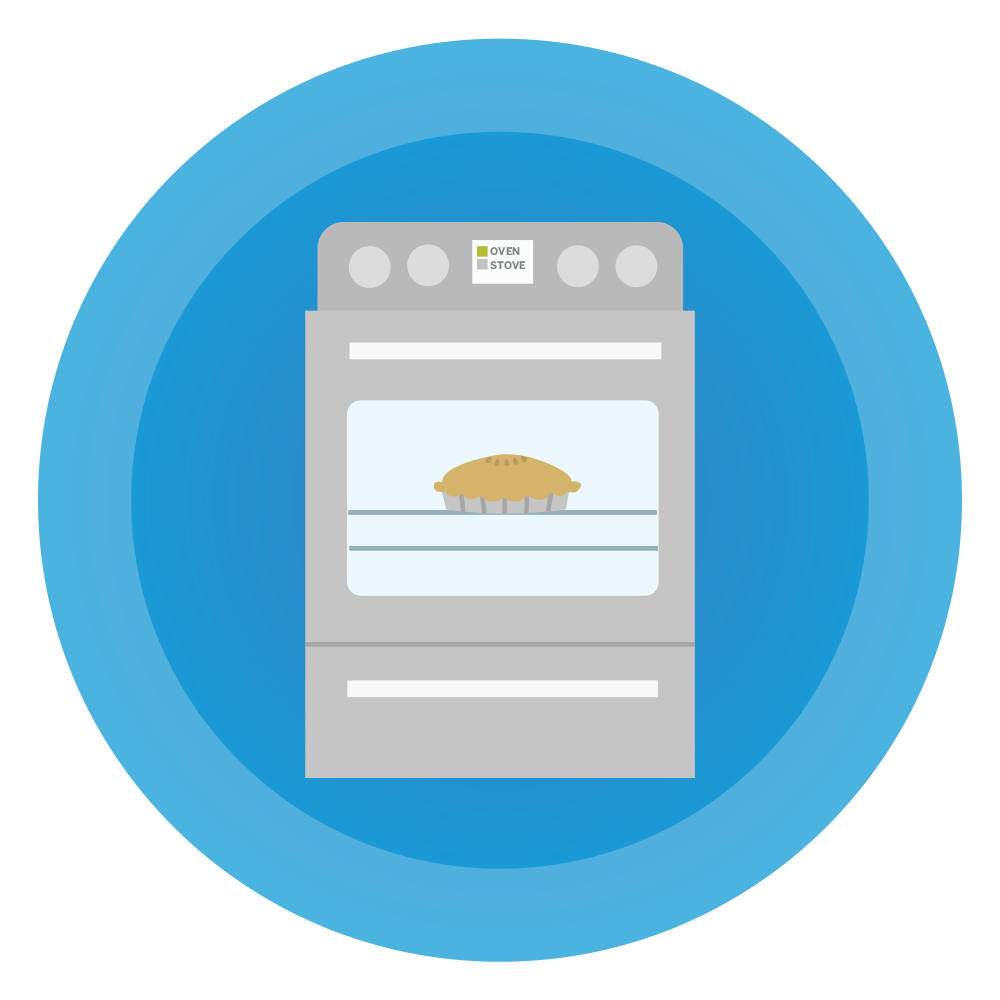 Guide to Energy Efficient Ovens & Stoves
Whether you're roasting a chicken or sautéing veggies, chances are, your kitchen appliances get a daily workout. No matter what's cooking, ovens and stoves consume a lot of energy! Buying a new oven may be a one-in-a-couple-decades decision, so finding one that'll last for the long haul requires a bit of research.
Then how do you shop for the best gas stoves or best electric ranges? We've cooked up some tips for everything from buying the perfect energy-efficient stove or deciding on an electric vs gas stove to getting the most out of your energy-efficient oven.
What to Look for When Buying an Energy-Efficient Oven or Energy-Efficient Stove
"Oven" and "stove" usually mean the same thing, but "stove" can also refer to the cooktop—a gas, electric or induction range. This quick range-buying guide offers tips for how to shop for both.
Check your fuel source. Any good range-buying guide will remind you to check for electric or gas connections (some ranges offer both). This will determine the type of energy-efficient stove available for purchase.
Buy a gas oven. In the gas vs electric stove debate—in terms of energy efficiency—buying a gas range is the way to go. Customers who use natural gas have experienced lower energy costs than those who use propane, fuel oil or electricity since 2010. It heats up faster and costs less.
Buy a self-cleaning oven. It has better insulation which keeps the heat in, making a more energy-efficient oven.
Invest in a convection oven. You may be wondering, is a convection oven better? The short answer is yes. You'll use about 20 percent less energy each month using a convection oven, which has a fan that continuously circulates hot air through the oven space. When food has hot air blowing onto it—instead of just surrounding it—it cooks more quickly and at lower temperatures.
Consider an induction cooktop. Induction cooktops use electricity and magnetic coils to quickly heat pans and leave the remaining surface cool to the touch, making a more energy efficient stove.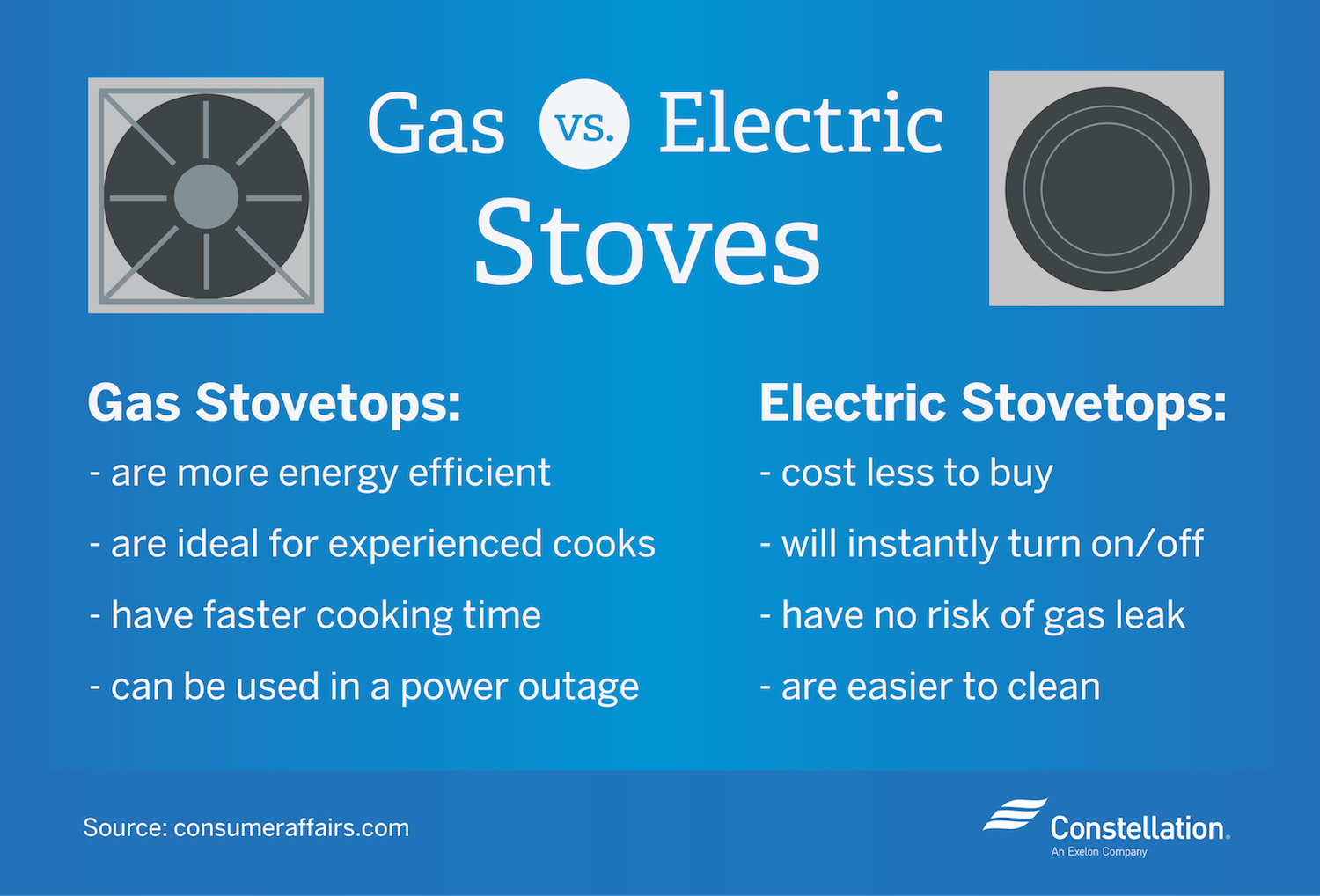 Gas vs Electric Stove: Which Is More Energy Efficient?
In the gas vs electric stove debate, gas is the clear winner in efficiency because it takes more energy to deliver electricity to your stove than gas. But in terms of which to buy, it's all about your comfort level, the hookups already in your kitchen, and what you want to cook.
Are electric stoves better than gas? It depends. Today's sleek electric stoves are stylish, easy to clean, easy to operate and less expensive to install than the stoves. They also offer the most stable work surfaces and contain additional storage space that even the best gas stoves don't. For those who spend less time in the kitchen, electric is a great option. On the other hand—if you have the appropriate hookup in your kitchen—gas stoves tend to cook more evenly because the flames spread themselves along the bottom and sides of the pan. And you never have to wonder if the stove is on or off: turning on a burner gives you an instant, constant flame that's adjustable. For experienced cooks, buying a gas range is the way to go.
Is a gas stove more energy efficient? Yes. It takes three times as much energy to deliver electricity to your stove than gas, so buying a gas range could save you money in the long run. Your final bill will depend on how much time you spend cooking, but if you have an electric ignition, you can expect to pay less than half as much per month to run a gas range.
Energy-Saving Tips for Using an Oven
After you've solved the gas vs electric stove debate and purchased a range, maximizing your energy savings is all about how you use your appliances. From turning off the heat early to multitasking to switching to ceramic or glass, tips like these will help you get the most out of your energy-efficient oven.
Cook multiple dishes at the same time. Be strategic with your oven racks, and put multiple dishes in at the same time. You'll save energy—and time!
Try ceramic or glass pans. They hold heat better than metal ones. This means that you can cook your dishes at a lower temperature.
Use the self-cleaning feature wisely. Turn on the self-cleaning feature after cooking a meal—that way, it will use less energy to heat up.
Don't peek. To prevent heat from escaping, which can make your oven work harder, use the oven light, and keep the oven door closed until your food's done.
Turn off the heat early. You can save energy by using the residual heat left in the oven.
Thaw your food first. This will help you cut down the time it takes to cook the food and reduce your ovens energy use.
Your cookware matters. Look for flat bottoms and straight sides, as well as tight-fitting lids. Food will heat up quickly and cook efficiently.
Let the pan fit the burner. Don't put that small saucepan on the biggest burner. If you use a six-inch pan on an eight-inch burner on your electric range, you waste more than 40 percent of the heat produced.
Crank up the heat. Turn your burner to high first; lower the heat to finish cooking. Using retained heat saves energy.
Give your burners a break. Burner pans that are blackened due to heavy use make burners less efficient because they absorb a lot of heat. A clean burner pan reflects more heat onto your cookware.
Avoid using the oven entirely. Perhaps your oven is better used as a storage space or bookshelf than a cooking appliance (hello burnt casseroles!). Well, then maybe use the more energy-efficient microwave oven whenever possible.
Whether you're deciding on a gas vs electric stove or looking to buy the most energy-efficient oven, we hope you've now got the knowledge you need to make a wise, energy-efficient stove or oven purchase. Now get cookin'!
How to buy other appliances: