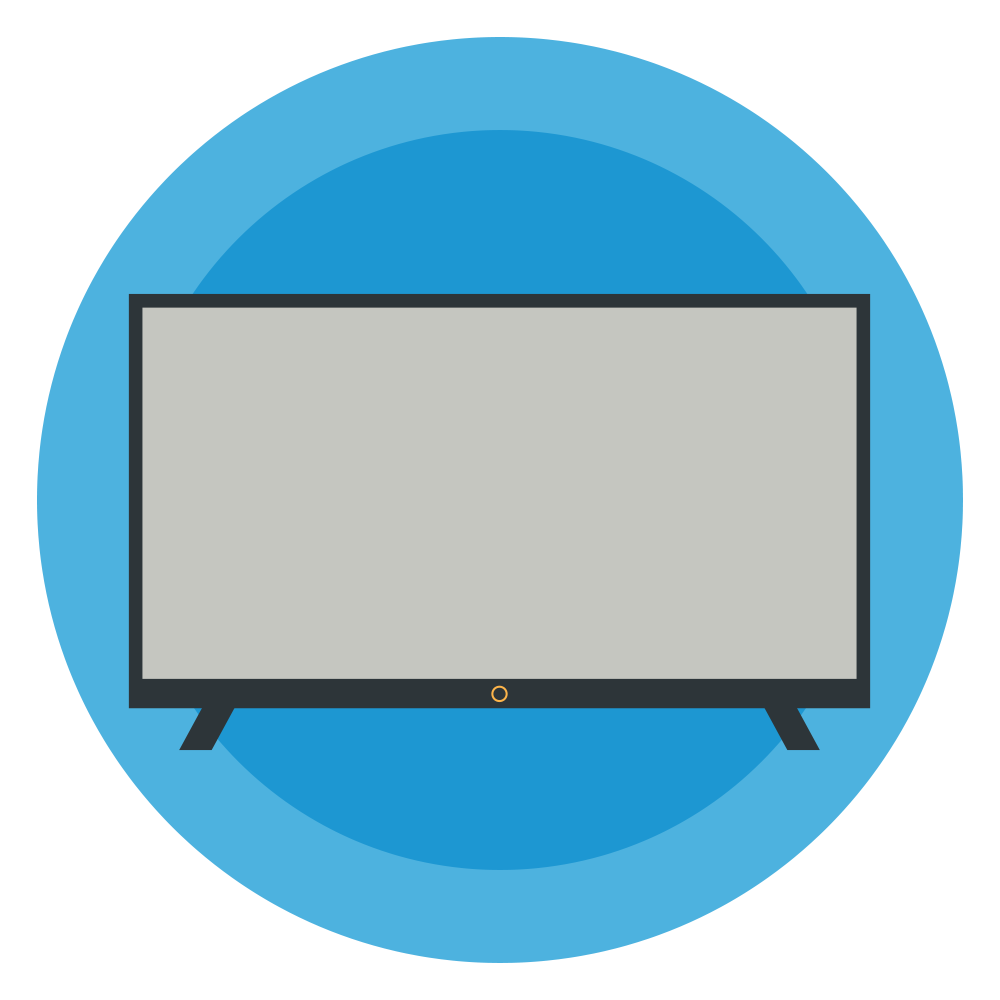 Energy Efficient TV Buying Guide & Energy-Saving Tips
Choosing an energy-efficient TV can be an energy-saving decision. If you're like most people, your daily screen time is probably pretty high. Some people have a television on for background noise. Others have it on mute at work to catch the headlines as they flash by all day. But televisions can consume a significant amount of electricity, even when they're "off." So, changing your TV habits could possibly add up to significant savings.
What to look for when choosing an energy-efficient TV
A number of factors are involved in reducing TV power consumption. The tips below will help you choose the most energy-efficient TV type, one of the simpler ways to save energy in your home.
Determine what size TV you need. In general, the bigger the screen, the more energy your TV will consume. The receiver and speakers consume a little energy, but the screen is what really drives TV energy usage. Choosing an energy-efficient TV means buying one that is no bigger than you really need.
Take picture quality into consideration. Picture quality is a function of the number of pixels in your screen. Each pixel consumes energy. A 4K screen displays 8.29 million pixels, which is 4 times as many as a 1080p screen, requiring 4 times the energy. Be aware that many streaming services are still only sending a 720p picture. Consider how much time you actually spend viewing 4K content before investing in a 4K television.
Look for energy-saving modes. Some televisions offer ways to operate your set more efficiently. They offer features like automatic shut-off when no one is watching and screen dimmers that cut the amount of energy needed when the set is on. The most energy-efficient TV type will have plenty of energy-saving features.
Compare EnergyGuide labels. New TVs include prominent EnergyGuide labels. These standardized labels make it easy to understand and compare critical energy use statistics, like estimated annual energy costs and the total cost range from high to low. When shopping for a new set, they help you answer questions about how much power a TV uses.
Check for the ENERGY STAR® sticker. New TVs certified by ENERGY STAR® are 25% more energy-efficient, on average, than others. Although they offer comparable features to conventional sets, they operate much more efficiently.
Invest in a smart TV. Connecting a smart TV is a good energy-saving strategy for smart homes. A smart TV connected to your smart speaker can be controlled remotely or according to a schedule you set.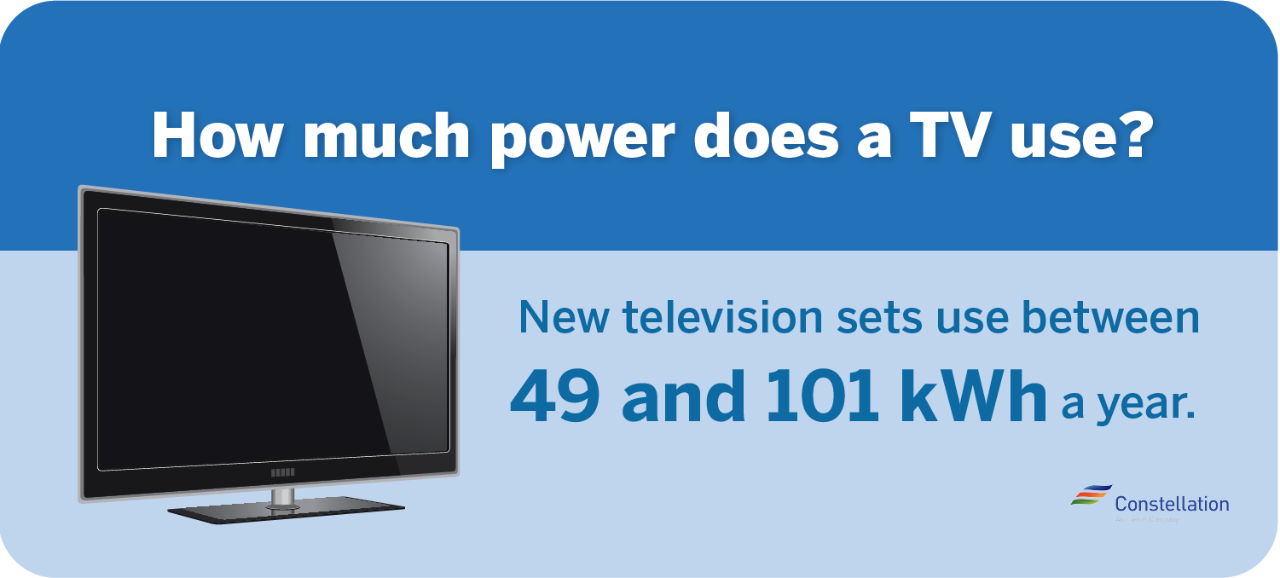 What makes a TV energy-efficient?
To earn an ENERGY STAR® rating, a television has to be significantly more energy-efficient than the average set on the market—often 25% or more. At the same time, it must deliver the same or better features and performance. In some cases, energy-efficient televisions cost more, but the difference in price may be quickly recovered in energy savings.
Energy consumption and performance is, of course, measured and verified before the product earns the ENERGY STAR® label. It makes choosing an energy-efficient TV much easier.
Are new TVs more energy-efficient?
You might be wondering if replacing your old TV is worth it. Are new TVs more energy efficient to the point where buying new is cheaper than sticking with your old set?
Technology advances are dramatically reducing TV power consumption. New sets often have automatic brightness control (ABC), which senses ambient light and adjusts screen brightness automatically. LED-backlit TVs use a fraction of the electricity of LCD screens found on older TVs. The latest advance is organic light-emitting diodes (OLEDs), which offer brighter screens that are both thinner and more efficient.
8 tips for reducing TV power consumption
Reducing TV power consumption may reduce the average home power usage by a measurable amount. Choosing an energy-efficient TV is a good start, but here are some additional actions you can take to save more:
Turn off or unplug your TV when not in use. Don't use your television for background noise. A radio uses less energy. Turning it off can cut usage—or better—disconnect your set from the socket to end phantom energy usage. Plug your television into a power strip, which is a more convenient option than pulling the plug from the wall.
Lower your TV screen's brightness. Lowering the power consumption of your screen has a huge impact on power consumption. When you reduce brightness, you reduce energy usage.
Adjust your screen's contrast. Contrast can also affect power usage. You can program your set to turn off pixels when showing "black," which improves the depth of your TV's picture as you reduce energy use.
Set your TV to energy save mode. Using your set's energy save mode allows it to automatically adjust screen brightness and contrast to reduce power consumption.
Use the sleep timer feature. The sleep timer notes when you haven't interacted with your set and powers it down. If you forget and leave your TV on, this feature ensures that you don't waste hours of energy.
Take advantage of standby mode. Like the sleep mode, this feature notes when you haven't interacted with your TV and goes into a power-down state for a period before eventually powering off.
Switch to picture off mode when possible. If you're using your set for background noise, you don't need to power up the screen. You can save money by turning off the screen and listening to your favorite shows.
Automate your TV. It makes sense to automate home appliances that use the most electricity — like your TV.
If you're in the market for a new television, choose the most energy-efficient TV type, paying particular attention to the EnergyGuide label and its ENERGY STAR® rating.
It's good to ask, "How much power does a TV use?" But pay attention to your habits and to ways to use your TV more efficiently. Just because you log a lot of screen time doesn't mean you have to burn a lot of electricity.
How to buy other appliances: