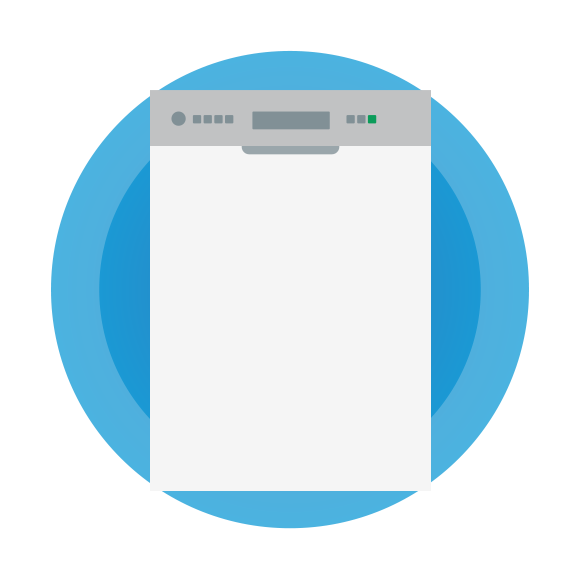 Guide to Energy-Efficient Dishwashers
People can definitely get by without dishwashers, but let's be honest — who wants to? Not many of us, apparently. In the U.S., two-thirds of all households have a dishwasher.
The question is how to find the best energy-efficient dishwasher? Assuming you're replacing an existing dishwasher, you may already know the dishwasher size and maybe even the dishwasher color you'd like. Those can be easy and also fun choices! When it comes down to energy efficiency, though, the questions can grow fast. Here are some things to get you started.  
What to look for when buying new energy-efficient dishwashers
Okay, you've made the decision to shop for an energy-efficient dishwasher, here's what you need to know before you buy your new dishwasher:
Figure out your utility cost. Estimated costs of running a dishwasher are usually found on the product labels. Click here to skip to how to read your EnergyGuide label!    
Look at dishwasher technology options. Today's dishwashers have improved beyond just limiting all water usage. The technology in many of today's energy-efficient dishwashers also helps make them more energy efficient and water efficient. Soil sensors, for instance, test how dirty the dishes are throughout the cycle, ENERGYSTAR.gov says. The result is clean dishes with minimum water and energy use. Water filtration has improved as well. This is what removes food from the wash water, which in turn enables more efficient use of water and detergent during a cycle. More efficient dishwasher jets mean today's energy-efficient dishwashers spray detergent and water more accurately, helping to lower overall dishwasher water usage.
Determine your dishwasher water usage. Home Water Works says older dishwashers use 10-15 gallons per load. A family of four typically generates an average of 150 loads per year, consuming about 1,800 gallons of water annually. In contrast, a new ENERGY STAR® dishwasher will use 5.5 gallons per load. That could yield, Home Water Works says, an annual dishwasher water usage reduction of nearly 1,000 gallons annually. Additional energy cost savings would come from heating less water as well.
Consider ENERGY STAR®. Dishwashers produced before 1994 use a lot more water, making them far less efficient than today's models for dishwasher water usage. An ENERGY STAR® dishwasher saves an average of 1,600 gallons of water over its lifetime. Dishwashers made before 1994 cost an extra $35 a year on utility bills, as compared to a new ENERGY STAR® dishwasher, for instance. 
How to read a dishwasher's EnergyGuide label
Look for the bright yellow EnergyGuide label on an appliance to compare energy-efficient dishwashers and how much energy they use. We've put together an EnergyGuide label cheat-sheet based off the most commonly used metrics on EnergyGuide labels.
Specific features of the dishwasher model like whether there is a soil sensor or very high dry temperature.
The make, model and the dishwasher's capacity size.
Projected cost of running the dishwasher for a year, based on the nation's average usage.
Estimated amount of kWh used yearly for the dishwasher.
Cost range to better understand where the dishwasher's cost lands in the average usage cost bracket.
An ENERGY STAR® sticker signifies that the dishwasher has passed energy efficiency guidelines set by energystar.gov.

Choosing a dishwasher size
If you don't know the size of the dishwasher you're looking for, you might find yourself accidentally buying a dishwasher that is the wrong size and capacity for your home. To help prevent that, Sears offers some quick and simple ways to measure the dishwasher size you'll need:
How to measure a dishwasher size:
Measure the doorway in which the dishwasher will be brought in by, or remember where you brought in the old dishwasher before. Your dishwasher's size must be smaller than the doorway's widest point.

Measure the dimensions of either your old dishwasher, or the new area your dishwasher will go. Measure the height, width, and depth of the space. Usually a standard dishwasher is a minimum of 34" high, 27" wide, and a depth of 24".

Write down your measurements to reference in-store when buying a dishwasher. Make sure to bring the tape measure to the store!
Pro tip: keeping a ½ inch space between the cabinet and the dishwasher on all sides can reduce appliance noise.

Dishwasher energy-saving tips
Owning an energy-efficient dishwasher is the first step toward lowering the full cost of running a dishwasher. Follow these tips to potentially lower your energy costs further.
Only run full loads. Your dishwasher will use the same amount of water and energy each cycle, no matter how many dishes are in the dishwasher. Load a full dishwasher properly to get the most bang for your buck per cycle.
Don't rinse your dishes. Today's energy-efficient dishwashers don't require pre-rinsing so you can save on water use before you even load the dishwasher by avoiding this unnecessary task. Simply scrape food off and you're good to go.
Consider air-drying rather than running the heat cycle on your dishwasher. Let Mother Nature do some of the work for you.
Load your dishwasher correctly. Yes, there is a proper way to load a dishwasher to ensure maximum efficiency. If you want to learn, check out our video below on how to properly load your dishwasher!
How to buy other appliances: